By Sumit Roy
Gold and natural gas ended the week little changed, while palladium and oil saw notable gains.
The majority of commodities advanced this week. Soybeans, WTI and palladium rallied, while corn and wheat slipped. At the same time, stock markets traded near record highs. The S&P 500 gained more than 1 percent to last trade near 1,900—just below its intraday record of 1,902. The index is now up 2.7 percent since the start of the year.

Macroeconomic Highlights

In terms of economic data, this week was highlighted by a pair of housing reports. The National Association of Realtors reported that existing home sales in the U.S. edged up by 1.3 percent to 4.65 million units annualized in April, while the Commerce Department said that new home sales jumped by 6.4 percent to 433K units annualized in the month.

Elsewhere, HSBC said that its flash manufacturing PMI for China rose from 48.1 to 49.7 in May, better than the 48.3 that was expected and the highest level in five months. Meanwhile, Markit's equivalent manufacturing PMI for the eurozone fell from 53.4 to 52.5 in May, below the 53.2 that was anticipated.

Markets will be closed on Monday in observance of Memorial Day in the United States.
Commodity Wrap
| | | |
| --- | --- | --- |
| Commodity | Weekly Return | YTD Return |
| Soybeans | 3.55% | 15.54% |
| WTI | 2.34% | 6.09% |
| Palladium | 1.66% | 15.84% |
| Brent | 0.72% | -0.23% |
| Copper | 0.63% | -6.47% |
| Platinum | 0.48% | 7.57% |
| Silver | 0.10% | -0.41% |
| Gold | -0.17% | 7.10% |
| Natural Gas | -0.23% | 4.02% |
| Corn | -1.45% | 13.03% |
| Wheat | -3.12% | 7.93% |
Gold and silver barely budged during the past week. The trading band for the two metals continues to narrow, with volatility at extremely low levels. In terms of news, today, the U.K. Financial Conduct Authority fined Barclays $44 million for gold price manipulation (see Gold Price Manipulation: Don't Blame the Gold Fix). The FCA cited the bank's failure "to adequately manage conflicts of interest" in its decision.

Meanwhile, platinum and palladium touched multimonth highs this week as labor unrest in the world's second-largest producer, South Africa, continued to crimp supplies. Palladium, in particular, is in a strong uptrend and looks poised for more gains.
GOLD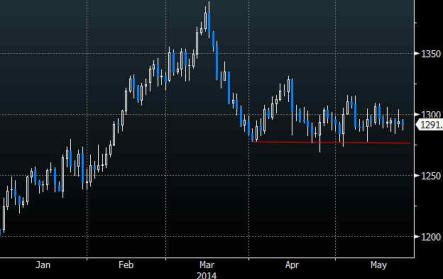 SILVER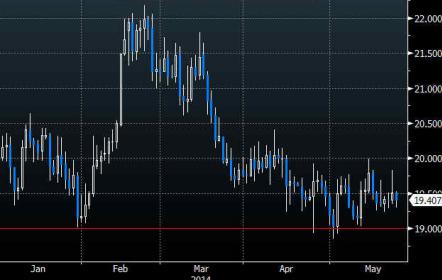 PLATINUM
PALLADIUM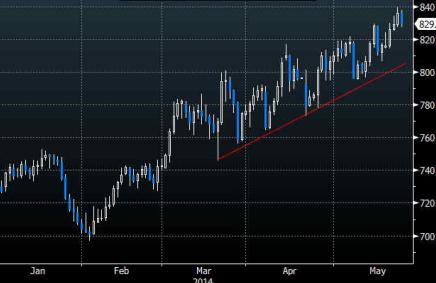 Crude oil prices rallied, led by WTI, which hit a one-month high. A big drop in U.S. crude inventories reported on Wednesday was the catalyst for the upward move. As we wrote, crude imports hit an 18-year low just as refineries are ramping up their production of gasoline for the summer driving season.

There is little reason to expect Brent to break out of its well-established trading range in the near term; however, WTI may challenge the top of its range at $105 next week.
BRENT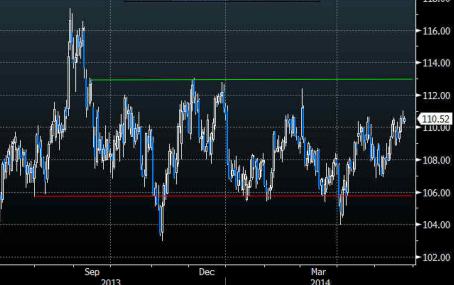 WTI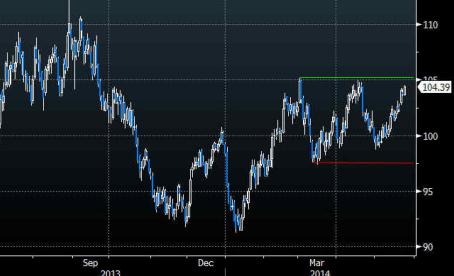 Grains saw split performance as soybeans spiked, while corn and wheat sagged. Traders attributed soy's strength to signs of strong demand in China, and wheat's underperformance to favorable weather in the U.S. growing regions.

From a technical perspective, soybeans face resistance at $15.35/bushel, while wheat must hold the $6.50 level to prevent further losses.
CORN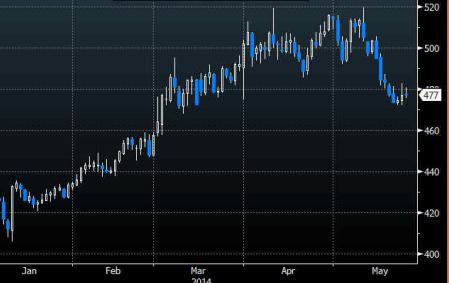 SOYBEANS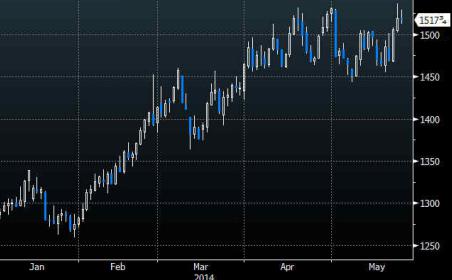 WHEAT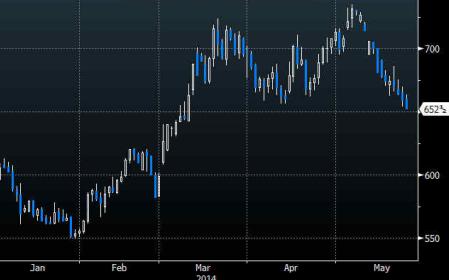 Copper edged higher after a brief sell-off during the middle of the week. Barring a sudden downtrend in the broader financial markets, the red metal may continue to rally. Prices formed a strong base at the $3/lb level last month.
COPPER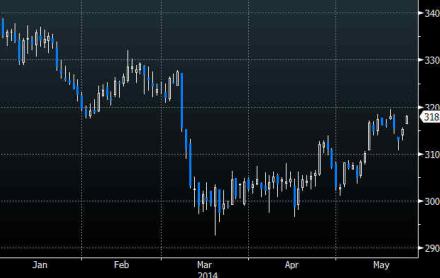 NATURAL GAS