Despite relative strength in emerging markets, shares of Brazilian companies have lagged far behind their counterparts in South America as Chilean and Colombian index funds have both been crushing South America's largest economy as of late. While this has helped to divert the focus away from Brazil for much of the summer, the coming fall season looks to put the BRIC member back into focus as one of the nation's largest companies, Petrobras (NYSE:PBR), signs a historic deal with the government that is likely to have far reaching implications for years to come.
Petrobras, the country's main oil company and one of the largest publicly traded oil firms in the world, announced a massive deal with the Brazilian government in order to gain access to the vast oil deposits off of the country's coast. The Brazilian government will charge the company $8.51 a barrel for access to the oil, in a deal that swaps $42.5 billion in stock for rights to acquire five billion barrels of oil tucked deep below Brazilian waters. While this deal will give the company access to an immense amount of oil, it is important to remember that this crude is locked away and is not easily accessible. That means that tapping into the reserves could be a costly process; some analysts believe that the price Petrobras paid is more than what the oil is actually worth, and that a more fair price would have been around the $6.50/bbl. mark–a difference of roughly $10 billion dollars.
Some are growing increasingly concerned that the government has too much control over the company and that it is beginning to lead the firm down a political path. "The government is increasing its stake in the company by twisting the arms of the shareholders," said Francois Moreau, an independent energy analyst based in Rio de Janeiro. "The company's commercial mission is being replaced by a political mission."
The government will now hold close to 40% of the company's capital, making it the de facto decision maker and essentially transforming Petrobras into a profitable arm of the government. This increase in government control, as well as a decline share price thanks to moderating oil prices, has left many investors unsure of their holdings in the company. In fact, BlackRock unloaded its shares earlier this year while legendary investor George Soros recently sold all of his holdings in the company, which included over 9.1 million ADRs and 5.88 million preferred ADRs.
Despite the relatively poor deal for Petrobras, the company's shares surged by close to 1% in afternoon trading in New York. This news didn't help to boost shares of the most popular Brazilian ETF; the iShares MSCI Brazil Index Fund (NYSEARCA:EWZ) was flat during Thursday's trading session.
As more details of the deal are flushed out and once oil exploration and production actually begins, the value of the recent mega-deal will become more clear. That should have a huge impact on shares of PBR, and by extension EWZ, so look for the mega cap heavy Brazil ETF to be in for a volatile fall quarter.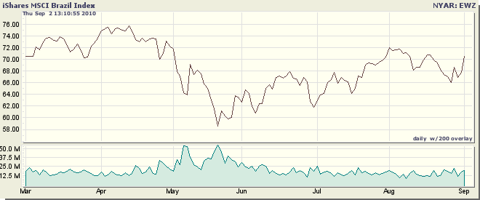 Disclosure: Author is long EWZ
Disclaimer: ETF Database is not an investment advisor, and any content published by ETF Database does not constitute individual investment advice. The opinions offered herein are not personalized recommendations to buy, sell or hold securities. From time to time, issuers of exchange-traded products mentioned herein may place paid advertisements with ETF Database. All content on ETF Database is produced independently of any advertising relationships.