The benchmark index gained 0.53% this week and the MLP index has posted a 9.05% total return - including distributions - YTD. The S&P 500 was up 1.21% for the week. The overall gains in the index are reflected in the 19 new 52-week highs for the week against one new low.
At this week's annual National Association of Publicly Traded Partnerships conference, over 68 MLPs provided an overview of their assets, production and growth opportunities, reinforcing the considerable growth opportunities which exist amongst a majority of the issuers.
Unit Value Winners and Losers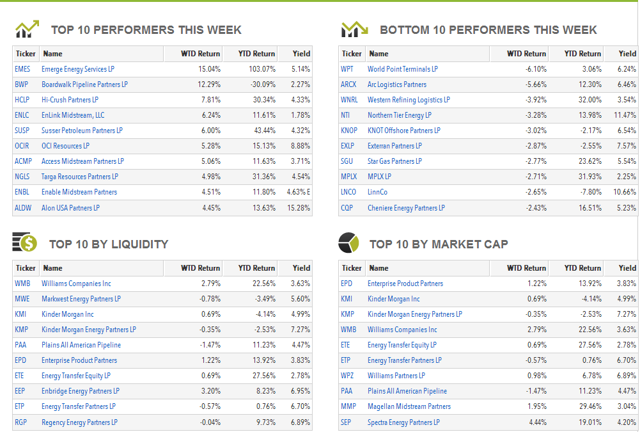 The top gainer for the week, Emerge Energy Services LP (NYSE:EMES), continued a volatile record in the Top 10. Last week EMES was the biggest loser, and the week before that, it topped the gainers list. Bottom line, EMES is up 103% YTD. The market continues to search for a fair value for Boardwalk Pipeline Partners LP (NYSE:BWP) following the 80% distribution cut in February. The sponsor of Hi-Crush Partners LP (NYSE:HCLP) announced the opening of a third production facility. Two of the top three gainers were frac sand providers, who cannot keep up with demand for product.
On the losers list, World Point Terminals LP (NYSE:WPT) has been sliding since the most recent distribution date and Arc Logistics Partners LP (NYSE:ARCX) retreated from a position among the price gain leaders last week.
Distribution Rate Changes
Williams Companies (NYSE:WMB) announced a $0.4250 dividend to be paid in June. The rate was 20.6% higher year-over-year and up 5.6% from the previous dividend amount.
Yield to Coverage
The below chart illustrates the relationship between the coverage ratio (DCF/Actual Distributions) and the current yield.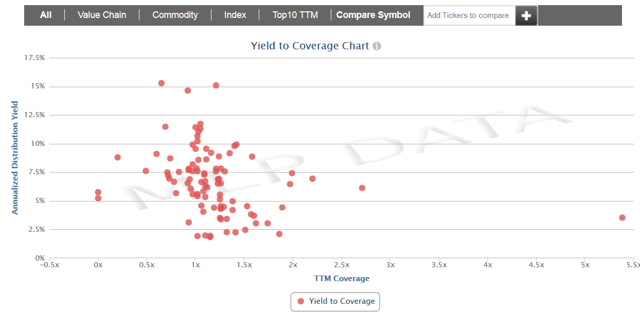 Insider Trading
With earnings season over, insiders got pretty busy unloading units for cash with the number and size of reported transactions ticking up considerably compared to the previous couple of months. Last week USA Compression Partners LP (NYSE:USAC) announced a public offering of 6.6 million units including 1 million "offered by certain selling unitholders."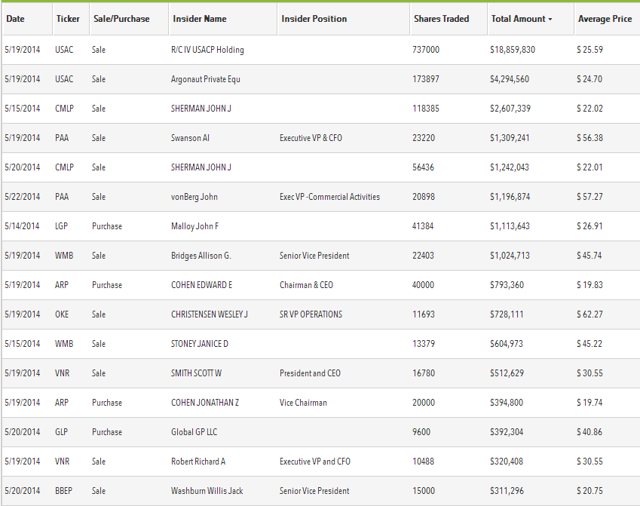 Share Issuance News
Issuance news was light, with a few companies raising capital in the debt markets.
Get the details of any offer of interest by clicking on the specific issue on the Issuance page of the MLPData Dashboard.

ETF, CEF and Mutual Fund Money Flows
MLP focused funds added $317 million in assets for the last week, compared to $350 million from the previous week. Fund flows continue to draw $1 billion net cash per month further expanding the institutional ownership base. Mutual funds added $146 million and ETFs took in $172 million. Tortoise closed end fund holders of TYY and TYN have a pending 5/28 merger vote date to agree to roll up into TYG. Both TYY and TYN continue to trade at a discount despite the NAV exchange if the vote is approved.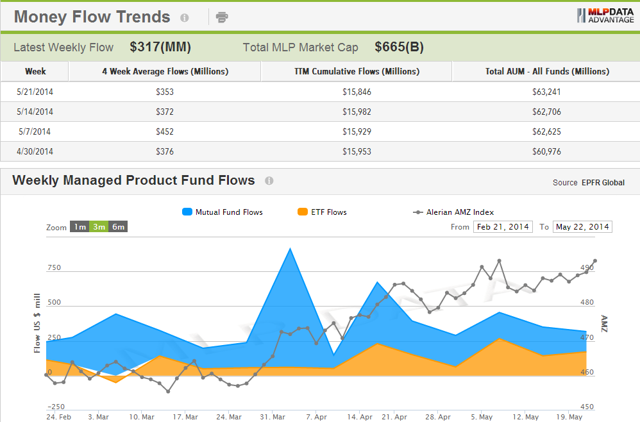 Next Week's Earnings Calendar
The 2014 Q1 earnings season has run its course, with only Seadrill Partners LLC (NYSE:SDLP) remaining to report on May 30.
To get this round-up each week, please make sure you are following MLPData here on Seeking Alpha.
All charts and tables provided by MLPData.com
Disclosure: I have no positions in any stocks mentioned, and no plans to initiate any positions within the next 72 hours. I wrote this article myself, and it expresses my own opinions. I am not receiving compensation for it. I have no business relationship with any company whose stock is mentioned in this article.