In my last article I detailed why and how I would begin performing one hour of preliminary research on potential investments with an emphasis on reasons not to invest before delving any further into the idea. In this article I will organize my findings on Discovery Communications (DISCA, DISCB, DISCK).
Right off the bat, you'll note that I linked three different tickers for the company. Discovery has a multi-tier share structure with different voting rights for each class:

The class C DISCK shares are the cheapest of the 3 by a substantial margin and the company repurchases a great deal of stock, most if not all of which is DISCK, so this seems like the best option for small investors like myself. Large investors like John Malone (controls 22% of voting power) control too much of voting rights for it to be worthwhile to pay up for voting shares.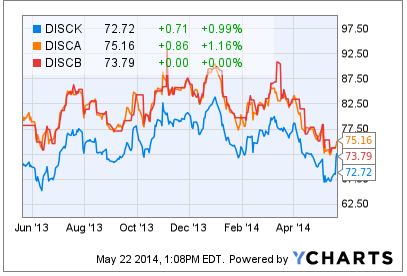 It is curious that the DISCB shares trade lower than DISCA despite having 10x the voting power.
Discovery is a global nonfiction media company that provides content to over 2.2 billion viewers in 220 countries/territories and in over 40 languages. The company's major networks are summarized below: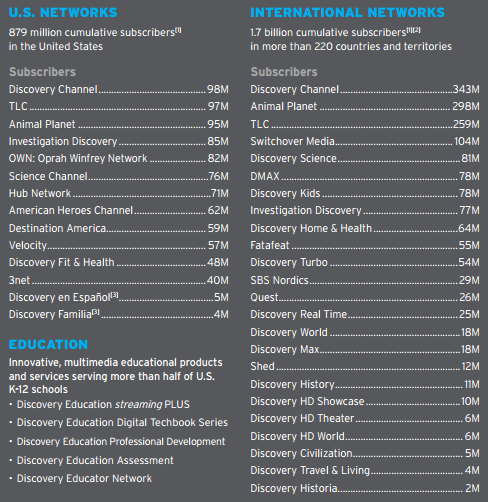 Economics
The company's networks are mainly focused on nonfiction educational content. This seems like an excellent strategy because it is far cheaper to produce this sort of content than other television content. I also like that each station has a defined niche that differentiates it from other rival content. The company has also been a leader in reality shows for men like Deadliest Catch. These shows have grown in popularity a great deal in the last few years and though they don't appeal to me particularly, I understand their popularity and believe they will continue to gain in viewership. Reality shows are also very cheap to produce. Actors are typically easily replaceable and so they have little bargaining power and don't cost too much. There is also minimal editing, which can be quite costly (think Transformers).
The basics of the business model - producing and purchasing original content and presenting it through a variety of channels that each target a niche - seems highly conducive for differentiation and competitive advantages.
My main concern is viewership trends. Visual media content is increasingly being viewed through channels other than the television. Young people like myself watch far less visual media content on the television than older generations and our television viewership has been decreasing: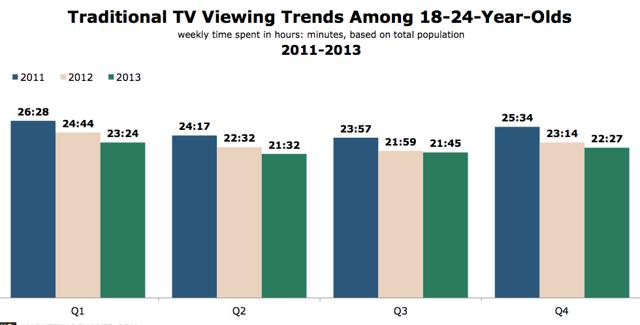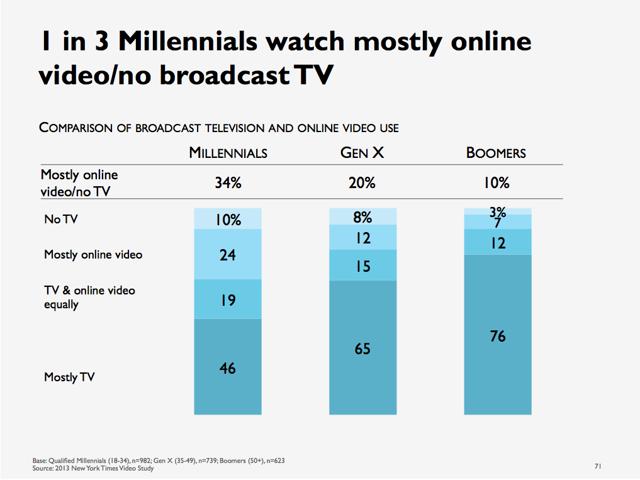 As Millennials continue to make up a larger % of the US and global population and technology continues to improve, this trend of reduced television viewership should accelerate. The main culprits seem to be services like Netflix (NASDAQ:NFLX) and YouTube (NASDAQ:GOOG). Discovery has deals with Netflix, interactive websites with video and game content, and nonfiction educational content seems better suited than other media for the shift to internet viewing, but I still find the trend concerning. The facts are that television advertising budgets still tower over internet advertising budgets and most people that have had cable in the past still have it. In other words, much of the secular changes that would hurt Discovery have yet to occur. It is unclear if and to what extent this will hurt Discovery, and that bothers me.
Chart
I am big on buying stocks at relative lows as a form of security of last resort. In other words, if all other elements of my thesis are off, maybe I still make some money or don't lose much because I bought when Mr. Market was most generous.
DISCK stock is far better positioned than most other stocks on my radar. The stock has moved lower in the last few months on news that Chairman and Founder John Hendricks retired and a Q1 revenue miss. The revenue miss is immaterial and the company is still in good hands with Malone involved. However, the stock has moved up too much too quickly in the past month for me to buy at this price. Even if everything else checked out, I would like to see the stock below $69-70.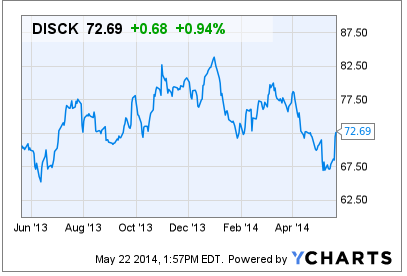 Valuation
DISCK trades for:
11.9x trailing EBIT
19.24x 2014 earnings
7.23x 2014 OIBDA
17.2x ttm operating cash flow
18.8x ttm FCF
In the last 5 years, the company has grown FCF 15.1% CAGR, reduced share count 4% CAGR, and combined, grown FCF/share 20% CAGR.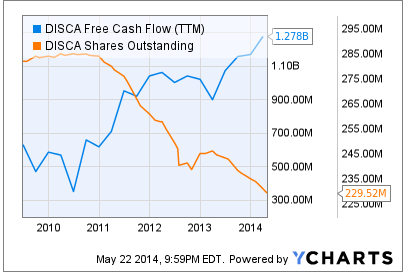 If the company can sustain high teens per share growth like that going forward, the stock is cheap, and that could be achievable. Value Line estimates 14% total cash flow growth over the next few years (which would translate into high teens per share growth with the run rate share repurchases) and the analyst consensus is 19.68% annual EPS growth for the next 5 years. The company has good growth opportunities overseas while the US segment grows slowly.
From the research I have done, I don't feel confident enough to come up with my own long-term growth expectation, but really my goal for this hour was to identify potential reasons not to invest. The valuation multiples imply double digit growth, and I am confident enough to believe the company can do at least that, so this is a positive.
Conclusion
Discovery Communications is:
a differentiated business by nature with a business model conducive to competitive advantages
in able hands with John Malone controlling 22% of voting rights
better positioned than peers for a decline in television/cable viewership
vulnerable to this trend nonetheless
selling at multiples that imply substantial growth
possibly able to achieve such growth and then some
pretty timely but too much off 1 month low right now
I was disappointed that I was not able to uncover more necessary information in the 80 minutes I spent doing research. The hour I spent on IBM in my last article was far more productively spent. From what research I did get through, I did not find enough to rule out an investment in the company's stock ever, but I also was not wowed enough to delve deeper into the story now. My main concerns are the uncertainty surrounding the TV viewership shift and the 1 month chart. I will set a price alert on the Class C shares at $69 and move on for now.
Disclosure: I have no positions in any stocks mentioned, and no plans to initiate any positions within the next 72 hours. I wrote this article myself, and it expresses my own opinions. I am not receiving compensation for it (other than from Seeking Alpha). I have no business relationship with any company whose stock is mentioned in this article.