The future of world energy is in renewables and green technology; coal and oil, before the end of this century, will be cast into the dustbin of history. For those long-term investors, it makes sense to invest in companies that produce green energy or green technologies since they will be the Exxons and the Shells of the future. The problem with this is of course, that many of these companies will fail (think Solyndra of 2011), so the trick is to find companies with a long enough financial history to analyze, that have a sound business model and are undervalued in the market. Two that fit this bill are Canadian Solar Inc. (NASDAQ:CSIQ) and First Solar Inc. (NASDAQ:FSLR). Both have been operating for more than a decade, have billions of dollars of revenue, have seen good profits and have stock prices that have decreased significantly over the last few months.
Their first quarter results in 2014 have vastly improved on their Q1 2013 results. Yet, the market has not been kind to their respective stock prices. We have seen this before. There's a sell off leading up to the release of quarterly results and - unless the news is spectacular - the selloff continues, even if analyst expectations were beaten (think Apple and Tesla earlier this year). Every investor knows that they should "buy low and sell high" yet many end up doing the opposite. Well, I will analyze the value and the stocks of these two solar companies to show that their stocks are screaming "buy me, buy me."
Canadian Solar Inc.
Canadian Solar is Canada's largest solar company and is one of the largest in the world, it sells to over seventy countries worldwide and has assets and revenue in the billions. It was founded in 2001, by Shawn Qu who has been President and CEO since then. Their relatively long history, stable executive branch, and size make Canadian Solar far less risky than many other green energy companies.
Q1 2014 Results
On May 16th Canadian Solar reported their first quarter results for 2014. Revenue was $466.3 million which is up 77% from Q1 2013 revenue of $263.6 million; this is a very strong growth rate during what has historically been their weakest quarter. Their Gross profit increased to $68.6 million, up 168% from Q1 2013 Gross profit of $25.6 million, at the same time they reduced their operating expenses by nearly 25% (from the last quarter) and posted an operating profit of $26.5 million. However, higher interest expenses and loss on change in foreign currency derivatives hurt their final profit numbers. In spite of this, profits reached $3.8 million for this quarter ($0.07 per share), a strong improvement from their $4.3 million ($0.10 per share) loss in Q1 2013. Although final profits and EPS were slightly lower than some analysts predicted (5 cents per share to be exact), when put into the perspective of previous Q1 results these are certainly very encouraging.
Balance Sheet and Cash Flows
There are several serious issues with the company which need to be looked at. Canadian Solar has a debt-to-equity ratio of 2.25 which is above the industry average along with a low quick ratio of 0.6. This is largely due to the fact that Canadian Solar has been using debt to finance its investing and operating activities. In 2013, Canadian Solar had cash flow from operations of $229 million and began to pay off short term and long term debt reversing their long-term trend of positive cash flow from financing, thus posting a use of $104 million from financing. What does this mean? Well the chart below shows the positive long-term trend of stronger positive cash flow from operations, maintained investment (critical for future revenue growth), and the change from financing being a source to a use of cash (from the repayment of debt).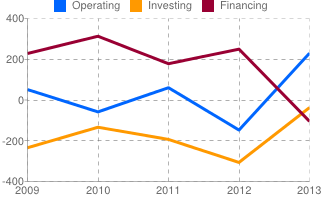 If this trend continues throughout 2014 and 2015, the ratios of concern which I mentioned earlier will improve and thus reduce the risk of the company defaulting on their debt.
Stock Price
The chart below shows Canadian Solar's stock price and the NASDAQ composite for comparison going back the last six months. It is clear that Canadian Solar is currently at a low point and that over the last week has been going down while the index has been steadily rising.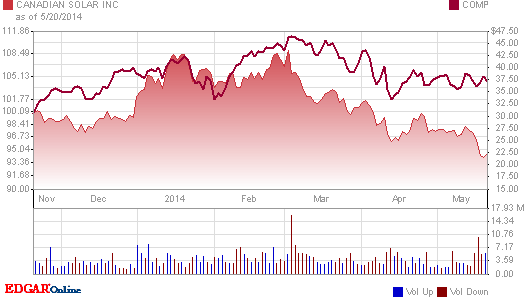 So why is this stock a great buy at $24/share? Well from the graph we can see that the stock price had topped $42/share and beat the NASDAQ average when strong Q4 2013 and overall positive results for fiscal 2013 were released. This being said, we know how much better Q1 2014 was relative to Q1 2013 and that this is generally their weakest quarter, so they are starting out 2014 much stronger than in 2013. Furthermore, there are the following points to consider:
Conservative sales projections for the second quarter (estimated by Canadian Solar management) are between $560-590 million. Fun note: they have underestimated sales the last four quarters.
An improved gross margin in Q2 2014 to 17-19% (up from the 14.7% this quarter which scared some investors).
Total Revenue for 2014 is projected to be $2.7 - 2.9 Billion, on the low end this would represent a 64% increase from last year's revenue of $1.65 billion.
Despite the EPS miss this quarter, Roth Capital maintains a buy rating on this stock and has set a price target of $35/share. This is nearly a 48% upside from today's close of $24.00.
No trade comes without risk, but, given the stable history of this growing company, improving financial fundamentals, current low stock price and its future growth prospects, this stock is an attractive buy and represents a very strong potential upside, especially for a long-term hold.
First Solar Inc.
First Solar Inc. was founded in Arizona, USA in 1999. It is currently the largest solar company founded in the US by both total revenue and installed capacity. Similarly to Canadian Solar, it too is one of the world's largest producers of solar energy products, has a relatively long financial history and a stable executive branch invested in the company's success which make First Solar less risky than many newer green energy companies.
Q1 2014 Results
Unlike Canadian Solar, First Solar crushed its own and analyst forecasts this quarter. Analysts expected revenue of $837 million and EPS of $0.52. FS actually had Revenue of $950 million and EPS of $1.10. Compared to Q1 2013 those numbers represent a 26% increase in revenue (from $755 million), and EPS increase of 67% (from $0.66/share). Gross Profits, operating income and overall profits also increased as shown by the charts below.
Aside from revenue and profit, cash flows from operations were $856 million for fiscal 2013 and the company continued to pay down its debt. It has more favorable debt to equity and quick ratios than Canadian Solar. In Q1 2014 operations was a use of cash because cash received from customers decreased (they will pay later), investment continued to be a use, and finally financing was also a use of cash largely due to the repayment of long-term debt. Overall, the cash flows statement show a picture of a company operating responsibly.
Stock Performance
The chart below shows First Solar's stock price and the NASDAQ composite for comparison going back the last eight months. Although it is not as cheap as it has been, at below $60/share it is well off its peak while the index has been steadily rising.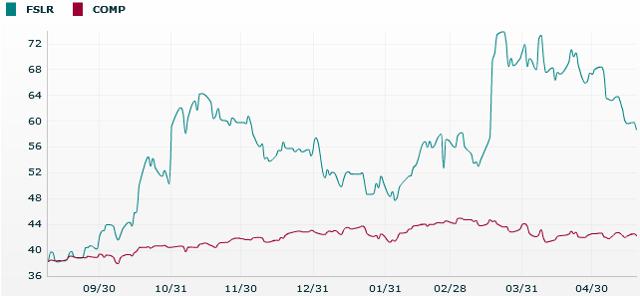 From the graph it can be seen that when First Solar released its Q3 2013 and fiscal 2013 results in October 2013 and February 2014, respectively the stock price boomed. However, after the release of the positive Q1 2014 results the stock price continued its decline. With this in mind, the current price of $59.83 per share offers a great long-term prospect because of the aforementioned financial positives and because:
Total revenue for 2014 is expected to be between $3.7-4.0 billion (estimated by First Solar management). That represents a 6% to 14% increase from 2013
Operating cash flows should become positive again and total $250 - $450 million for the year, while debt will continue to be paid off thus further improving debt ratios
Stock has gained 9.2% since the start of 2014 while still being 17% below April's highs of $70+ per share
With the company performance and relatively lower stock price, I remain bullish on First Solar at below $61/share there is strong growth potential, especially for the long term because of the growing strength and size of the company.
The Others
You may be asking "What about the other companies in the industry?" That's just it. There are no Canadian or US solar companies of this size and quality worth investing into at the moment.
Solar City (SCTY) is new (founded in 2006), has yet to break $250 million in yearly sales, has no profits and yet it has a market capitalization over three times larger than Canadian Solar and about two thirds as large as First Solar. It's heavily overpriced at $49/share by any conventional measure.
SunEdison (SUNE) has revenues of $2 billion but has a tiny gross margin and a net loss in 2013 of nearly $600 million. Despite the poor performance it's valued at about triple Canadian Solar and two thirds of First Solar.
The more established SunPower (NASDAQ:SPWR) has revenue of $2.5 billion as well as profits of $215 million. However, the company's P/E ratio is far higher than both Canadian Solar's and First Solar's due to a relatively high market capitalization of $4.3 billion. Lastly, its stock price is high relative to earlier this year, in contrast to Canadian Solar and First Solar which have been getting cheaper in the last couple of months.
Conclusion
Canadian Solar and First Solar have been around for a long time relative to many of their peers; they have established revenue sources from all over the world and have produced some healthy profits. To top it all off their stock prices have been declining the last couple of months and are primed for a healthy upside over the course of this fiscal year. For long-term investors there is an even more critical opportunity here, the price of solar is now competitive with more standard energy production and the price per k.w.h. continues to fall. Holding these stocks until they are among the largest electrical energy producers and have tens of billions of dollars in revenue (certainly by the next decade), the value of these companies will be far greater than even today's most bullish analyst would dare to predict.
Disclosure: I have no positions in any stocks mentioned, and no plans to initiate any positions within the next 72 hours. I wrote this article myself, and it expresses my own opinions. I am not receiving compensation for it (other than from Seeking Alpha). I have no business relationship with any company whose stock is mentioned in this article.