Is Europe's economy finally getting its act together? That's what the International Monetary Fund thinks, according to its latest World Economic Outlook. The chart below shows the IMF expecting moderate growth on the Continent this year and next.
Data suggested an upward trend until recently. Industrial production in Europe rose slowly from summer 2012 through last September. Since then, though, production has leveled off. Over the past year, countries in the European Union have expanded industrial production just 1.1 percent.
I previously wrote "Four Regions of Europe, Four Different Economies." Two years ago, Eastern Europe was looking strong, but now not so much. Tension between Russia and Ukraine is part of the problem, but soft energy prices in Europe contribute to the East's economic weakness.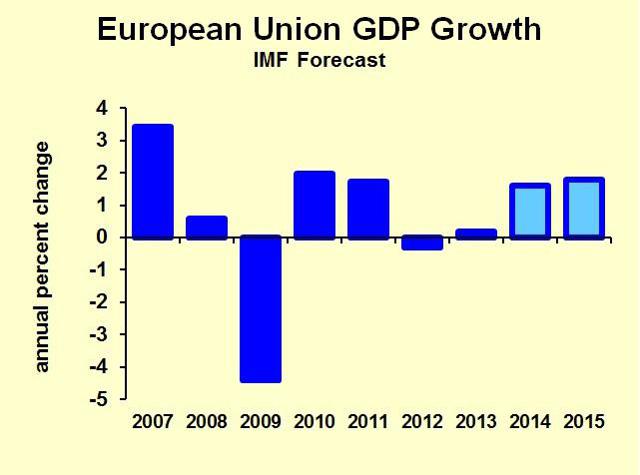 Northern Europe's growth will be strong, in the IMF forecast. Western European countries will grow moderately, and Southern European a little less so. The IMF forecast is plausible but optimistic. One could take it as a base case, and then add lots of risk factors. Debt is still much too high in Southern Europe. The financial crisis is not much in the news now, but the problem lingers.
The Russia-Ukraine hostilities continue to be a major risk to all of Europe. How it will play out is beyond my forecasting ability, but note that nobody is very good at figuring out when minor conflicts turn into full-blown wars. Think about that as we approach the 100th anniversary of the start of World War I.
European economies are likely to expand this year and next, but I'm nervous about the entire region. The downside possibilities seem much larger than the upside.