Despite a rocky start, U.S. equity markets ended the day higher on Thursday ahead of tomorrow's crucial jobs report. While the Dow only reported a modest gain of 0.5%, the S&P 500 and the Nasdaq soared higher by 0.9% and 1.0%, respectively. Today was also an eventful day for commodities, as gold continued its surge higher, pushing past the $1,250/oz. mark. Meanwhile oil jumped by 1.5% thanks to news of a fresh oil disaster in the Gulf, which spooked investors right before the end of trading.
Today's trading day featured relatively light volume as traders stood their ground and patiently waited for tomorrow's report on August unemployment levels, which looks to set the tone for markets. Economists polled by Thomson Reuters predict that the unemployment rate will trend higher up to 9.6%, further demonstrating that the private sector is not yet confident in an economic recovery. "We're treading water," said Dan Genter, CEO of RNC Genter Capital. Traders are waiting to see if Friday's jobs data "provides more of a rescue or a shark attack."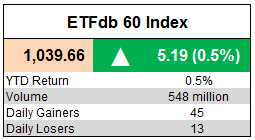 The ETFdb 60 Index added 5.19 points, or 0.5%, in light trading. Winners outnumbered losers by more than three-to-one as most equity components finished higher.
One of the biggest gainers on the day was the Consumer Discretionary SPDR (NYSEARCA:XLY), which jumped higher by 1.9%. Thursday's gains came after a majority of retailers posted strong August same-store sales numbers; more than 65% of retailers beat expectations according to Thomson Reuters. This news helped to buoy hope for the struggling retail sector after the dismal July sales had initially scared off many investors. Additionally, the buyout of Burger King has helped to boost shares of XLY's top component, McDonald's, which some analysts see as the reason behind buyouts in the restaurant sector. "McDonald's competitive out-performance and heavy reinvestment in its system has weighed on the valuations of such franchised restaurant companies as Jack in the Box, Sonic, Wendy's/Arby's Group, and BK," said David Palmer, an analyst with UBS Securities LLC. "We believe that many of MCD's competitors have underinvested assets and face difficult decisions — whether privately or publicly owned. The right private owner might help one or more of these chains eventually become better, and likely smaller, competitors to MCD's."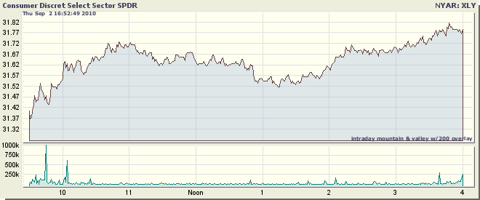 One of the biggest losers was the Vanguard Long-Term Bond ETF (NYSEARCA:BLV), which slid again in today's trading–this time off by 0.9%. Today's losses were the result of solid economic data which suggested that the economy may be bottoming out in some sectors. Stronger-than-expected pending homes sales in July and a second week of lower initial claims for unemployment benefits boosted market sentiment and decreased demand for ultra-safe government securities. Despite surging by over 10% during the past six months, BLV has been on a bit of a losing streak as of late, sinking by 2.2% over the past week. However, a weak jobs report tomorrow could reverse this recent trend and once again boost demand for long-term bonds.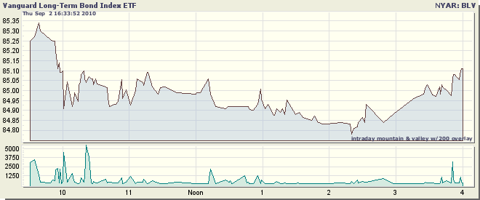 Disclosure: No positions at time of writing.

Disclaimer: ETF Database is not an investment advisor, and any content published by ETF Database does not constitute individual investment advice. The opinions offered herein are not personalized recommendations to buy, sell or hold securities. From time to time, issuers of exchange-traded products mentioned herein may place paid advertisements with ETF Database. All content on ETF Database is produced independently of any advertising relationships.