We all know how the bank dividend story goes. Big money center banks based here in the U.S. and several of their large European counterparts got drunk off the easy money, easy credit cocktail that flowed so freely from 2005-2007. When banks like Bank of America (NYSE:
BAC
), JPMorgan Chase (NYSE:
JPM
) and Wells Fargo (NYSE:
WFC
) finally sobered up in late 2008, their balance sheets reeked like drunken sailors and shareholders would soon pay the price with a harsh round of dividend cuts that left investors out in the cold.
Prior to those dividend cuts, one of the primary reasons to invest in large-cap bank stocks was the dividends. Bank stocks in the S&P 500 were some of the best, most consistent dividend payers out there. Long story short, that's simply not the case anymore. Big banks, including the ones mentioned above, have been long dividend talk and short on results. Even Goldman Sachs (NYSE: GS), which ended 2009 with $25 billion in free cash, mentioned a dividend hike earlier this year. Again, all talk no action.
The moral of this dividend story is that investors hunting for strong yields and healthy dividends are bound to be disappointed if they limit their search to U.S. As is often the case when it comes to dividends, U.S. investors looking for sturdy income from bank stocks should take a global approach. Simply put: There are plenty of non-American banks that thankfully take a non-American approach to taking care of their shareholders.
Here are some ideas:

Look North Of The Border
Canadian banks have gotten a fair amount of press since the start of the financial crisis and with good reason. Banks north of the border didn't engage in the chicanery that their U.S. and European rivals did. That kept Canadian banks from running up tabs with the government and taxpayers and kept shareholders safe from big dividend cuts. Another reason to like Canadian banks is that the government there makes it extremely difficult and cost-prohibitive for foreign competitors to enter the market.
Recent press reports out of Canada indicate that Toronto-Dominion (NYSE: TD) could raise its dividend before the end of 2010. That's a start and given the strong earnings reports we've seen recently from Bank of Nova Scotia (NYSE: BNS) and Canadian Imperial (NYSE: CM), we think those banks are primed for dividend hikes in 2011 BEFORE their U.S. counterparts.
While you wait, you can collect a yield of 3.82% from Scotiabank and 4.71% from Canadian Imperial, not to mention the strong capital appreciation. Take a look at how these banks blow away American equivalents.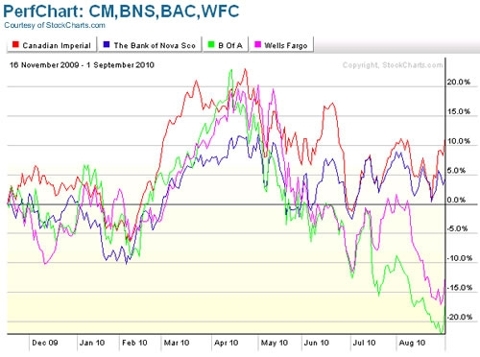 Count On Chile
Chile is the "other" guest at the South American economic party that is so dominated by Brazil. Known for its vast copper and lithium deposits, Chile has plenty to offer investors that want something outside of the resources space, particularly if you're on the prowl for juicy bank dividends.
Banco Santander Chile (NYSE: SAN), the Chilean unit of Spanish banking giant Santander (NYSE: STD), with a yield of almost 3% is one candidate to take a look at. That yield isn't going to knock your socks off, but the most recent annual dividend of $2.68 and the astounding performance of the stock makes big American banks look quite pathetic by comparison.
Banco de Chile (NYSE: BCH) is an even better example. The shares yield almost 5% and the most annual payout was $3.98 a share. Plus, there is potential hidden benefit with Banco de Chile and Santander Chile because both trade as American depositary receipts (ADRs). Many countries withhold tax on dividends paid, which means a U.S. investor still has to pay income tax. That also means the U.S investor can claim the withheld foreign tax as a deduction. In other words, there are plenty of benefits to these stocks in addition to the rapid capital appreciation highlighted by the chart below.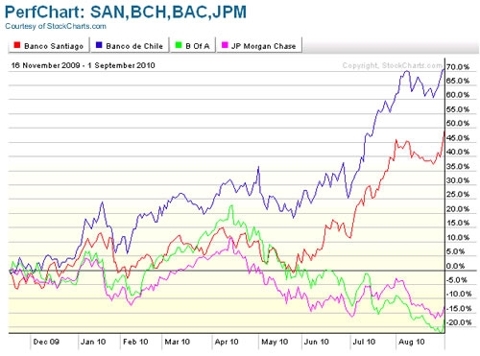 To sum it all up, there's no problem with being bullish on bank stocks. Just put that bullish sentiment to work outside with banks that don't call the U.S. home.
Disclosure:
No positions