Introduction
It's been nearly a decade since Advanced Micro Devices (NASDAQ:AMD) began its quest to revolutionize computing with HSA technology by developing the Accelerated Processor Unit, a unique CPU + GPU architecture. After years of development, it has gotten close, but is still not quite at its full potential. However, AMD's efforts have paid off significantly, as nearly all of its processors are now proudly centered on the APU. In fact, the last FX-CPU that AMD launched was in 2012, and although it's a decent chip, it's getting old. People are often confused about why AMD is putting all of its eggs in the APU basket, so for this article, I want to narrow in on its goal in finding success in developing the best computer processor with integrated graphics on the planet.
Integrated graphics has made Intel (NASDAQ:INTC) a leader in market share
According to a source on Jon Peddie Research's estimates for graphic chip market share, AMD's discrete graphics market share for the first quarter was 35% compared to Nvidia's (NASDAQ:NVDA) 65%. However, factor in total graphics market share, and the two graphics kings become a joke. This would be because 99% of Intel's non-server processors contain integrated graphics, and thanks to its huge PC market share, this advantage gives Intel a 66.8% market share for the first quarter. This was an increase from the 65.1% from the previous quarter. This is far greater than Nvidia and AMD, whose market share is 16.6% and 16.7% respectably. However, this by no means translates to Intel having superior graphics.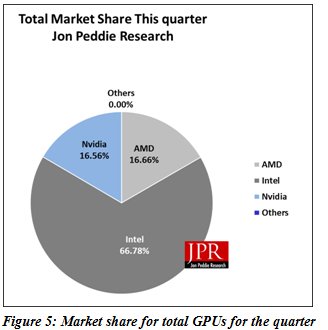 Source: Design & Reuse
Nvidia's and AMD's graphics capabilities far outweigh those of Intel, but discrete graphics are bulkier, more expensive and can consume more energy. When the majority of consumers are only interested in basic computer functions such as web browsing and e-mail - there's an unnecessary means of requiring discrete graphics. For example, with the exception of one high-end model, all of Apple's (NASDAQ:AAPL) MacBook series laptops feature Intel's integrated graphics, and this applies to many other manufacturers.
The APU can capitalize on this market
We've already witnessed AMD as the underdog in the PC market for several years now. This has been due to multiple generations of inferior products. However, with its latest launches of the latest APU series Beema, Mullins, and Kaveri in mobile and desktop, we have seen substantial improvements in performance over the previous generations. These new chips are actually quite competitive now. Beema and Mullins, and Kaveri mobile come very close to meeting Intel's ultra-low voltage processors in computing and completely dominate when graphics are concerned.
But it's just graphics, right?
Only for now. As I mentioned above, most users are primarily concerned with the basic functions of using a computer-like web browsing, email, or other simple tasks. If that's the case, then how will AMD's superior graphics matter? For now, this isn't going to mean much. Until we see AMD pair its superior iGPUs with superior CPUs, we won't see a beneficial shift in AMD's favor. But as it continues to shorten the gap in power efficiency and basic computing, the chances of AMD gaining some design wins is much higher.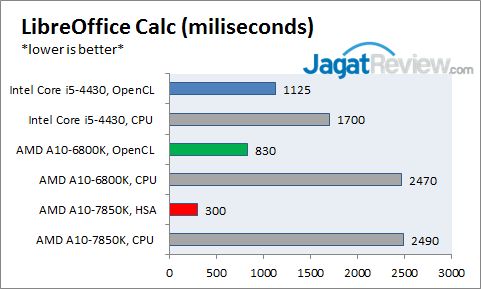 LibreOffice Utilizing HSA (lower is better)
However, with HSA, or heterogeneous system architecture, we can see a future shift in AMD's favor. The unique factor in AMD's APU is that the CPU and GPU share the same memory bank, allowing it to work on processes simultaneously. This "team work" will result in boosts in efficiency and performance, and that is why AMD labels every core on its APU as a compute core, whether it's a GPU or CPU. The GPU can be an incredible processor outside of graphics for certain tasks, and this benefit can create leaps in performance. The chart above is an example of HSA at work in LibreOffice. Unfortunately, it's all at the mercy of developers taking the time to make this possible, and only time will tell before we see a shift in HSA. Fortunately though, AMD's efforts are backed up by many big name supporters in the HSA Foundation, whose mission is to make this type of computing possible.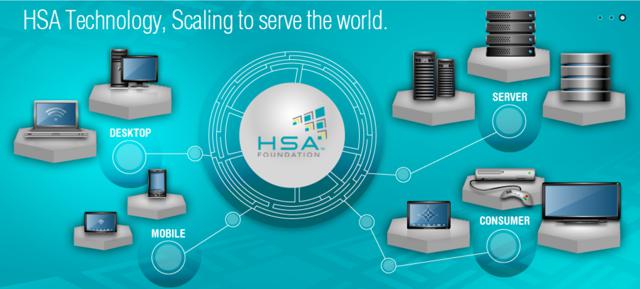 Conclusion
The primary reason holding AMD back is its inferior CPU and power efficiency. Sure, AMD is losing out on design wins, and that hurts, but in the end, superior products lead to wins. When you consider that AMD is working with inferior nodes at 28nm compared to Intel's readying 14nm FinFET nodes, the potential for growth is astronomical. As Global Foundaries, one of AMD's chip manufacturers, plays catchup and advances to 20nm, then 14nm FinFET processes thanks to a partnership with Samsung, we will potentially see an incredible advantage in the underdog's favor. This will easily boost efficiency and performance. When this happens, superior processors and superior graphics that utilize HSA technology will turn AMD into a monster.
Disclosure: I am long AMD. I wrote this article myself, and it expresses my own opinions. I am not receiving compensation for it (other than from Seeking Alpha). I have no business relationship with any company whose stock is mentioned in this article.