Each month we publish a list of our "Stable Dividend Growth Stocks" for our members. This list highlights stocks that have consistently grown their dividends and earnings over the past 10 years. To make it on this exclusive list a stock must meet the following criteria:
Dividend Yield: > 2.0%
5 and 10-year Dividend CAGR: > 5.0%
5 and 10-year EPS CAGR: >5.0%
Payout Ratio: < 60%
The reason we picked this criteria is simple. Stocks that consistently raise their dividend over the rate of inflation help investors maintain their future purchasing power and offers the opportunity to increase income over time. In addition, stocks that consistently grow earnings have a higher probability of maintaining future dividend growth and offer higher potential for capital appreciation. Throw in a low payout ratio (the percentage of earnings that a company "pays out" as a dividend) and you feel really good about future dividend sustainability.
That said, we recently scanned our Stable Dividend Growth list and came up with our current SDG All Star Team. This team is made up of the 20 stable dividend growth stocks with the highest Parsimony Ratings yielding over 2.5%.
We will highlight each of these stocks over the course of a 4-part series. Below is a schedule of the entire series. Please make sure to "follow" us so that you will be notified when each new article is published.
Part 1: Honorable Mention (stocks #16-20)
Part 2: Third Team (stocks #11-15)
Part 3: Second Team (stocks #6-10)
Part 4: First Team (stocks #1-5)
The SDG All Stars: Honorable Mention
Our 20 SDG All Stars have an average 5-year dividend CAGR of 12.3% and an average dividend yield of 3.3%. This article highlights the 5 stocks that made Honorable Mention (stocks ranked #16-20). The tables below summarize some of the key data points that we analyze when ranking our dividend stocks.
#20 Kellogg Company (NYSE:K)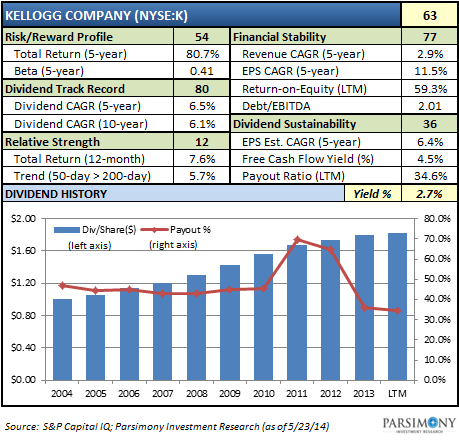 Kellogg has paid its shareholders a consistent dividend every quarter since 1925 (356 consecutive quarterly dividends to be exact) and the company has increased its dividend at a compound annual rate of 6.1% over the past 10 years. Given Kellogg's historical track record, we think it's safe to say that this streak isn't going to end any time soon.
#19 Intel Corporation (NASDAQ:INTC)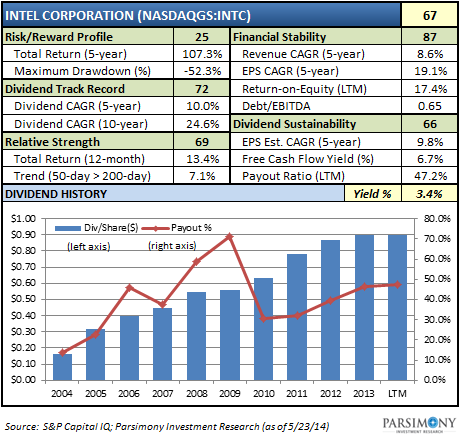 Intel has been a great dividend growth stock over the past 10 years as the company has grown its dividend at a compound annual rate of 24.6% over that time frame. While we don't expect double digit growth going forward, INTC has a reasonable payout ratio (47.2%) and a high Financial Stability rating (87). Keep this stock in mind when looking for technology sector exposure.
#18 Alliant Energy Corp. (NYSE:LNT)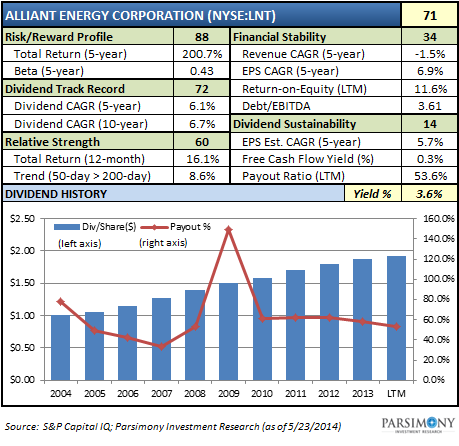 Alliant Energy has now paid a dividend for 274 consecutive quarters since 1946. The Company has grown its dividend at a solid CAGR of 6.1% over the past 5 years and delivered shareholders a 201% total return over that period. In addition, earnings have grown at a 6.9% CAGR over the past 5 years. LNT is another great stock to keep on your radar!
#17 American States Water (NYSE:AWR)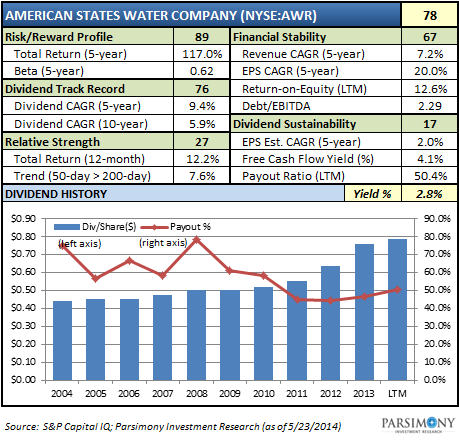 AWR is a water utility company that distributes water in the state of California. AWR has paid dividends to shareholders every year since 1931 and it has increased that dividend for 59 consecutive years. Over the past 5 years, the company has grown its dividend at a compound annual rate of 9.4% and delivered shareholders a total return of 117%. AWR is an extremely stable dividend payer that certainly warrants consideration in your DIY Dividend Portfolio.
#16 Coca-Cola Company (NYSE:KO)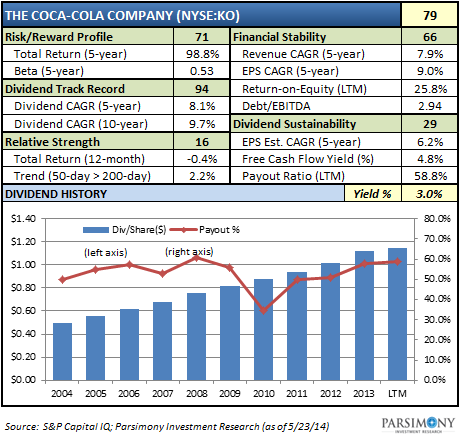 KO has paid a quarterly dividend since 1920 and has increased dividends in each of the last 50 years. Over the past 5 years, KO has steadily grown its revenues and earnings at a compound annual rate of 7.9% and 9.0%, respectively. This has led to a stable dividend growth rate of 8.1% for KO and a total stock return of 99% over that same period.
Summary
If you are looking to generate safe and stable income in a volatile market environment, the SDG All Stars are a great place to start your diligence. We believe that any of the 20 All Stars would make a nice addition to a long-term dividend portfolio.
Disclosure: I am long AWR, KO, K. I wrote this article myself, and it expresses my own opinions. I am not receiving compensation for it (other than from Seeking Alpha). I have no business relationship with any company whose stock is mentioned in this article.