Intro
A year ago, when Mervyn King made his final speech as Governor of the Bank of England presiding over the Inflation Report, he departed with a warning about risks for asset prices:
…The reason for concern in the future is not the current configuration of interest rates and asset prices; it's that we know that at some point real interest rates have to get back to a healthier and more normal level. Positive real interest rates are crucial for the successful operation of a market economy. The real challenge is to navigate our way back to that level. Once real interest rates are back to that level then you would expect to see some consequences for asset prices, possibly falls in asset prices. And at that point it will be important that people have had time to deleverage and to get to a point where their degree of indebtedness is not such that they find themselves in deep financial trouble when asset prices fall…
King was certain enough to use "when" not "if." Of course, we cannot know the specific level from which prices will fall, nor the depth of the drop. We DO know to maintain manageable levels of debt in preparation for that time. Similarly, it makes sense not to pay excessive premiums for assets. Never mind the irony of low rates and accomodative monetary policy that afford us the opportunity to lever up and pay premiums for assets.
The statement did not cause any reaction in financial markets at the time. It took a few more days before we got a small preview of the market's potential jitters over higher rates as the temporary taper tantrum broke out. Global markets continue to pay a lot more attention to the vowels and syllables of the Federal Reserve than other central banks.
Charlie Bean Exits the Scene With An Apt Warning
Fast-forward a year, and now another departing member of the Bank of England delivers a related warning. This time, it is Charlie Bean, departing Deputy Governor for Monetary Policy of the Bank of England.
On May 20th, Bean delivered a speech titled "The future of monetary policy." It was a very humble retrospective that was nonetheless decidedly bullish on the ability of central banks to learn lessons and steer their respective economies. I was particularly interested in what Bean had to say about current risk attitudes and the prospects for the Bank of England's inevitable exit from extraordinarily loose monetary policies (emphasis mine):
I do not expect central banks' collective management of the exit from the present exceptionally stimulatory monetary stance will be easy. The bumpiness of the incoming data, allied to a state-contingent reaction function, means that market interest rates are bound to become more volatile along the exit path, however well central banks communicate their intentions.

Another reason the exit may be bumpy stems from the starting point. Implied volatilities in many financial markets have been at historically low levels for some time now… Together with low safe interest rates in the advanced economies, that has underpinned a renewed search for yield and encouraged carry trades. Taken in isolation, this is eerily reminiscent of what happened in the run-up to the crisis. Episodes like the 'taper tantrum', which produced a short-lived bout of volatility but no major disruption may also be contributing to a sense of complacency and an underestimation of market risk by investors.

It is inevitable that at some stage market perceptions of uncertainty will revert to more normal levels. That is likely to be associated with falls in risky asset prices and could be prompted by developments in the Ukraine, the fault lines in the Chinese financial sector, monetary policy exit in the advanced economies, or something else. But it will surely come at some point.
The following spider diagram accompanied Bean's comments on risk attitudes. It shows how current implied volatilities across global financial markets have shrunk so much since the crisis that they have sunk below pre-crisis levels.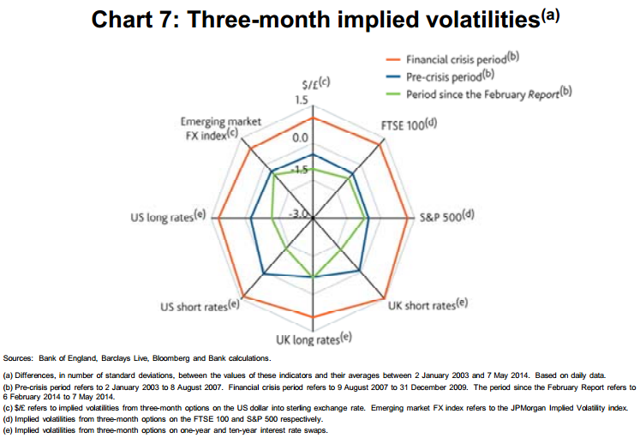 Volatility across markets is lower than ever
The Bank of England Tip-Toes Through the Fragile Tulips
Bean's comments are a natural extension and echo from the stance of the Bank of England. For example, Bank of England Governor, Mark Carney stated the following in his introductory remarks for the Inflation Report the week prior to Bean's speech:
More broadly the MPC is alert to vulnerabilities from a reassessment of risk in financial markets, perhaps prompted by geopolitical developments or uncertainties about the normalisation of monetary policy. Despite a more complex global environment, implied volatilities in many markets are well below their long-term averages.

Heading back to normal will likely be accompanied by more normal, that is higher, levels of volatility…

We do think, as I emphasised, that the level of volatility in financial markets, a range of financial markets, is going to increase as advanced economies head back towards normal. That will be a natural development, it may not feel natural, it'll maybe feel slightly uncomfortable as it's happening, but that will be a signal of moving back to normal.
Ironically, the soothing nature of the warning in itself likely encourages low implied volatilities to persist. Moreover, the Bank of England once again promised to keep rates lower for longer than might be considered normal as normality unfolds. No doubt, the BoE prefers deference to the uncertainty surrounding the market's response to a reversion to normality (whatever THAT means now!).
During the Q&A period, Carney absolved the central bank of any responsibility for helping to drive implied volatilities downward, another irony, in my opinion:
I would emphasise that of course there is some dampening - not because of active central bank policy but just because of being at the zero lower boundary - some dampening on volatility.
To underline the irony, Carney instructs the audience that one reason for leaving rates lower for longer is specifically because markets have yet to price properly the liquidity risks freshly unloaded from government and embedded into private financial institutions.
And the market structure comment I'll make is that a series of financial reforms have moved liquidity risk - more of the liquidity risk - to private financial institutions, quite rightly. However that liquidity risk is not being fully priced in markets in our judgement, and in part it hasn't because there hasn't been the test of an adjustment in volatility. We saw a mini test about a year ago with the changed perceptions of Fed policy. We will see other tests in time to come.

And so we would expect, over the medium term, that a liquidity premium would be priced into a series of spread products, asset prices, that is higher certainly than it was prior to the crisis, and higher than it is now. To loop back to monetary policy, that is just one other reason that even with a healed financial system that on the margin the risk free rate would be lower than it was previously.
The Lonely Decline in High-Multiple Stocks
Since late February and early March, the price of a good number of risky assets in the form of high-multiple (often called momentum) stocks in the U.S. finally fell. A whole cohort of recent IPOs, mostly in technology, dropped so swiftly that some dropped below their opening day prices and even original IPO prices. Investors suddenly got religion and became a lot more selective about the newest crop of IPO cash-outs. It seemed that investors cared a lot more about risk and some kind of repricing was underway. For example, the Renaissance IPO ETF (NYSEARCA:IPO), an ETF consisting of select stocks that have gone public in the last two years, was down as much as 13% off its all-time high and a "hair" off its all-time low.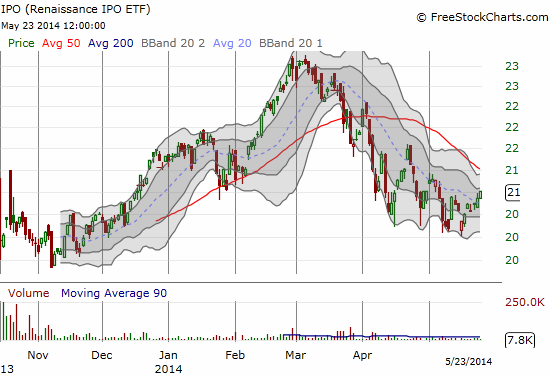 Recent IPOs have suddenly fallen out of favor
Yet, many other measures of risk remained tame, even oblivious. For example, iShares MSCI Emerging Markets ETF (NYSEARCA:EEM) has rallied 16% from a 2014 low on February 3rd. EEM sold off for a week in mid-March, and then pulled back slightly for two weeks in April, but overall, the theme has been buy-the-dip. Stock markets in hotspots like Turkey (NYSEARCA:TUR), Egypt (NYSEARCA:EGPT), and Russia (NYSEARCA:RBL) are all at various stages of strong recoveries. A military takeover in Thailand? No worries. iShares MSCI Thailand Capped ETF (NYSEARCA:THD) is a mere 4% off its highs of the year, and is marginally off its lows of trading in the past two weeks. Emerging market bonds in the form of the iShares J.P. Morgan USD Emerging Markets Bond ETF (NYSEARCA:EMB) have rallied nearly non-stop in 2014 as part of a steady recovery from 2013′s beating.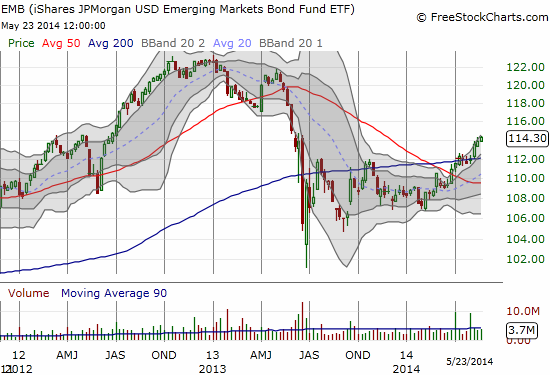 Emerging market bonds have stayed in recovery/rally mode for most of 2014
As far as emerging markets are concerned, it is VERY tempting to conclude that they have already seen the worst of a repricing of risk.
Currency markets in general remain unfazed. While my (current) favorite indicator of risk attitude in forex - the Australian dollar (NYSEARCA:FXA) versus the Japanese yen (JPY) - seems to have finally reached a top, AUD/JPY may already be stabilizing. Bank of Japan Governor, Haruhiko Kuroda has already swung into action against the recent strength in the Japanese yen by trying to talk it down.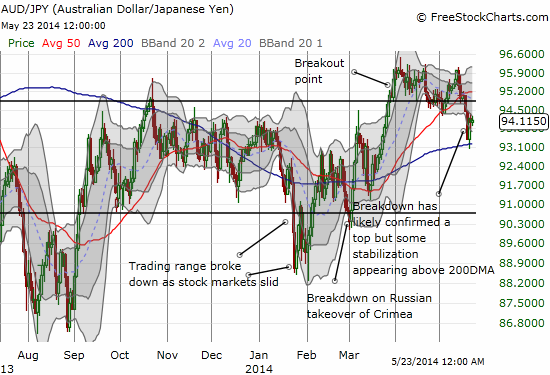 The Australian dollar may have finally topped out against the Japanese yen, but it remains for away from signaling/confirming danger
A lot has been made of the tumble in small caps, but the situation is not nearly as dire as some headlines have suggested. At least trouble is far from confirmed. The iShares Russell 1000 ETF (NYSEARCA:IWB) sits comfortably at an all-time closing high. In the past week, the iShares Russell 2000 ETF (NYSEARCA:IWM) bounced sharply off its lows for 2014. IWM's sell-off in early February did not bring the entire stock market down, so there is little reason to expect IWM will deliver a knock-out blow this time around. In fact, the chart below shows that divergences between IWB and IWM tend to get resolved to the upside (thanks, of course, to IWB's relentless push higher). Note that IWM has still outperformed IWB since at least 2009.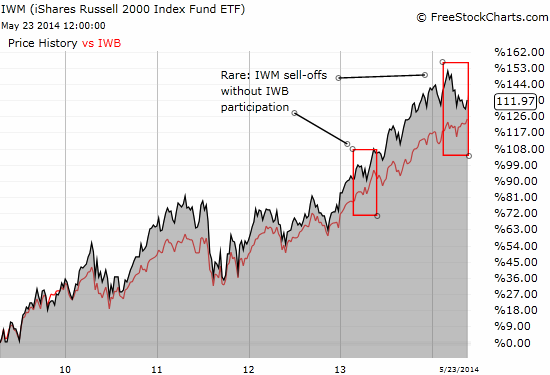 IWM and IWB are generally well-correlated. No need for alarm until/unless IWB resolves the current rare divergence to the downside.
The Volatility Index Digs A Deeper Hole for Its Head
The biggest "negator" of angst has been the volatility index, the VIX. Sure the VIX managed to experience rapid surges three separate times since the sell-off in high-multiple stocks began, but it never got close to its high of 2014. This high occurred when the SPDR S&P 500 Trust ETF (NYSEARCA:SPY) finally bottomed, after a rough start to the year. The dominant trend for volatility since then has biased downward. At 11.4, the VIX is now at levels last seen in mid-March of 2013. Moreover, momentum stocks have seemingly stabilized. Some have come roaring back over the past two weeks. The decline in the VIX has accelerated accordingly in the past week.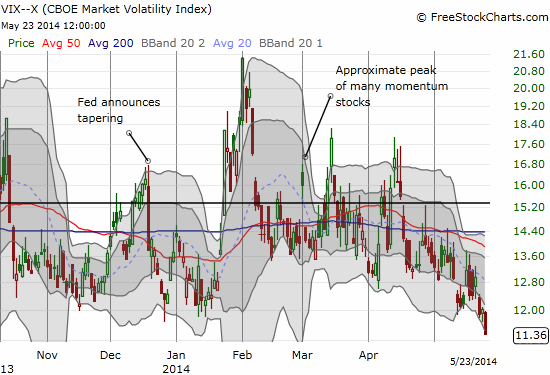 Strangely enough, the VIX approximately peaked along with momentum stocks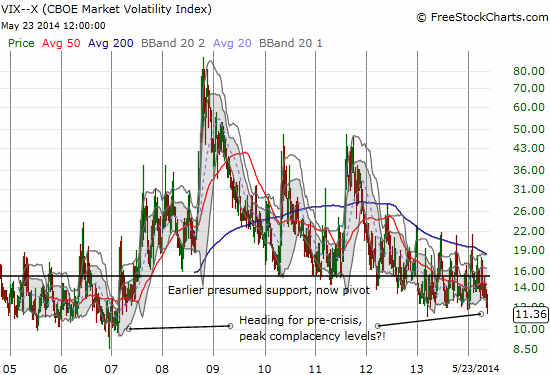 With momentum stocks coming back and the VIX at a 14-month low, the VIX could conceivably continue tumbling toward pre-crisis levels of complacency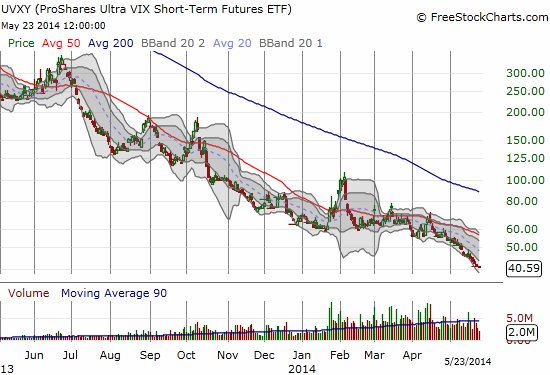 No one needs to tell traders in ProShares Ultra VIX Short-Term Futures ETF (NYSEARCA:UVXY) about the persistent futility in betting bullishly on volatility
One question remaining for volatility watchers is whether the VIX will join the Bank of England's spider chart in reaching pre-crisis levels; the weekly chart of the VIX above suggests the answer is a resounding "Yes". Astute watchers will be looking for the catalyst that finally sends the VIX upward again. The VIX tends to spend little time at current levels… all it needs is an excuse. The search for an excuse brings me full-circle back to central banks. Central banks must be extremely cognizant of the potential tinderbox, because one by one, the major players have either turned dovish and/or have highlighted their reticence to allow markets to begin the march toward normalization of interest rates.
The Hot Potato of Higher Interest Rates
On May 7th, Fed Chair, Janet Yellen raised the specter of "disappointment" in the housing recovery as a potential reason to soft-pedal on monetary policy. After the market over-reacted in March to an apparent Yellen reference to rate hikes earlier than expected, Yellen has been more careful than ever to emphasize how low rates will stay even after the economy achieves full employment.
The Reserve Bank of Australia (RBA) recently completed another round of rate cuts. With iron ore prices plunging and the unemployment rate at post-crisis highs, the RBA is as far from rate hikes as can be.
The Bank of Canada flipped dovish last year.
Bank of England Governor, Mark Carney has been ever so persistent in scolding the market about being overly eager to anticipate rate hikes. In the May Inflation Report, the Bank of England effectively shifted the goal posts yet again on the trigger for raising rates. This time around, the emphasis was placed mostly on reducing "wasteful slack" in the economy (emphasis mine):
As time has moved on and the recovery has been sustained, the economy has edged closer to the point at which Bank Rate will need gradually to rise. The exact timing will inevitably be the subject of considerable speculation and interest. The ultimate answer will depend on the evolution of the economy, particularly the degree of slack, the prospects for its absorption, and the broader inflation outlook. The MPC will continue to monitor a broad range of indicators including unemployment, participation in the labour market, average hours worked and the extent of involuntary part-time working, surveys of spare capacity in companies, labour productivity, wages and unit labour costs.

At its May meeting the MPC [Monetary Policy Committee] judged that there was scope to make further inroads into slack before the first increase in Bank Rate was necessary.

When Bank Rate does begin to rise, increases are expected to be gradual and limited, meaning that Bank Rate may need to stay at low levels for some time…
And of course, the European Central Bank (ECB) is as far as can be from tightening policy as it struggles to figure out how to fight off the specter of deflation across the eurozone. On May 15th, ECB Executive Board member Yves Mersch raised eyebrows after claiming during an interview that the ECB is working on easing measures that "might even strike the most fertile imagination." All eyes eagerly await the ECB's June's monetary policy meeting.
In other words, investors simply have little to no reason to include rising rates into their investing and trading decisions right now. As central banks struggle with the tension between extremely low implied volatilities and extremely accommodative monetary policies, interest rates, particularly in the U.S., have generally declined. For example, TLT, the iShares 20+ Year Treasury Bond ETF, has risen 10.6% year-to-date (higher prices equal lower yields), despite the Fed's ongoing bond tapering, easily outperforming the S&P 500's 2.8% rise year-to-date.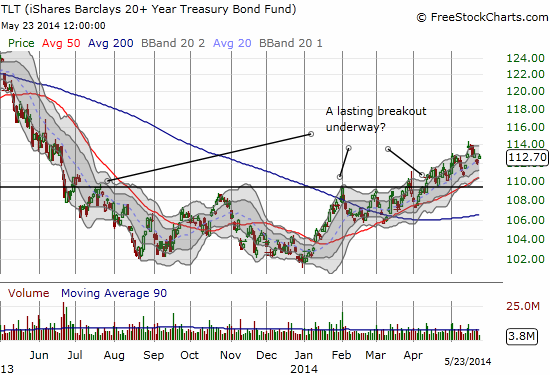 The iShares 20+ Year Treasury Bond ETF (TLT) has rallied all year
(Perhaps wary investors are betting on risk by buying up U.S. bonds and eschewing the VIX?)
The Ironies of Resiliency; Timing Is Everything
Resiliency is a good characteristic for financial markets. The path of the S&P 500 since 2009 has been a historic tale of resiliency as crisis after crisis has sent the market reeling, only to come back stronger, building confidence in markets and the economy. The irony of these persistent comebacks is that over time, the buttressing of confidence breeds increasing comfort and increasing faith that resiliency equals invulnerability. Over this time, risk premiums fall and can communicate the wrong information to market participants. Memories fade and get shorter. Investors in momentum stocks have learned or are learning that the willingness to overpay for earnings (and/or revenue) can be a very fleeting sentiment.
This resiliency is under-appreciated by those who DO choose to protect themselves from risk. These cautious investors and traders tend to overestimate the probability of crashes, making timing everything when it comes to betting on a rise in volatility. In "Forecasting Stock Market Crashes is Hard-Especially Future Ones: Can Option Prices Help?", Federal Reserve economist Eric Engstrom demonstrates the long-run tendency of option-implied prices to predict much higher odds of sell-offs than historic frequencies suggest is reality.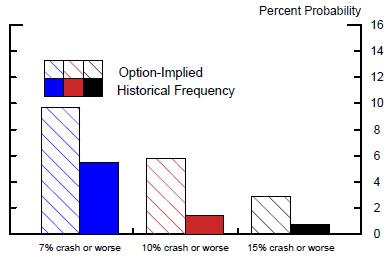 Long-Run Average Probabilities of Crashes
Source: "Forecasting Stock Market Crashes is Hard-Especially Future Ones: Can Option Prices Help? from the Federal Reserve FEDS Notes, May 7, 2014
(It would be VERY interesting to get Nassim Taleb's assessment of these results! Taleb has little faith in our ability to know or understand the true probability of long-tail events.)
Indeed, a simple web search provides a ready cacophony of predictions of massive sell-offs and crashes every year, no matter the valuation of the stock market or the strength of the economy. In June, 2013, MarketWatch writer Paul B. Farrell provided a handy list of 2013's predictions for market crashes. Given the S&P 500's heady performance in 2013, those predictions became the disasters.
Conclusion
I conclude by returning to Bean. Clearly, Bean is acutely aware of the self-reinforcing forces of low volatility, complacency, the under-pricing of risk, and yet lower volatility. In describing all the factors that contributed to abnormally low volatility ahead of the financial crisis, Bean pointed a particularly accusatory finger at former Fed Chair, Alan Greenspan's era of "Great Moderation":
Equally important, in my view, was the impact of the Great Moderation itself on risk-taking behaviour, as low volatility encouraged an underestimation of the likelihood and severity of adverse tail risks crystallising. Seen in this light, the Great Moderation sowed the seeds of its own destruction.
Bean essentially recommends that economic serenity should not be the goal of monetary policy. Instead, central bankers must accept the inevitably of downturns by allowing shot-term stresses to build resiliency into the system. Hopefully, this resiliency will make the inevitable downturns much more bearable:
Essentially it is worth accepting a little more volatility in output and inflation in the short run if one can thereby reduce the size or frequency of asset-price busts and credit crunches…

Importantly, while monetary policy is well-suited to dealing with the problems that arise from sluggish wage and price adjustment, a good macroprudential tool will be one that is well targeted at dealing with a particular financial market failure, such as the underestimation of risk.
This reference to robustness in financial systems should be music to Nassim Taleb's ears (for example, see "Nassim Taleb on Risk and Robustness" in the The New Yorker, June 8, 2010). Assuming Bean (along with Mark Carney) is correct about the trajectory of volatility, this notion of robustness will very soon get another test. The time to bet on or protect from this test is when the insurance is selling on the clearance rack. Increasingly, this is where I am shopping. I will spend even more time shopping if/when the percentage of stocks trading above their respective 40-day moving averages gets to 70% and above, an area where the stock market typically spends little time. This oscillator is currently at 61.9%. (The red line is drawn at 70%, the blue line at 20%).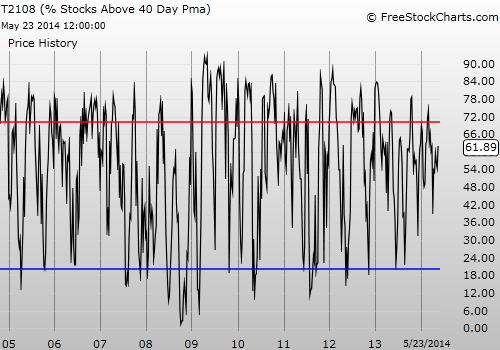 The percentage of stocks trading above their respective 40-day moving averages is once again reaching toward an extreme
Source for charts, except where otherwise stated: FreeStockCharts.com
I can only imagine the transformation of "true" risk in the stock market if this oscillator is trading well above 70% at the same time that the VIX reaches pre-crisis levels. Stay tuned and be careful out there!
Disclosure: I am short SSO. I wrote this article myself, and it expresses my own opinions. I am not receiving compensation for it (other than from Seeking Alpha). I have no business relationship with any company whose stock is mentioned in this article.
Additional disclosure: I am short SSO through put options. I am also long puts and calls on TLT. In forex, I am net short the Australian dollar.