In April, I published an article that highlighted RGS Energy's (NASDAQ:RGSE) acquisition of Sunetric, a Hawaiian-based solar installer. In general, the article was bearish. It pointed out that the primary Hawaiian utility was capping solar installations at 120% of daytime minimum load (DML). Since solar power is extremely popular in Hawaii, there are many regions where that limit has already been reached. As a consequence, the approval of residential permits on Hawaii has slowed down dramatically. So, it seemed like a bad time for RGS Energy to enter the Hawaiian market. Since then, RGSE stock is down 45%!!
I think it's worth re-evaluating RGSE to see if the massive pullback has created a buying opportunity. For the most part, I remain quite bullish about the solar sector. It's hard not to be bullish when you look at module sales up 30% and increasing competitiveness with fossil fuels. When a northern state like Minnesota chooses solar power as the cheapest method of expanding electrical generation capacity, you know we're on the verge of something big.
"This is the first time in U.S. history that solar has beaten gas in a competition based on unsubsidized price."
The most recent data from the Office of Energy Projects shows that solar accounted for 38% of new generating capacity that has been added to the US grid through April 2014. Note that the OEP's data did not include distributed solar - I've added it, assuming that new solar projects are 55% utility-scale/45% distributed. There were zero coal projects. Solar and natural gas are neck-and-neck in terms of new generating capacity.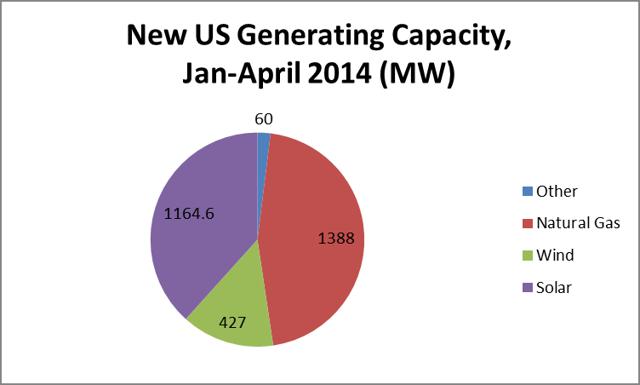 With that broader solar momentum in mind, here are some of the bullish tidbits I've learned about RGSE from conversations with the Liolios Group (which handles investor relations for RGS Energy) and through my own research:
The bullish case
HECO (the #1 Hawaiian electric utility (HEI)) manages 400 separate circuits on the Hawaiian island of Oahu. These circuits are split roughly 50-50 between commercial and residential, and the 120% DML is enforced on individual circuits. So, the slowdown in residential permitting won't necessarily affect the RGSE acquisition, since Sunetric focuses on commercial solar.
Two separate sources at Liolios Group mentioned that none of Sunetric's work crews are idle. This is great news, as I had been concerned that sluggish permitting might idle some workers. It was also mentioned that Sunetric has a backlog of projects (but I got no clues on how large the backlog is).
HECO is studying whether it can safely increase the solar capacity limit beyond 120% DML. Currently, 11% of HECO's customers use solar. A June 2013 report from the National Renewable Energy Lab found that the Oahu grid could handle 20% generation from renewables with modifications to the grid and some additional backup capacity (presumably from natural gas). Germany has seen solar provide up to 33% of its power over a 24-hour period. Finally, a study of the Northeastern US found that the grid could handle 30% renewables. So, I believe that HECO is likely to expand the limit on solar.
Nobel laureate in physics and former US Energy Secretary Steven Chu blasted HECO's reluctance to add more capacity, saying, "That's another bullshit argument. Solar installations don't threaten grid stability until they approach 20% of the customer base."
As I've noted in a previous article, HECO pays a dividend which is currently ~2.4X higher than the industry average. There may be some reluctance to pivot away from its traditional business model if that juicy dividend is threatened.
There has been mounting public and political pressure on HECO to increase solar interconnections. The Public Utilities Commission has given HECO 120 days to develop a plan that would allow more solar interconnections.
Sunetric was cash flow positive in 2013, and is expected to remain so.
Growth in RGSE's residential revenues was up 60% in Q1, despite harsh weather and despite Q1 being a historically weak quarter.
RGSE's deployment forecast of 50-55 MW does not include the Sunetric acquisition. In 2013, Sunetric installed 13 MW. So there is likely to be some upside at the next earnings report.
Total shareholders' equity increased by $19M from Q42013 to Q12014.
How is RGS Energy's liquidity?
A concern with this small solar company has always been its liquidity. It seems clear that the solar cap on Oahu will be lifted eventually - maybe even soon, considering that HECO was given a 120-day planning deadline. But does RGSE have enough cash to operate in the meantime? Cash declined by $1.3M from Q4'13 to Q1'14, leaving the company has $11.1M cash on hand. There is also $4.6M of borrowings available. Based on that rate of cash burn, I would say the company has at least enough cash to operate for another two years. Bankruptcy is not an immediate threat.
When can we expect RGSE to become profitable?
That is the million-dollar question. A lot of it depends on Hawaii - how soon will HECO increase the solar cap? How big is Sunetric's backlog? These are unknowns that I can't answer definitively; it's up to each investor to make his own judgment on these issues.
I'll close with a plot of RGSE's earnings per share over the past five quarters. This is another solar installer, like SolarCity (SCTY), that's hard to value by conventional metrics because it is signing long-term leases and PPAs that will bring in revenue for decades.
You will notice a relatively large loss in Q1'14. That loss is attributable to investments in the business (an in-house calling center, expanded sales and support teams) and to a one-time charge of $6.2M to "record an increase in the warrant derivative liability." Excluding the one-time charge, EPS would have been -15¢. Before I would recommend a buy, I'm waiting for one more earnings release. Look for an improvement in EPS to show that the acquisitions and the new calling center are effective. If RGS Energy shows improvement, it has two-bagger potential.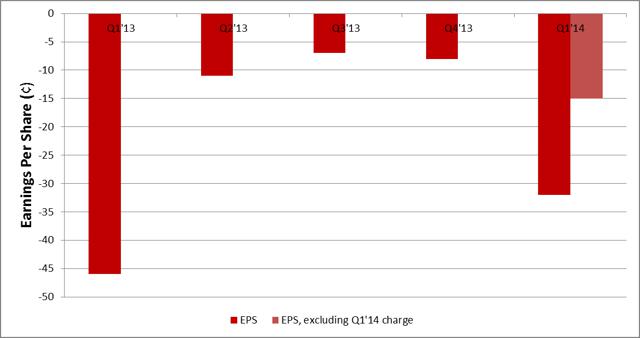 Disclosure: I am long SCTY. I wrote this article myself, and it expresses my own opinions. I am not receiving compensation for it (other than from Seeking Alpha). I have no business relationship with any company whose stock is mentioned in this article.