In my last article (November 2013) on UMH Properties (NYSEMKT:UMH) I wrote (note: the article was a Pro article and available to Pro members):
I'm looking to enhance the SALSA model with a target Total Return for UMH of 25%. That means that I'm targeting 17% in annual share price growth while pocketing 7.7% in dividends.
Well the good news is that UMH is inching closer to my target. Since my last article, shares in the Modular Housing REIT are up 6%.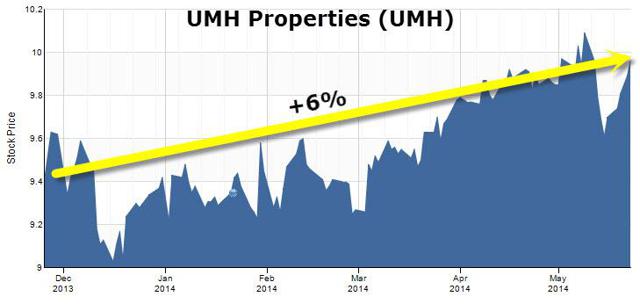 Meanwhile the company's Total Return is up almost 10%.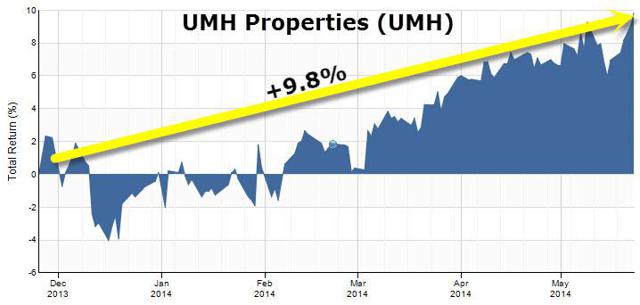 Admittedly, I was hoping to see more success for this Monmouth, New Jersey-based REIT. Accordingly, UMH is the smallest of the three Modular Housing REITs and with a market capitalization of just $218 million, I was expecting to see shares top $11.00 by summer. Since January (2014) shares in UMH have underperformed the peer group: UMH shares are up 5.73%, Equity Lifestyle (NYSE:ELS) shares are up 17.94%, and Sun Communities (NYSE:SUI) shares are up 11.49%.
It's true, UMH pays the highest dividend in the sector (7.23%); however, the company's year-to-date Total Return performance has still lagged.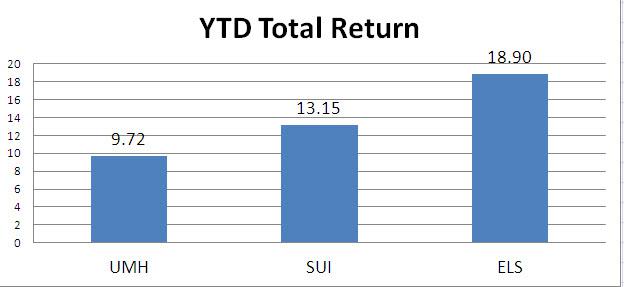 What could be lacking? It seems that UMH was on target for outperformance and I even took a position in the small cap REIT last September (at $9.73). I wasn't looking for a tortoise as I was betting that UMH would perform more like a rabbit. What could I be missing? Or what could Mr. Market be missing?
The Biggest Carrot Doesn't Always Win
Whether you're a tortoise or a rabbit, the prize in REIT-dom is almost always the dividend. I like the fact that UMH pays high dividends and that's precisely what attracted me to become an investor. Currently UMH pays a 7.23% dividend yield, the highest in the sector.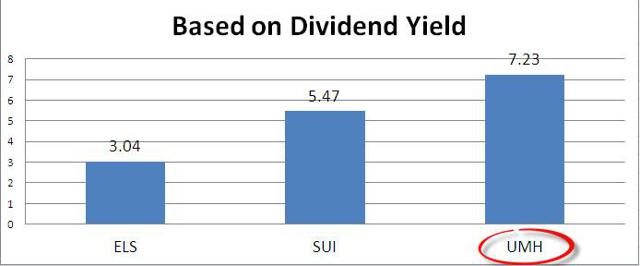 However, when we look at UMH's dividend history we see that the company has maintained a relatively flat dividend history. In 2008 the company cut its dividend from $1.00 per share and it has maintained a flat $.72 annual dividend since that time.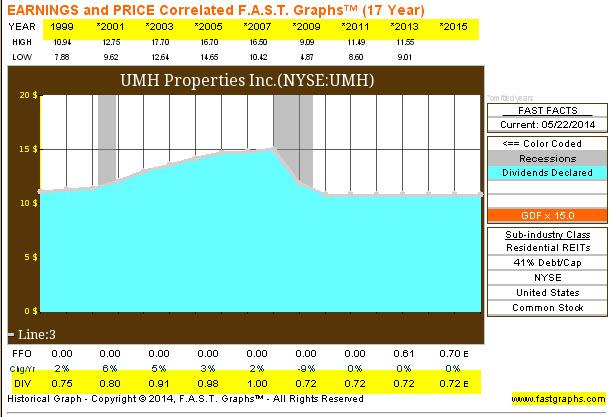 During the latest earnings call we found out that UMH's core funds from operations (or FFO) for the first quarter was $0.11 per share. Notably, this is an improvement from $0.05 in the Q4-13 but it still falls short of the amount needed to cover the $0.18 per share quarterly dividend. Here's the recent dividend history:

Alternatively, both peers have increased their dividend. Recently SUI increased its dividend from $.63 to $.65 per share (annualized dividend is now $2.60).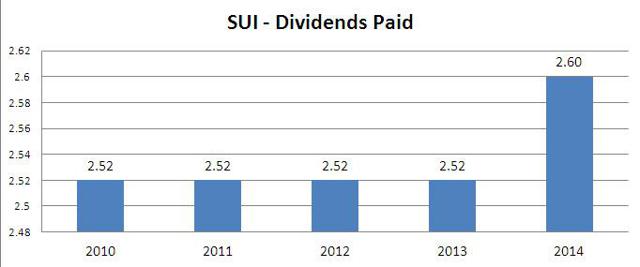 ELS also recently boosted its payout from $.2500 to $.3250. On an annualized basis that increased the dividend by almost 30% from $1.00 to $1.30 per share - around 30% 3-year CAGR. See my article on ELS HERE.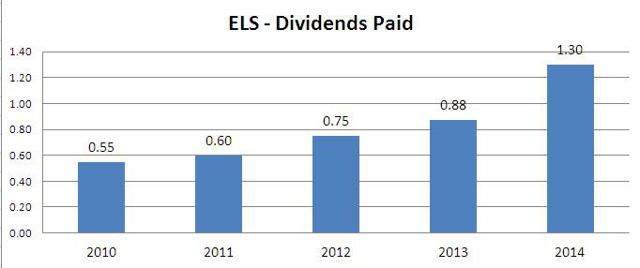 Let's Examine UMH Closely
UMH Properties commenced operations in 1968 and the company has been operating as a REIT since 1985. As of the latest quarter, UMH owns a portfolio consisting of 82 manufactured home communities containing 14,500 developed sites located in New Jersey, New York, Ohio, Pennsylvania, Tennessee, Indiana, and Michigan.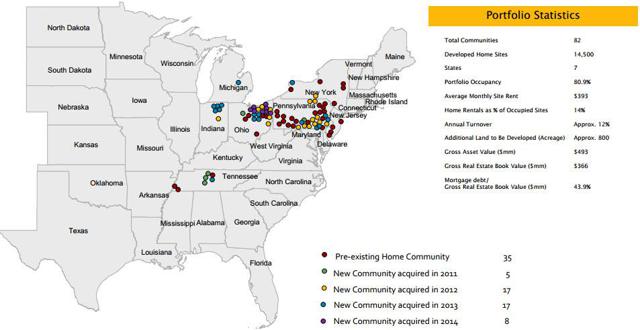 UMH has continued to execute its growth strategy by purchasing well located communities in target markets including the energy rich Marcellus and Utica Shale regions. As reported on the company's latest earnings call UMH has increased the number of developed home sites by 16% over the prior year period.
In March 2014 UMH acquired 8 manufactured home communities for $24,950,000. These all-age communities totaled 1,018 sites and are situated on approximately 270 acres and are all located in the Marcellus and Utica Shale regions of Ohio. The average occupancy for these communities is approximately 70%. UMH assumed mortgages totaling approximately $18.1 million and used its credit facility to finance the remaining cost of this acquisition.
Additionally over the past 4 years UMH has more than doubled its portfolio by acquiring 54 communities totaling 7,700 developed home sites.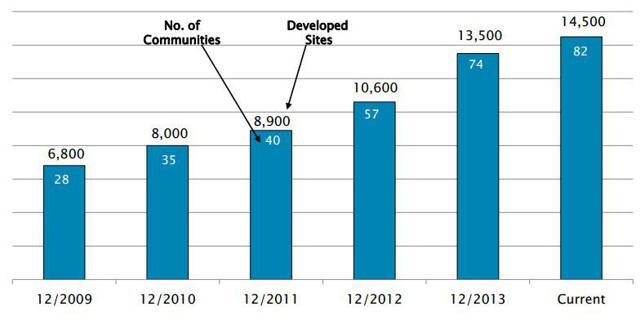 As announced on the recent earnings call, UMH has continued to expand its acquisition pipeline and has entered into definitive agreements to purchase 6 manufactured home communities with the total of approximately 589 developed home sites. These communities are located in Ohio and Pennsylvania. The aggregate purchase price of these communities totals approximately $17.6 million. In conjunction with the purchase of these communities UMH will assume mortgages totaling approximately $8.6 million.

How Does UMH Fund Its Growth?
As of Q1-14 UMH's capital structure consisted of approximately $231 million in debt, of which $178 million was community level mortgage debt and $54 million were loans payable. 95.4% of the company's mortgage debt is fixed rate.
The weighted average interest rate on its mortgage debt is 4.8% and the weighted average maturity is 5.9 years. UMH also has a total of $92 million in perpetual preferred equity at quarter-end. The preferred stock combined with an equity market capitalization of $212 million and around $231 million in debt makes up the total market capitalization of approximately $535 million at quarter end. From a credit standpoint UMH's net debt-to-total market capitalization is 42% and fixed charge coverage was 1.5x.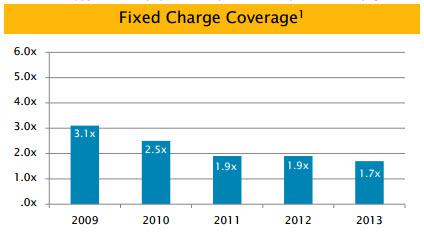 UMH's total debt-to-EBITDA is 9x (as of Q1-14).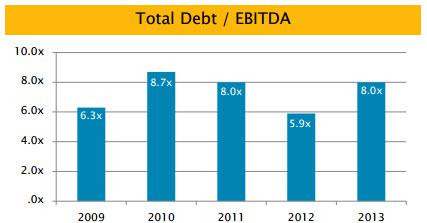 From a liquidity standpoint UMH ended the quarter with $7.8 million in cash and cash equivalents and $5 million in availability under its credit facility with an additional $15 million potentially available pursuant to an accordion feature. In addition, UMH has $60.7 million in marketable REIT securities encumbered by $13.1 million in margin loans at 2% interest.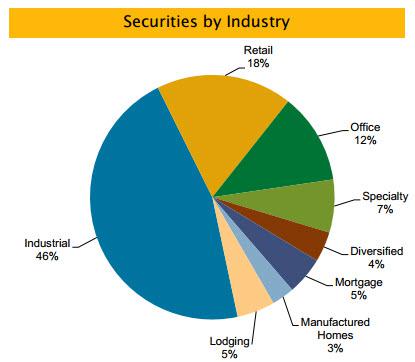 Here's a snapshot of UMH's debt maturity schedule:

The Latest Results
UMH's overall occupancy has remained relatively stable at 81%.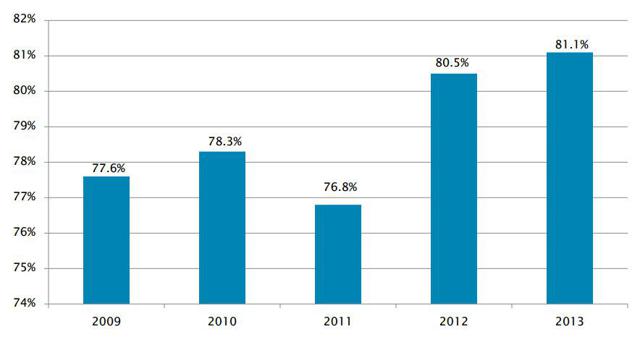 Same store occupancy has increased from 80.8% in the first quarter of 2013 to 81.8% (Q1-14).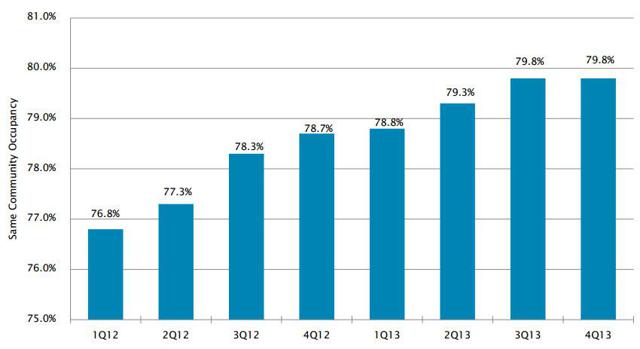 As of the latest quarter UMH's assets topped $436 million.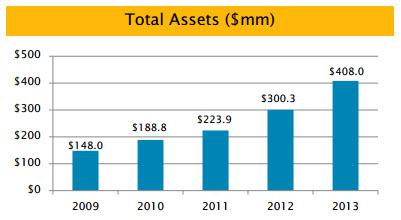 UMH's Core Funds from Operations were $2.4 million or $0.11 per diluted share for the first quarter of 2014 compared to $5.3 million or $30 per diluted share for the first quarter of 2013 and $1.1 million or $0.05 per diluted share for the fourth quarter of 2013.
Core FFO excluding securities gains was $1.9 million or $0.09 per diluted share for the recent quarter compared to $1.9 million or $0.11 per diluted share a year ago and $825,000 or $0.04 for the fourth quarter of 2013. Rental and related income for the quarter were $14.8 million compared to $11.6 million a year ago, an increase of 28%, primarily due to the acquisition of 15 communities since the prior period.
As mentioned above, UMH has a preferred issue that costs around 8.25% and I was interested in UMH's reply to the question posed (on the recent earnings call) by Richard Murray of Midwest Advisors:
I wanted to ask a question about the capital structure, and help me understand the rationale for holding a securities portfolio that yields about 6.5% against paying a preferred security that costs you about 8.25?
Here's how Eugene Landy, Chairman of UMH, replied:
We use the preferred equity as the equity to help us put together a tremendous expansion program that has worked and so we are very proud of issuing the preferred stock.

…The common stock portfolio is the equivalent of owing real estate, the preferred stock is a separate element and it provides us with a very high return and it provides us with liquidity. So we are very proud of the capital structure that we have $60 million in securities with only $12 million borrowed, it's been a very successful program for so many years. We wonder why people still question it because we made a lot of money doing this. And we continue to make money keeping the preferred and common stock portfolio.

Again it's the main purpose of its liquidity. It's great that we have the bank lines. It's great that REITs have access to the capital markets. But on our own basis we have liquidity and a strong balance sheet. And that enables us to be aggressive in buying communities.

When we made these acquisitions I think the biggest one was $69 million and the seller said to us could you handle it and we said no problem at all. And that helps us gets the deal, it helps us make the deal and complete it. And so we keep this liquidity and it doesn't really cost us any money. And we recommended it to all REITs that, that they keep about 10% of their gross assets in liquid REIT securities.
Murray then responded:
But I would argue that the presence of substantial negative arbitrage on your balance sheet particularly in light of where the dividend is makes some investors somewhat uncomfortable. And given the current financing environment it seems that there are better ways to optimize the current capital structure.
Murray concluded as follows:
…if you look at over the longer term I mean I would argue you do have liquidity in the do it and reinvestment program. You have a public liquid security that you can issue into the market or to sellers of assets. But if you end up with having to cut your dividend those choices are gone become more difficult in the future.
Stocks are Driven by Underlying Earnings
UMH management makes a strong case that there is intrinsic value in the investments that are being made and that over the long-term the value of the company could provide investors with substantial appreciation. Although, I'm not jumping for joy over my modest price gain, I'm hanging on for the high dividend.
Of course, a dividend cut would be costly and I need to make sure that I don't fall victim to the temptation of chasing a high-paying REIT that offers modest growth. As noted above, UMH cut its dividend in 2007 and the company has not raised its annual dividend in over 6 years. As you know, a dividend increase (more than current earnings) is a forward-looking indicator of growth and total return prospects. Consequently, a dividend increase is the loudest message that management can send.
It's clear that UMH is not in a position to raise its dividend and that's one of the primary reasons that the stock has underperformed the peer group. In my opinion, UMH must find a way to move the needle to increase its dividend, but it first must cover it. I agree with the analyst's comments (above) and I believe that UMH should examine its REIT security business with the qualification that I'm an investor in UMH because of its track record for managing modular housing risk, not REIT security risk. Instead of utilizing the REIT securities market to fund new deals "you have a public liquid security that you can issue into the market."
Ben Graham once remarked that earnings are the principal factor driving stock prices. Based upon my analysis UMH's earnings should improve as new properties are integrated into the business model. Remember, the primary driver for this REIT is land rental and UMH has an outsized land portfolio that should produce increased revenue over time.
In short, I'm going to hang on for a few more quarters and determine if UMH has the capacity to grow its dividend. I'm not waiting around for too long though. Remember that my REIT portfolio is as liquid as UMH's REIT portfolio. In other words, I can create liquidity as fast as you can say "Dividend Growth Investor."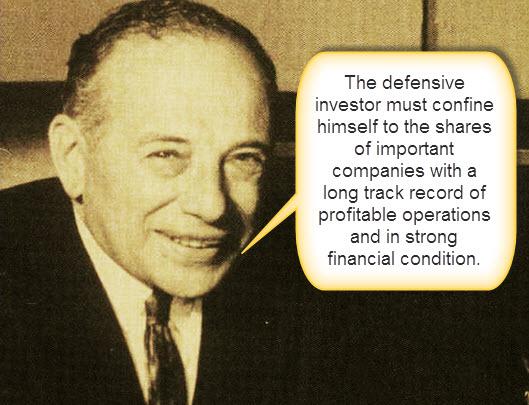 For more information on my SALSA portfolio, check out my monthly REIT newsletter HERE.
Sources: SNL Financial, FAST Graphs, and UMH Investor Presentation.
Disclaimer: This article is intended to provide information to interested parties. As I have no knowledge of individual investor circumstances, goals, and/or portfolio concentration or diversification, readers are expected to complete their own due diligence before purchasing any stocks mentioned or recommended.
Disclosure: I am long O, DLR, VTR, HTA, STAG, UMH, CSG, GPT, ARCP, ROIC, HCN, OHI, LXP, KIM, WPC, DOC. I wrote this article myself, and it expresses my own opinions. I am not receiving compensation for it (other than from Seeking Alpha). I have no business relationship with any company whose stock is mentioned in this article.