There was a ton of volatility in the IPO market last week. One company I've been following rallied 31 percent, another plummeted 11 percent, and yet a third has postponed its big board debut a second time.
We have lots to cover so let's get started.
The chart below shows the returns of the top 5 performing companies that we've been watching since they went public. Recall that we began our IPO watch in early July, so companies that went public prior to July are not included.
Also, remember that the returns I calculate use a stocks first traded price on the day it goes public rather than its IPO offer price. I do this because this price more accurately represents the price at which an average individual investor could purchase shares. We're not investment banks, so why track the outsized returns those preferred clients get on their IPO investments, right?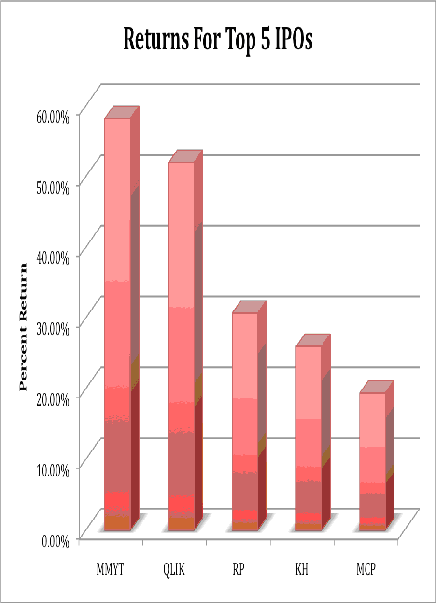 MakeMyTrip Limited (Nasdaq: MMYT) has been the best performing company returning around 58 percent since it went public on August 11th. QLIK Technologies (Nasdaq: QLIK) is another big winner - the company's stock has surged 52 percent since it went public in mid July.
Other top winners include RealPage Inc. (Nasdaq: RP), China Kanghui Holdings (NYSE: KH) and Molycorp Inc. (NYSE: MCP), all of which have returned 31 percent, 26 percent, and 19 percent, respectively.
Investor demand for these companies is driving their share prices higher. It's also not surpising that some of these top-performing stocks were among some of the biggest winners last week - despite a down week in the broader market.
MakeMyTrip posted the largest one week gain jumping 31 percent. Note that I use the closing dates from Friday August 20th through Friday August 27th.
According to Dealogics, a data provider for investment banks, MakeMyTrip has been the best performing IPO since Athenahealth Inc. (Nasdaq: ATHN) gained 97 percent back in September 2007.
Why all the fuss? Well, MakeMyTrip is an online travel company that offers services such as airline tickets and hotels in India and the US. There have been positive reports from the travel industry lately and companies like Priceline.com (Nasdaq: PCLN) reported second quarter booking increases. Priceline.com reported an increase of 43% (over the previous year), Expedia (Nasdaq: EXPE) reported a 19 percent gain, and Orbitz Worldwide (NYSE: OWW) reported 17 percent.
QLIK Technologies was another big winner last week as its stock soared 14.5 percent. Two weeks ago, the company released results for the second quarter of 2010 and reported revenue growth of 56 percent compared to the second quarter of the previous year.
Molycorp Inc. (NYSE: MCP), which sells rare earth oxides (those used in the development of green technologies), rounded off the top three winners. The now $1.4 billion market cap company jumped over 5 percent last week and is up 19 percent since going public on July 29.
Of course, every stock can't go up each week - so let's check out some of last week's losers.
D Medical Industries (Nasdaq: DMED) posted the biggest loss last week as shares fell 11 percent. The Israeli based company develops medical technologies, with a primary focus on solutions for diabetes treatment.
IntraLinks Holdings Inc. (NYSE: IL) dropped 6 percent last week on light volume as investor interest waned in the enterprise software solutions company.
RealD Inc. (NYSE: RLD), a licensor of 3D technology, fell 9 percent. The company is down around 13 percent since its IPO, but I wouldn't be surprised if its stock moved higher in coming months as fall sets in and more people look to the movie theatres for winter entertainment. The buzz around 3D films has certainly waned since this spring, but the company has relatively strong fundamentals and is still in an industry that's growing tremendously fast.
This company highlights some of the risks to those of us who can only invest in IPOs once the stocks hit the major exchanges. A good Barron's article from Tuesday discusses some of the pro's and con's of investing in RealD - noting in particular that the drive to go public may have been largely to provide a cash out opportunity for insiders at a time when 3D was all the rage.
That said, there are now five analysts covering the stock, with a mean price target of $23.50. The stock is trading at $16.71 as of yesterday's close. That's 41 percent gain if the stock hits that mean price target.
There's one company scheduled to go public this week, but I'd be cautious about this IPO. SurgiVision (SRGV), which develops medical equipment and software, has been trying to go public since July. It originally filed to offer 2.5 million shares at a price range of $13 to $15 a share then lowered that price range to $9 to $11 a share at the end of July.
The company then postponed the deal and filed again in early August, expecting to raise $18.5 million by offering 3.7 million shares at $5 a share. With relatively poor market conditions I'd be surprised to see this company go public. If demand isn't there, why do it?
We know why some companies go public: to pad the bank accounts of the company's founders and major private shareholders. The rescheduling and changes to this offering reeks of desperation, a bit. You have to wonder if it's because the current ownership is desperate for new investment capital, or just desperate for capital.
We'll see what happens, it will be an interesting one to watch if it does IPO - especially since the projected proceeds have fallen by nearly 50 percent (from $35 million with 2.5 million shares at $14, to $18.5 million with 3.7 million shares at $5).
That's it for this week's IPO update. There is still a lot of action in this sector, and those of you who have been reading this report each week should be starting to recognize certain trends in companies that IPO.
Among those, notice how companies tend to go public when there is a lot of positive media attention in their particular sector? That shouldn't come as a surprise - the goal of an IPO is to raise money, so companies do it when demand is high. But that raises the likelihood of investors paying a premium, so be careful out there!