"One of the ten best investment books of all time."
-The Washington Post
In my opinion, Jeremy Siegel's Stocks for the Long Run is the single best book for beginning investors. Now in its fifth edition, Siegel has really created a masterful, 50,000-foot view over the world of stocks with Stocks for the Long Run.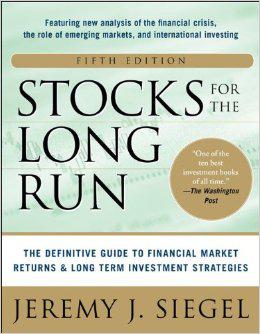 When I Was Teaching Myself Investing…
I first began to look into the stock market in 2007, when I was 27. I had become interested in business after being anti-capitalist for the first few years of adulthood. Once I realized that stocks were ownership stakes in real-life businesses, I became interested in the market. After all, I certainly didn't have $100,000 to invest in a Laundromat, but it was conceivable that I might be able to save $500 or $2,500 to buy shares of Microsoft (NASDAQ:MSFT) or Google (NASDAQ:GOOG).
When I told my dad of my burgeoning interest in the stock market, he sent me a couple of books. One of them was Stocks for the Long Run. I tore into it. I was actually reading The Intelligent Investor at the same time, having seen somewhere that Buffett touted it as his favorite investing book of all time. (I do not recommend The Intelligent Investor as the best book for beginning investors because it gets slightly into the weeds and I feel like it is a bit too dry for the average individual investor.)
The Chart of All Charts, For Any Investor
In a short time I devoured Stocks for the Long Run. The book is a macro look at equities as securities. It basically lays out an iron-clad case for why people should focus most of their invested assets into stocks rather than the alternatives (corporate bonds, Treasuries, gold, etc.). One chart in the beginning of the book stands out above all else. I will summarize it here because I don't have the copyright to reproduce it: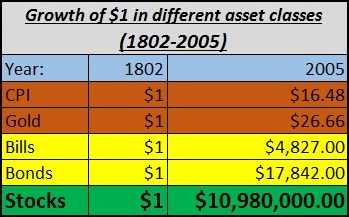 This data is from the 4th edition of Stocks for the Long Run. The S&P 500 has grown by an additional 52% since the time of this chart (EOY 2005), without even taking the value of dividends into consideration. So that dollar invested back at the beginning of 1802 in the stock market would now be worth well over $16.5 mil versus the paltry $11 mil at the time of the publication of the 4th edition of Siegel's classic. As you can see, through 2005 stocks had returned 615 times as much as investors' second best alternative: bonds.
If I have taken nothing away from Stocks for the Long Run other than the vast superiority of stocks to any other type of asset (in the long run), then I have already reaped way outsized gains on the time spent reading. Note also that the historical returns above were achieved without market timing, or ducking and diving in and out of the market. This was a straight buy-and-hold return.
Siegel actually argues in the book that young people should have 110% of their savings invested in stocks. That's right: he advocates for borrowing a little money on top of your savings to take advantage of the long-term predictability of stocks when you're young. (Of course, nothing is guaranteed. But data like that above should illustrate quite clearly to any intelligent person that there is something about stocks that makes them better investments than the alternatives. Buffett calls them "productive assets.")
Wayne Gretzky and Marlboros
But there is much more to Stocks for the Long Run than a simple, astounding chart. For example, a trivia question: Which member of the original S&P 500 index from 1950, that was still in the index in 2005, gave investors the best return?
(Scroll down to get answer.)
..
..
The answer: Altria Group (NYSE:MO)! Which changed its name from Philip Morris in 2003.
No other company was close. It is kind of like if you look at Wayne Gretzky's statistics in hockey: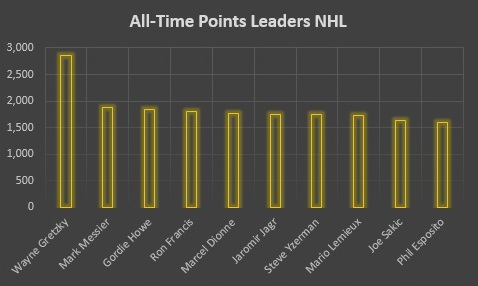 Wayne Gretzky has more than 1.5X as many points as #2 all-time, Mark Messier. And look at how close together #2 through #10 are. Gretzky has 970 more points than Messier. And Messier has only 297 more points than #10 Phil Esposito.
Well this is the same type of thing that Philip Morris did from the 1950's on. It compounded at about 19% a year while all of the next-fastest growing S&P 500 companies compounded around 15%. If you outperform by 4 percentage points a year for 50+ years… Well let's just look at an approximation of the end difference:

By the end of 50 years of the S&P, Altria/Philip Morris had been worth more than 5.5X that of its closest comrades in the index. Just to be clear: this is not just for cigarette companies; it is for all companies that were in the index when it began and remained in it 50 years later.
So that is another thing I learned from Stocks for the Long Run: Philip Morris was the Wayne Gretzky of the S&P 500 in the second half of the 20th century.
ASAP, Understand the Superiority of Stocks as an Asset Class
The most important decision most investors will ever make is not which stocks to pick or which money manager to use, but how much of their savings to allocate to stocks on a consistent basis. The message of Stocks for the Long Run is clear: bet big on stocks. A whole lot of history and egregious outperformance will be on your side.
And likewise: the biggest mistake investors can make is to under-allocate to stocks. I believe that this great, fundamental book has profoundly impacted those who have read it to trust the stock market in the long run more.
The 5th Edition of Stocks for the Long Run
Jeremy Siegel came out with the 5th edition in December 2013. (As I've noted, the copy I read was the 4th edition, published in November 2007.) Therefore, the new, updated version covers the financial crisis, and continues to expand on previous insights offered on the expansion of "emerging markets" such as China.
Stocks Have Never Been Overvalued
In Stocks for the Long Run, Siegel argues that the price/earnings ratio of stocks should be higher.
He is right. Because of their vast outperformance on a long-term basis, stocks should get a higher permanent valuation. The reality of history is not fully being priced into stocks. Such outsized gains should not be available, but they are and will almost definitely continue to be.
Siegel's thoughts on the broad stock market led me to consider something that I have never heard anyone else say: that the market has never been overvalued (not for one moment) in all of history. With a long-term horizon (30 years), it is better to buy and hold at the very tippy-top of equity bubbles than to "descend" into other asset classes. A little timing in and out of stocks may be successful, but it's much more likely to result in missing gains than avoiding losses.
Some may note that bonds outperformed stocks during the 30-year period from 1980 to 2010. This happened only one other time in 200 years of history, during the Civil War. All I can say is it's a bad bet to bet against stocks in the long run. And I can't imagine anyone reading Stocks for the Long Run and coming away with a different conclusion.
The Future for Investors
Jeremy Siegel has one other book, 2005's The Future for Investors, which argues against buying growth stocks and instead presents research showing that "the tried and true [and boring]" stocks are more likely to result in beating the market.
Imagine that!
Disclosure: I have no positions in any stocks mentioned, and no plans to initiate any positions within the next 72 hours. I wrote this article myself, and it expresses my own opinions. I am not receiving compensation for it (other than from Seeking Alpha). I have no business relationship with any company whose stock is mentioned in this article.