Burger King Holdings Inc. (BKC), the world's second-largest hamburger chain after McDonald's Corp. (MCD), announced that it is being acquired by a private investment firm 3G Capital for $24 per share, or $4.0 billion, including the debt of the company.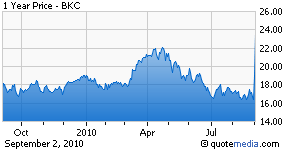 The offer price is at a 46% premium to the share price before the speculation of buyout talks in the market on Wednesday. The transaction is expected to close in the fourth quarter of 2010.
As per the agreement, Burger King's Chairman and CEO John Chidsey will become co-chairman of the board in the new company, and 3G Capital's Managing Partner Alex Behring will be the other co-chairman.
For the second time in less than a decade, Burger King is going private. In 2002, Burger King was acquired by private equity funds controlled by TPG Capital LP, Bain Capital Investors and Goldman Sachs Capital Partners, a part of Goldman Sachs Group Inc (GS). The private equity firm purchased the company from Diageo plc (DEO), a British spirits company for $1.5 billion.
In May 2006, Burger King went public, although private equity firms, including TPG, Bain Capital and Goldman Sachs still own 31% stake in Burger King. These private equity firms have agreed to tender their shares into the offer, which 3G Capital will not start before September 17, 2010.
However, the completion of the deal is subject to regulatory as well as shareholders' approvals and other customary closing conditions. Moreover, there will be a 40-day period where Burger King can consider if it gets any lucrative offer from any third party, running through October 12, 2010. Possibility of a higher bid seems negligible though, and completion of the deal is likely.
Morgan Stanley (MS) and Goldman, Sachs & Co. are acting as the financial advisors of Burger King. Lazard Ltd. (LAZ), J.P. Morgan Securities LLC, a part of JPMorgan Chase & Co. (JPM) and Barclays Capital, a part of Barclays PLC (BCS) are acting as financial advisors to 3G Capital.
We believe with 90% of restaurants franchised, Burger King is well positioned to sustain growth through new product introductions, an upgraded prototype design and expanded restaurant hours. Moreover, the company's overseas expansion remains one of the key growth drivers.
However, adversely affecting the company's growth is its sagging same-store sales and declining traffic, which the company expects to continue in 2011 due to the continuation of sluggish economy and a weak consumer environment, resulting from the high unemployment rate. Furthermore, the discount war among fast-food chains to lure consumers is negatively affecting the company's top and bottom lines.
Thus, based on the challenges being faced by the company, we consider the takeout price of $24 to be attractive for shareholders. We have a Zacks Rank of #4 (short-term Sell recommendation). We also reiterate our long-term Neutral rating.