It is mid-year and time to review the first half of the year. In short, the year has been characterized by a flat stock market and a strong bond market.
It is a difficult market where both bonds and stocks are relatively expensive. This situation is tough because dividends and interest payments are low and the hope of capital gains is lessening.
Thing One and Thing Two
In simple terms, portfolios make money in two ways; first through dividends and interest payments, and second from capital gains.
In first case, the investor gets paid for loaning out their money. In the second case, they make money by selling an asset for more money than they paid for it.
The important difference is when the money is loaned out the investor is paid continuously for holding the asset, regardless of its market value. In the second case, dividends aside, the investor collects only at the time of sale.
Defaults aside, with interest paying bonds you can predict your profit. They are a bird in the hand. With stocks you can never predict your future profit. They are a bird in the bush.
The former are front-loaded and the latter are back-loaded assets. When designing an all-weather portfolio, it is important to diversify between these two types of asset classes.
When an investor loses money on an investment - like a stock they lose three times - money, time and inflation. They have less money and the value of the money is less because of inflation. They also lose the time needed for compounding.
Good and Bad Things
So, two good things can happen to a portfolio. One, the investor gets paid dividends and interest as planned. Two, investors collect a capital gain by selling the assets for more than they paid.
Conversely, there are two bad things that can happen to your investments. One, the company or government you have lent money fails to pay you or pays you late. Second, you fail to sell your asset for more money than you paid for it - a capital loss. These are the actual risks investors must protect against.
Risk is often defined as volatility, but it isn't. Risk is capital loss.
Thing Three
Those are the two internal portfolio risks. There is also a third external risk, monetary inflation, the risk the money you spent buying something is worth less when you sell. To breakeven, your portfolio returns must outperform the general inflation rate.
Therefore, successful portfolio design generates profit by generating cash flow and making capital gains in excess of the rate of monetary inflation. That is, Thing One and Two are greater than Thing Three.
A well-designed portfolio, has a potential for capital gain, steady cash flow and protection from inflation. An absolute-return portfolio minimizes losses and generates strong steady gains in excess of the rate of inflation.
Build a Sailboat, Not a Pie Chart
A simple way for amateur investors to design an all-weather absolute-return portfolio is to think of a sailboat. There are four components of this portfolio structure - a hull, a keel, a sail and an auxiliary engine.
This simple method builds an all-weather portfolio diversified by risk behavior not by asset-class. Asset class portfolios can often look diversified but behave unified. Figure 1 shows five asset classes during the financial crisis - US Large Cap, US Small Cap, Developed Markets ex-US, High-Yield Bonds, Preferred Stocks.
There are five breeds of dogs, but when one barked, they all started barking. The assets are different, but the behavior is the same.
Figure 1: Asset-Diversified Portfolio of US Large and Small, Developed and Emerging Markets, High-Yield Bonds and Preferreds, during Financial Crisis.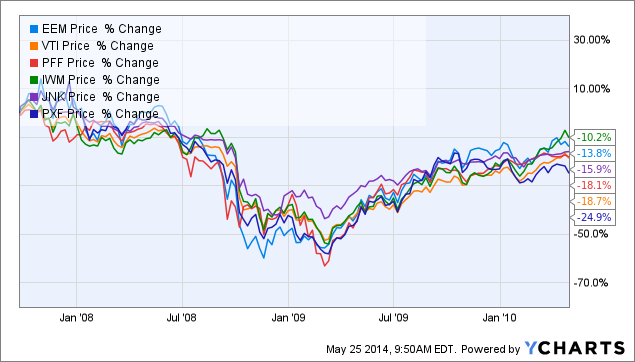 Risk-diversified portfolios take in account the market behaviors of the asset classes and diversify the behavior. Figure 2 shows the same time period with a risk-diversified portfolio comprised of US Large Caps, Treasury Inflation Protected Securities, US Long-term Treasury Bonds, and US Corporate Bonds. Notice the diversification of behavior.
Figure 2: Risk-Diversified Portfolio of US Large Caps, US Treasuries, Corporate Bonds and Treasury Inflation Protected Securities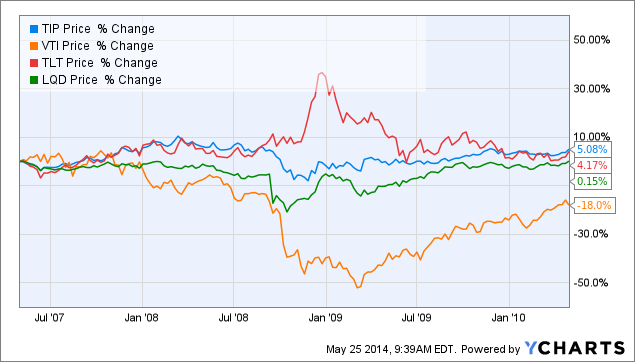 Taken together, the four components of a Sailboat Portfolio address four different risks and rewards - 1) capital gains, 2) dividends and interest, 3) inflation and 4) deflation. The portfolio is also diversified between back-loaded assets (NYSEARCA:VTI)(NYSEARCA:TIP), and front-loaded assets (NYSEARCA:LQD)(NYSEARCA:TLT).
The hull provides protection from the risk of unanticipated inflation. The sail captures capital gains from rising markets the way a sail captures favorable winds. The auxiliary power generates cash flow in good and bad markets. The keel provides stability in bad markets and protection from deflation.
All four portfolio classes hedge one risk against another. Stocks perform poorly with high inflation, but TIPs work well. Treasuries excel when stocks do poorly and vice versa, see Figure 3. Treasuries also protect against deflation. Dividends provide cash flow in flat markets and provide protection against anticipated inflation.
Figure 3: Stocks Negatively Correlate to Government Bonds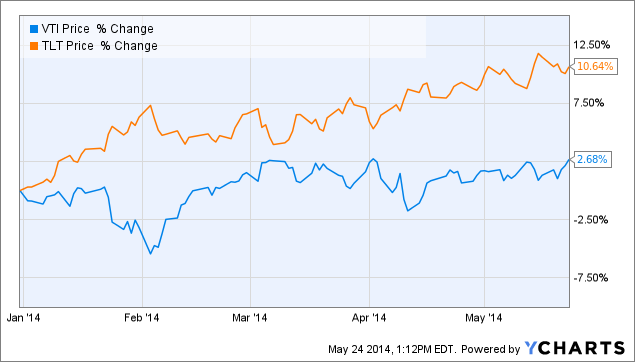 Together the four asset classes form an all-weather portfolio. This is a portfolio designed to generate five to six percent above the rate of inflation, with low volatility. It is not designed to beat the stock market.
Mid-Year Results
These are the results of these asset classes year-to-date.
Hull Assets
The portfolio hull is made of Treasury Inflation Protected securities. They are the only investment that is guaranteed to protect against unanticipated inflation. Because TIPS are indexed, these securities correlate 100% with government-measured inflation.
After declining almost 10 percent from the taper tantrum of 2013. The TIP ETF is up nearly 4% this year. The longer term LTPZ is up over 12 percent, see Figure 4.
In times of low anticipated inflation, TIPS act like intermediate-term treasuries, see (NYSEARCA:IEF) below. Because without a significant inflation adjustment, that is all they are. Their main purpose in a portfolio is to protect against the unexpected chance of high inflation - over five percent.
Figure 4: Treasury Protected Securities (NYSEARCA:LTPZ)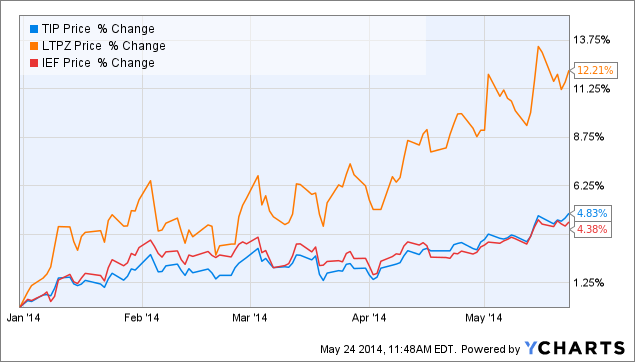 Sail Assets
Sail Assets are usually stocks. These are assets that pay small or no dividends and rely almost exclusively on capital gains for profits. When the winds of the markets blow favorable, these assets do well, during stormy markets they do poorly.
As everyone knows, stocks today are expensive. The market has had a long and powerful recovery since the financial crisis. The more expensive equities get, the more difficult it is to benefit from an expansion of the price-earnings ratio.
Investors must see significant expansion of the price-earnings ratio to make big money in stocks. Without a P/E ratio increase, stocks are only a so-so investment, as the return is generated solely from earnings growth driven from economic expansion and inflation.
But now with interest rates low, stocks are in many investors' mind the only game in town. Because of this, there still may be room for further increases in stock prices.
Year-to-date, the results have been low compared to the last few years. The S&P 500 is up three percent as shown in Figure 5. But still tracking for a respectable six percent, if the market holds up. There are clouds forming on the horizon as small and junkier (NYSEARCA:IWM) stocks are already showing weakness down three percent for the year.
Figure 5: Large Cap (NYSEARCA:SPY) vs. Small Cap Stocks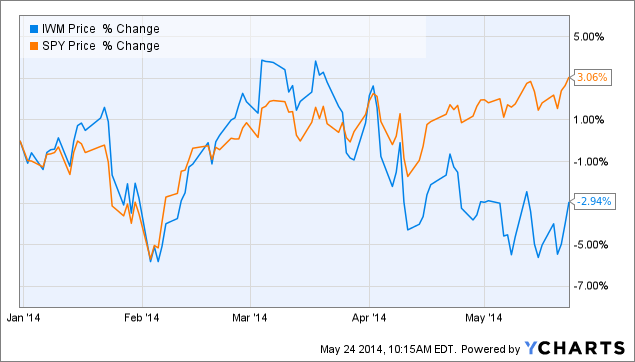 Power Assets
After a rough last year, Power Assets, like corporate bonds and preferred stocks, are up four to seven percent, as shown in Figure 6 below.
Power Assets provide steady cash flow and generate monthly profits. They also pay the investor for expected inflation, as all fixed-income investments have a built-in inflation premium.
Figure 6: Corporate Bonds, Preferred Stocks (NYSEARCA:PFF) and Preferreds Ex Financials (NYSEARCA:PFXF)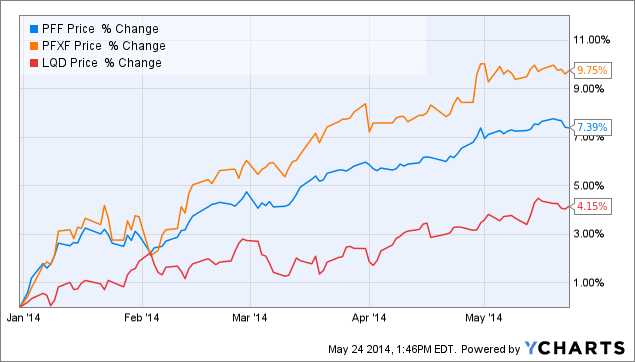 Weight Assets
The Keel is made of Weight Assets, usually government bonds. These assets protect against equity volatility and risk-off behavior in the market. They have also done well this year.
As shown in Figure 7, government bonds are rebounding after performing poorly last year with gains between 2 for GNMA mortgage bonds (NASDAQ:GNMA) and 18 percent gains for zero coupon bonds (NYSEARCA:EDV)(NYSEARCA:ZROZ). These assets also pay small dividends.
Government mortgage bonds are up 2.5 percent.
Figure 7: Government Long-Bond, Zero Coupon Treasuries and GNMA Bonds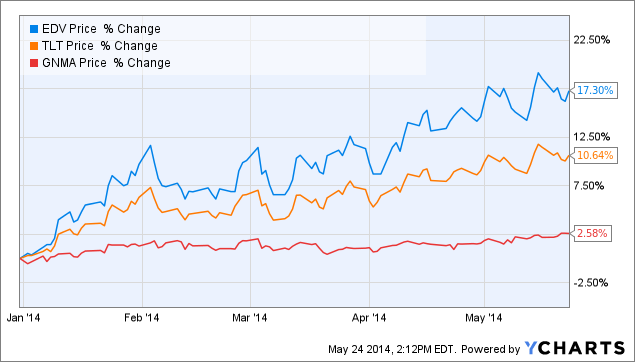 Looking Forward
So far, 2014 has been a decent year, because all four asset classes are showing capital gains, something that doesn't always happen.
Moving forward, I expect to maintain the following allocation, barring any unusual events.
Weight Assets 15-30% - For the boat's keel, I see continuing opportunity in treasuries. (NASDAQ:VGLT). The market has over-reacted to the Fed's tapering announcement. Forty percent of the Fed's holdings are in Government mortgage bonds but most of the market reaction occurred in the treasury market.
Whatever the reason, the treasury markets, 60% of the Feds holdings, reacted strongly to the feds tapering, but the mortgage market (NYSEARCA:MBB), 40% of holdings, didn't, see Figure 8. I expect intermediate treasuries to continue their reversion back to the mortgage bond market generating a small capital gain.
Figure 8: Long-Term Treasury vs. Mortgage Bonds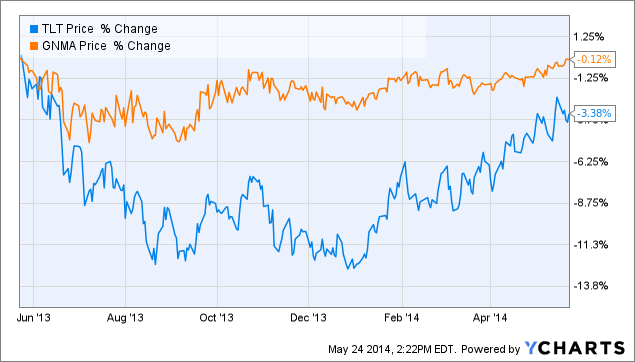 Sail Assets 30-40% - There is still some potential wind left in equities. The main reason is stocks are the only game in town for optimistic investors hoping for outsized returns. Many amateur investors conditioned by years of stock promotion, shun bonds and preferreds as viable investments, and these investors must continue to put money in stocks.
These investors will buy hoping there is still time to get on the band wagon. Lower interest rates also make stocks more attractive. For the time being, market momentum is still positive.
However, there are clearly storm clouds on the horizon, in the form of high-valuations and increasingly unsustainable corporate earnings. As previously mentioned, smaller junkier stocks are down for the year, see Figure One. So sail cautiously and keep a weather-eye on the horizon. Moving money into Weight Assets as your risk appetite declines.
Investors, like me, who are expecting a flat or slowly growing market should consider buy-write or covered-call indexes (NYSEARCA:PBP)(NYSEARCA:BWV)(NYSEARCA:HSPX). These funds benefit from the extra income generated from selling options. In a flat market many of these options expire worthless. This adds yield in a flat market. These funds tend to under-perform in strong bull markets and out-perform in flat and bear markets.
More aggressive investors might consider discounted closed-end funds like (BOJ) at an 11.2 percent discount to net asset value or (NYSE:FFA) at a 9.4 percent discount. There are many of these that sell at significant discounts to asset value and pay high dividends These dividends can be redeployed into other asset classes if needed.
Hull Assets 5% - I believe inflation will stay low as long as the economy is significantly below potential GDP (Figure 7). I will keep an eye on the wage data in the future.
Some economist believe that lower employment will push wages higher which could add inflationary pressure, everything else equal. But, everything else isn't equal, so I don't see a near-term threat of inflation. I will continue to underweight these inflation-protected securities (NYSEARCA:IPE)(LTPZ)(NYSEARCA:SCHP).
Figure 9: Potential GDP vs. Actual GDP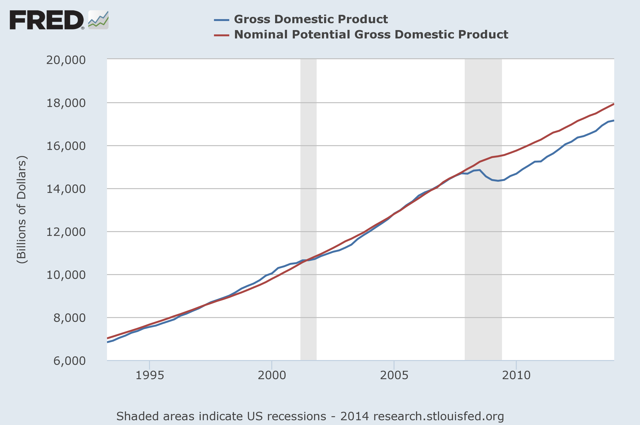 Power Assets 30-45% - These provide the auxiliary power, generating cash flow in flat and slow markets. In this asset class, I'm mostly focused on preferred stocks (NYSEARCA:PGX). I think there is still room for small capital gains, as these assets continue to recover from last years losses.
The easy money is already made in the broad indexes, but there are opportunities in well-chosen individual issues. The steady dividends play an important role in stabilizing the portfolio.
Preferred stocks typically have long maturities and some are perpetual. Long maturities combined with high coupons can also provide investors protection against rising rates.
Aggressive investors can find many closed-end preferred funds selling at a discount. Funds like (JHP) currently selling at 10.15 percent discount to net assets, (NYSE:PDT) at a 9.36% discount and (NYSE:PSF) at an 8.51% discount all pay strong dividends. These funds are leveraged and have more risks. Investors using these funds should plan for this.
Make the Portfolio Your Own
How much you weight in each class depends on your beliefs and concerns about the future. This portfolio design allows the investors to tailor a portfolio to their feelings about the market and the economy.
If you are worried about inflation, add more Hull Assets. If you feel nervous about the stock market, reduce your Sail Assets. If you see a flat market, put more into Power Assets, and if you are afraid of a crash, overweight your Keel Assets. This way you will know why you own the assets and what behavior to expect from them.
Disclosure: I have no positions in any stocks mentioned, and no plans to initiate any positions within the next 72 hours. I wrote this article myself, and it expresses my own opinions. I am not receiving compensation for it (other than from Seeking Alpha). I have no business relationship with any company whose stock is mentioned in this article.
Additional disclosure: This article is for informational and educational purposes only. The views expressed in this article are the opinions of the author and should not be interpreted as individualized investment advice. Investment objectives, risk tolerances and the financial situation of individual investors may vary. Please consult your financial and tax advisors before investing.