Summary of Investment Thesis

Netflix (NASDAQ:NFLX) has a strong business operation that is highly successful and has driven strong revenue, EPS, and cash flow growth over the past several years. We expect this to continue as Netflix expands its share of the home rental market. We also believe that the company's expanding offerings of streaming content will enhance profitability by potentially lowering churn (currently around 4.2%), subscriber acquisition cost, as well as fulfillment expenses. While we are positive on the outlook for the company we believe that near-term growth potential, we do think this company is overvalued.

In our view the key drivers for additional subscription growth include:
Breadth and depth of selection
Speed of satisfaction
Price of subscription service
Ease of use via the web-based interface
Expanded streaming content
Netflix can further leverage its growth if it can keep churn low and potentially drive it lower, this way keeping subscriber acquisition cost (SAC) low.
In our view, the company is poised to continue benefiting from the desire for value-priced/oriented home entertainment in a challenging consumer environment. We also believe technological advancements with streaming capabilities will favor the company in coming quarters and years.
Strong subscriber growth to continue, though at a slower pace. The company has grown its subscriber base from 0.86 million in 4Q02 to 15.0 million in 2Q10. We believe NFLX will continue to add subscribers, though at a slower pace than seen in past years given its past growth. The company expects to end the year with between 17.7m - 18.5m subscribers Investment
Conclusion
In our view, Netflix has a strong business model and operating history, growing its business in the midst of a changing technological environment. Furthermore, we believe the company is slowly gaining traction in the streaming of movies and television episodes directly to its subscriber homes via broadband internet access.

With an expanding Apple (NASDAQ:AAPL) integration, expansion into Canada this fall, and a recent deal with Epix (Paramount, MGM, and Lionsgate), we believe this will drive subscription revenue higher while lowering SAC. However, we believe that NFLX shares are overvalued and discounts a significant portion of the upside potential of these events, we believe caution is warranted at this time. With all that said, should Netflix shares decline and begin to represent a more compelling valuation, we believe a buying opportunity would present itself.

Summary Financial Model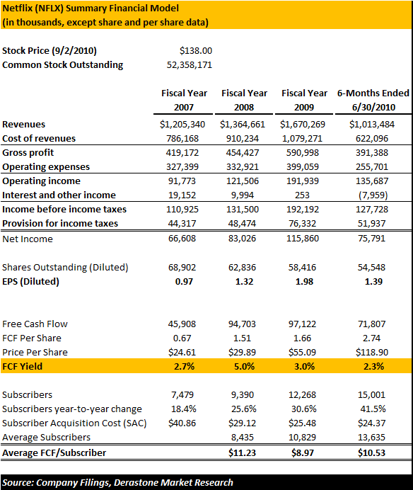 Apple's apparent symbiotic relationship with Netflix could turn ugly. Apple devices could represent a serious international risk given that iTunes video content rights currently cover five international markets (Canada / UK / France / Germany / Australia). We believe that Netflix will have to enter these markets soon at a premium cost in order to compete.
Apple's rental movie and TV business will be directly competitive
Apple's rental movies may be more attractive than NFLX DVD movies, which are subject to delays and largely consist of catalog titles. We also suspect a high percentage of Apple TV buyers are early adopters and already have a Netflix subscription (Netflix is already available on iPod/iPad/iPhone/etc.), thus mitigating positive growth dynamics
Amazon.com may challenge Netflix streaming product with a service of their own
YouTube/Google (NASDAQ:GOOG) rolling out a Pay-Per-View
Hulu.com may start streaming movies
NFLX fails to achieve its own expectations or our estimates
Consumer demand for movie and television entertainment as provided by its service suddenly deteriorates
NFLX is unable to acquire sufficient content rights to maintain an extensive library of titles
Coinstar (NASDAQ:CSTR) ramping-up kiosk DVD rental operation (a competitive threat) and entering the online streaming service


Disclosure: No Positions