Along with Apple's (NASDAQ:AAPL) fiscal Q2 report in April, the company expanded its capital return program. The buyback was hiked by $30 billion, and the dividend was increased by about 8%. Neither of these items were a surprise, although the dividend raise seemed a little light. Included in that press release, however, was a big surprise, as detailed below:
The Board of Directors has also announced a seven-for-one stock split. Each Apple shareholder of record at the close of business on June 2, 2014 will receive six additional shares for every share held on the record date, and trading will begin on a split-adjusted basis on June 9, 2014.
When Apple was racing to $700 a few years ago, many were looking for the company to split the stock. But in recent times, many seemed fine with a $500 plus stock, so this was certainly out of left field. It also was an interesting split number, as 7 for 1 is not the most common of splits. I've been receiving a lot of questions regarding the split, so today, I'll provide my thoughts on the split.
One split that is not like the others:
There have been two high profile stock "splits" so far in 2014, with MasterCard (NYSE:MA) splitting 10 for 1 and Google (NASDAQ:GOOG) (NASDAQ:GOOGL) splitting into two share classes. There have been many articles out there pointing out how both MasterCard and Google shares are down since their splits, so many are wondering if Apple's split will mark a peak in its shares.
Well, you really can't compare the Google split. Google split into different share classes, one of which had no voting rights, so each class really became its own separate trading vehicle. Also, in the first two weeks post-"split", the Class A shares "GOOGL" only declined a couple of bucks, less than 1%. The reason Google shares then dropped was because of a poor earnings report, although shares have recovered a large chunk of their losses. Google's split did not really cause the "A" class shares to drop, the earnings report did.
As for MasterCard, there was more going on there than just the split. First off, shares of the credit card company did rally about $1.50 the first day after the split. At that point, the stock was just about $1.50 away from its 52-week high. Then, in the next 8 trading days, the S&P 500 (NYSEARCA:SPY) dropped by about 100 points. Yes, MasterCard shares did drop a bit, but the market was dropping as well. Additionally, MasterCard had a bad earnings report in that time frame as well. I don't think you can blame the stock's fall on the split when the market dropped in that time and the company had a bad earnings report. Additionally, there may be a reason Apple split its stock that could cause shares to rise after the split, whereas MasterCard was not in a similar situation. More on that in the next section.
So when I hear all of these comparisons regarding Google and MasterCard, I can't help but laugh. Both names did fall after their share splits, but other factors were at play, like the market dropping and bad earnings reports. I don't know what the market is going to do in the week or two after Apple's stock split, but I know for a fact that Apple is not scheduled to report earnings in that time.
Apple to the Dow?
One of the reasons many speculate Apple decided to split its stock was to potentially join the Dow Jones Industrial Average (NYSEARCA:DIA). With Apple trading north of $500 a share, this was not going to happen. Apple probably needed at least a 3 for 1 split to have any chance. Since the Dow is a price weighted index, those components with higher share prices have higher weights. Visa (NYSE:V) is the largest weight around 8%, and its shares trade for more than $200. Conversely, the lowest weights in the Dow trade in the mid to upper $20 area.
If this was the motive for Apple, who gets booted from the index? I think that Travelers (NYSE:TRV) could be in trouble. Travelers has the lowest market cap in the index, way below every other component, and the second lowest revenue base. Cisco (NASDAQ:CSCO) could also be in trouble as the lowest weight in the index, especially if the index wants to swap one technology name for another.
This is another reason why I disregard MasterCard's post-split decline. Once Apple splits, there will be growing speculation about a Dow move, and buyers will come into play that potential. I don't think MasterCard has any chance in the Dow, since Visa only recently went in and American Express (NYSE:AXP) is also in. There is enough financial exposure in the Dow, so there weren't any buyers supporting MasterCard shares on a potential Dow inclusion. When Apple splits, there will be people looking to buy for the Dow speculation, especially if shares dip.
Who is most impacted by the split?
There are a couple of different "groups" impacted by this split. The first one is the options market, which will be thrown for a loop because a 7 for 1 split is not a standard one. It's not as easy to play with as a 2, 5, or 10 for 1 split. Since most investors don't deal with options, that's all I'll really say for this group. Another group that could be impacted are the indices, like the Dow I covered above. Should Apple join the Dow, any ETFs or other funds that mirror the index will need to buy Apple. That in of itself could be equal to a mini-buyback from Apple.
The next group that is impacted is just regular stock investors. Those that already have shares will now have more shares at a lower price. But for those looking to get into Apple, this split may be a blessing. There is always the discussion that companies split their stocks to make them more accessible to investors. If I have $1,000 and I want to invest in Apple, I can buy one share right now, and have a chunk of money left over. But when Apple splits, and let's say it is at $85 afterwards, I can buy 11 shares. While I still have some money left over, it's not nearly as much as the first example. The market will also have more liquidity in regards to Apple, because shares will be cheaper. There will be a lot more shares outstanding, and daily volume will increase to a point.
The third group is actually Apple itself. As I discussed in my most recent Apple article, Apple has a lot of decisions to make in regards to the split and the company buyback. Before the split, Apple can retire shares quicker since they are higher priced. I also discussed the following in regards to trading volume/activity:
Right now, it doesn't take as many shares to buy back $1 billion worth of stock. Apple's average volume is around 10 million shares right now. Post-split, I don't think it will average 70 million shares a day, once we get a few weeks past the split. Apple buying back 1 million shares a day now represents about 10% of the stock's daily volume. But what if volume dips to 50 million on average post-split? Then, 7 million shares bought back a day represents about 14% of daily volume.
Additionally, Apple must try to guess what shares will do after the split. If Apple thinks the split will cause shares to rise a bit, then the company should be buying now. The upcoming split also explains why Apple put the quarterly dividend at $3.29 a share. That number is divisible by 7, so the post-split dividend will be $0.47 a share.
A new 52-week high:
Last Friday, Apple shares didn't do much in the early morning, but the stock started climbing around noon. As the afternoon continued, the stock went higher and higher, and hit a new 52-week high of $614.73 before closing at $614.13. Apple shares have been off to the races since the most recent earnings report, as you can see in the chart below.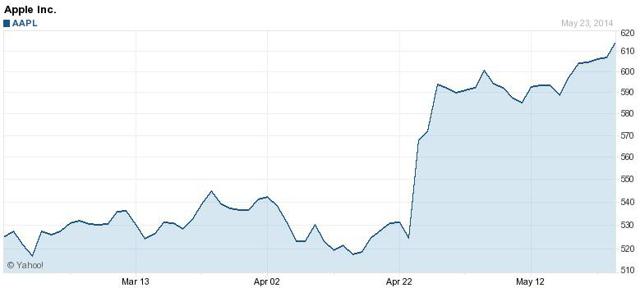 (Source: Yahoo! Finance)
At Friday's high, Apple shares were more than 58% off their 52-week low. You could certainly argue that shares should never have been below $400 in the first place. However, at some point, you do have to think a pullback is coming. In early May, Apple shares did pull back about $24 from $604 to $580 before the next leg up that continued Friday. Apple may not be the only name due for a pullback. The S&P 500 closed above 1900 on Friday for the first time, and many have been calling for a market pullback for some time. Perhaps if Apple starts to head a little lower, the overall market will go with it.
Should you buy before the split?
I've gotten this question a lot in recent weeks, but let me discuss a few other items that are important here. First, it was about this time last year where Apple shares did peak. The chart below shows Apple's stock from April through August.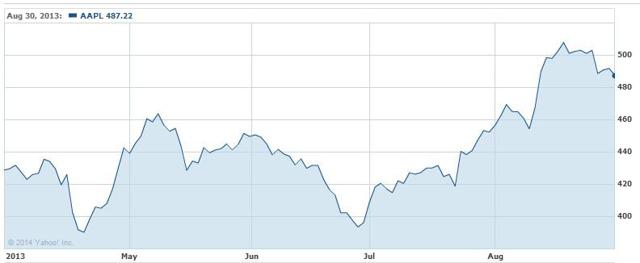 (Source: Yahoo! Finance)
Apple peaked in early May, and the second leg down was after Apple's Worldwide Developer's Conference "WWDC", which took place from June 10th to 14th. June was a bad month for the stock, but then Apple marched higher and eventually got back to $500. This year, Apple WWDC takes place from June 2 to 6, which is right before Apple will begin trading on a post-split basis. If Apple's conference fails to impress, it could be a reason to sell. Remember, everyone will be looking for major clues in terms of new products later this year, so expectations will be high. Apple could easily get dragged into the summer doldrums as investors wait for new products to be launched in either August or September.
To answer the question posed in this section, it really depends on what your situation is. Are you a short-term trader just trying to make a few bucks off a post-split pop or do you have a longer-term focus? Traders may want to wait till just before the split and then try to play a first post-split day pop. Also, the situation I posed above about an investor looking to buy $1,000 of Apple comes into play. If you can't get close to your target allocation with a $600 plus stock, and commissions are a factor, you may want to wait till shares trade for less than $100. For those that really are on the fence, you could easily buy half before the split and half after. With Apple shares up $50 since the post-earnings day rally, I think the smart move is to wait for a pullback. Stocks do not go up forever. Just ask the people that bought above $700 what they think, or those who bought in early May last year at $450 plus only to see a sub $400 stock a month or so later. Will the pullback come before or after the split? Unfortunately, that's a question that nobody can answer currently.
Final thoughts:
Apple's split is nearly here, and there's a lot for investors to think about. This split could get Apple into the Dow, a move that will certainly shake up the markets a bit. For those thinking Apple will fall post-split like MasterCard and Google, you may want to review why those stocks fell. In both cases, bad earnings reports were the main culprit. Apple doesn't report earnings for another two months, but the upcoming developers conference was not good for shares a year ago. In the end, the decision to buy before or after the split really depends on your individual situation. But with Apple shares up nearly $100 since earnings were reported, waiting for a pullback does make sense. I wouldn't be surprised if Apple sprints towards $100 (post-split) later this year when new products are released, but with the recent spike, investors don't necessarily need to race in right away.
Disclosure: I have no positions in any stocks mentioned, and no plans to initiate any positions within the next 72 hours. I wrote this article myself, and it expresses my own opinions. I am not receiving compensation for it (other than from Seeking Alpha). I have no business relationship with any company whose stock is mentioned in this article.
Additional disclosure: Investors are always reminded that before making any investment, you should do your own proper due diligence on any name directly or indirectly mentioned in this article. Investors should also consider seeking advice from a broker or financial adviser before making any investment decisions. Any material in this article should be considered general information, and not relied on as a formal investment recommendation.