Last week was quite an eventful one for Linn Energy (LINE). The company finally agreed to trade a portion of its Permian Wolfcamp position to Exxon Mobil (NYSE:XOM) in exchange for mature natural gas production in the Hugoton Basin. This was a long-awaited transaction for the company as it will lower capex requirements and as a result frees up cash flow for the distribution. Units of Linn Energy and sister stock LinnCo (LNCO) initially surged on the news in pre-market trading. However, the stocks actually finished flat for the week as analysts weigh in on the positives and negatives of the trade.
Linn Energy makes a major trade with Exxon
For a more in-depth review please see my earlier article.
In exchange for 25,000 net acres of its Permian Wolfcamp holdings, 2,000 BOE/D of associated production and 1,000 net acres in New Mexico, Linn Energy will be receiving 85,000 MCFE/D (around 14,000 BOE/D) of natural gas production in the Hugoton Field in Kansas and Oklahoma. As a result, the company is now the largest producer in that region.
Total reserves are 700 BCFE of which 80% is natural gas and 20% are NGLs. This production is via 2,300 operated wells spread across 500K net acres, while Linn Energy's working interest will be 94%.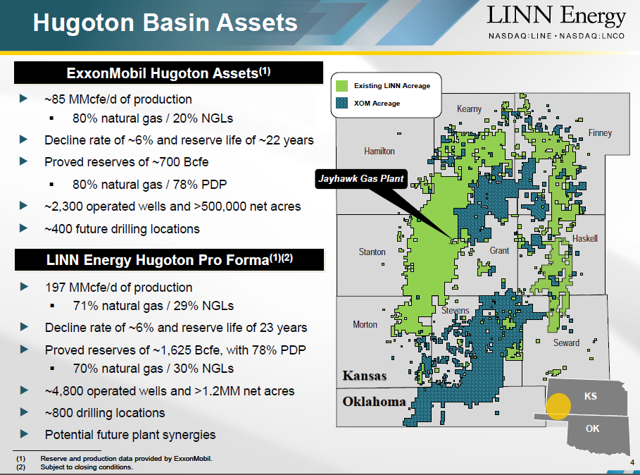 Once the transaction closes, Linn Energy's anticipates that it will see $30 million to $40 million, or $0.09 to $0.12 per unit, of increased annual distributable cash flow, or DCF. This is by far the primary rationale for the trade, exchanging undeveloped acreage into actual current cash flows.
These assets are the typical fare for upstream MLPs such as Linn Energy. The decline rate of 6% is quite low while the related maintenance capex requirements are negligible. By comparison, a typical Permian well could see a decline rate of 35% or more.
In addition, Linn Energy should see its net debt and leverage ratios decline from the transaction. The company will see its cash flow increase without needing to issue any debt or equity, lowering its debt to EBITDA ratio.
Who got a better deal? Several analysts weigh in
Soon after it was announced, several firms put out research notes regarding the transaction:
Raymond James analysts Kevin Smith and Kenton Tindall
Qualitatively, this is an ideal swap… LINN has made a concerted effort to reduce its overall production declines and capital spending. Essentially the company is swapping production that is declining at roughly 35% per year for gas properties that are declining at 6%, resulting in much more stable cash flow. Additionally, this transaction allows LINN to lever its already large position in Hugoton in order to deliver more operating synergies

…plus this transaction reduces LINN's leverage in the process: Another added benefit is the transaction helps reduce LINN's debt metrics. Essentially, LINN was able to increase its cash flow without issuing any debt or equity, so on a net debt / EBITDA basis, LINN is less levered pro forma the transaction close.
Citigroup's analyst Faisel Khan
Linn estimates net accretion to distributable cash flows of $30-$40 mil or $0.09-$0.12 per unit on an annualized basis as a result of the aforementioned asset swap. The accretion estimate appears slightly low as the partnership is giving up upside from the Midland basin assets resulting from additional capital spending later this year. In addition, accretion estimates do not include potential upside from higher utilization at the partnership's Jayhawk gas processing plant located in the Hugoton field.
While both firms noted the accretive effects of the trade, they also are worried if Linn Energy gave up too much to plug its short-term cash flow hole. Basically, the question is if the company gave up too much of its "prime" real estate in the Permian.
Exxon acquired pretty much all of the undeveloped acres, leaving Linn Energy with most of the producing wells. The company can afford to do this as it obviously has more than enough capital and resources to develop them to their full potential compared to the cash-strapped Linn Energy.
In addition, as noted by Citigroup, Linn Energy is giving up most of its upside in the region via the trade. In essence, it appears as if Linn Energy will be the short-term winner while Exxon will benefit the most in the long-term. However, the company also solved a major problem at little cost, with no debt or equity being issued.
Jayhawk gas plant: Will Linn Energy see further benefits?
Lastly, both analyst reports noted Linn Energy's Jayhawk gas plant in the Hugoton field as a source of synergies. This plant has a nameplate processing capacity of nearly 450 MMCFE/D and was acquired in 2012 for $1.17 billion from BP (NYSE:BP) along with most of the legacy Hugoton natural gas position.
Linn Energy's current production in that region was around 144 MMCFE/D; while the traded for properties will add 85 MMCFE/D, boosting Linn Energy's production in the region to around 230 MMCFE/D of natural gas.
It's likely that this plant was not processing natural gas to its full potential. However, given the new supply of natural gas produced by Linn Energy, utilization for the processing plant should increase by default.
Conclusion
Both Citigroup and Raymond James appear to be neutral to moderately bullish on the trade. This is to be expected as this an asset swap afterall. However, if you read between the lines, both also cited the improved DCF metrics, clearly a big positive for income investors.
Linn Energy clearly had to do something to solve its DCF deficit for 2014. While the trade will hurt long-term growth, the distribution and 10% yield now appear to be safe for the foreseeable future.
Disclaimer: The opinions in this article are for informational purposes only and should not be construed as a recommendation to buy or sell the stocks mentioned. Please do your own due diligence before making any investment decision.
Disclosure: I have no positions in any stocks mentioned, and no plans to initiate any positions within the next 72 hours. I wrote this article myself, and it expresses my own opinions. I am not receiving compensation for it (other than from Seeking Alpha). I have no business relationship with any company whose stock is mentioned in this article.