Nothing like beating expectations to generate some excitement.
The U.S. Census Bureau and the U.S. Department of Housing and Urban Development (HUD) reported on Friday that new residential sales in April, 2014 were approximately "at a seasonally adjusted annual rate of 433,000." This number is in-line with the uptrend from the historic lows set just over three years ago, but it is down 4.2% year-over-year. March numbers were revised upward from 384,000 to 407,000, a pleasant surprise.
The graphs below show how in the grand scheme of things the small volatility in new home sales is largely noise compared to both the current meager 3-year uptrend and the colossal collapse from the previous cycle.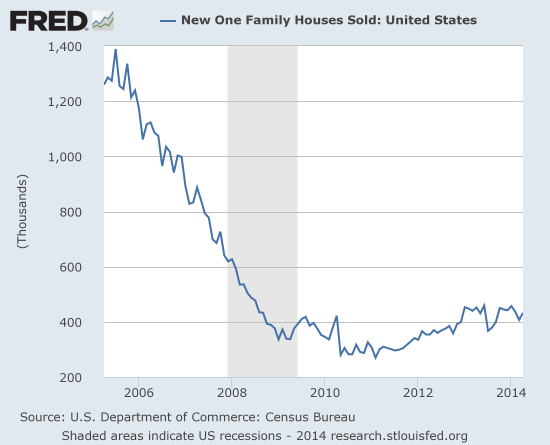 New home sales are still lingering near post-recession highs and maintaining a meager uptrend from post-recession lows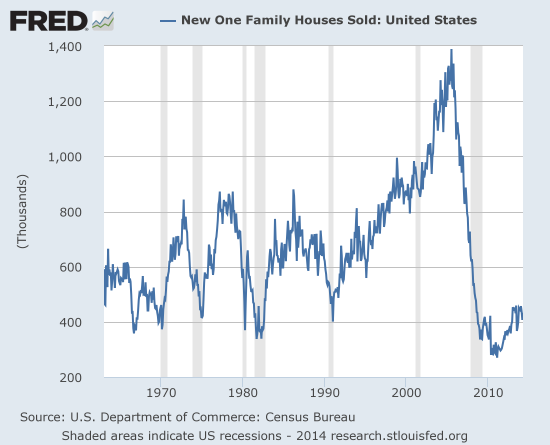 New home sales are still nowhere near normal levels from previous housing cycles
Source: St. Louis Federal Reserve
Charts like these remind why I am much more interested in the potential for upside in housing rather than the well-known headwinds.
Even though April's report was like a whisper in the wind of the current churn of data, the new home sales number beat consensus "expectations" by about 8,000 or so homes. Surprisingly, this was enough to ignite a broad rally across homebuilder stocks. The rally helped the iShares US Home Construction (NYSEARCA:ITB) continue another bounce off what is starting to look like firming support at the 200-day moving average (DMA). One of the healthier charts among individual home buidlers is now Pulte Homes (NYSE:PHM).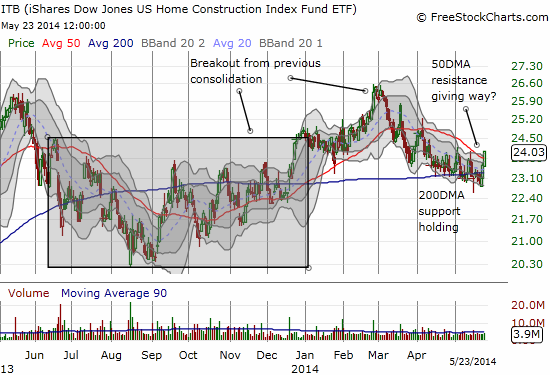 Support holds firm for ITB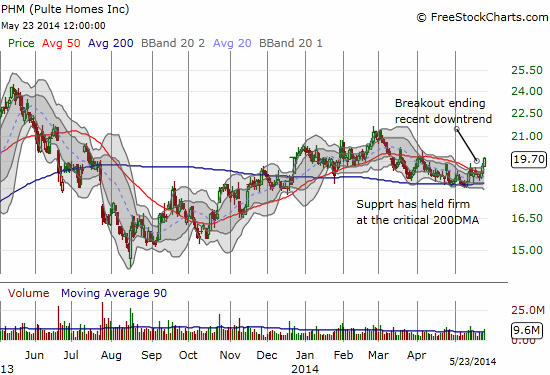 A breakout may actually be underway for Pulte Homes
Source: FreeStockCharts.com
This pop in home builder stocks is only remarkable because sentiment had notably soured on the 2014 spring selling season. I am doubting the gains will be sustained, and stocks will likely settle back into the current churn…at least absent catalysts which contain new news. (Note that the increasing complacency in the general stock market and global financial markets presents a major caveat to my relatively sanguine perspective on the U.S. housing market).
To wit, there was nothing remarkable in the other data points in the new home sales report. Inventory as represented by monthly supply is still stuck in the 5 to 5.6 range established last July when the housing market began cooling off. As widely expected by homebuilders since late last year, home prices continue to moderate slightly in 2014. April's $275,800 median price is down 1.3% year-over-year. As I showed in an earlier post, the price moderation is contributing to a healthy rebound in housing affordability. These dynamics are welcome and should allay (at least SOME) lingering fears of a housing bubble. Note that the median price is still up 17% from 2 years ago.
Adding to my sense that April's data are more noise than information is that new home sales around the median price - from $200,000 to $400,000 - were flat to slightly up, representing 58% of all new home sales. This concentration is the second highest since at least 2012 (only May, 2013 was more concentrated). Last April, these homes represented 52% of all new home sales. All the small year-over-year losses in sales came from the tails of the price distribution where sales are the smallest.
I think what is more interesting to follow as I wait for the current month-to-month churn in the data to resolve itself is what is happening in certain local markets and the research into demographic trends. The last few weeks have provided some particularly interesting data. Moreover, global housing markets are providing sticky challenges for monetary policy as it is becoming increasingly clear that housing markets have distinctly divided into the haves in major metro areas with robust economies and the rest. I hope to cover these developments in the coming days and weeks.
Be careful out there!
Disclosure: I am long ITB. I wrote this article myself, and it expresses my own opinions. I am not receiving compensation for it (other than from Seeking Alpha). I have no business relationship with any company whose stock is mentioned in this article.
Additional disclosure: I am long ITB through call options.