EMC Corporation (EMC) announced its Q1 2014 results on Apr 23rd, 2014. The company reported declining sales in its traditional storage business but made great advances in its new data analytics venture Pivotal and the cloud business VMware (NYSE:VMW). Going ahead forward, VMware will also cash in on its market leadership in software-defined data center. The company seemed to be going through a shift in focus from traditional storage to cloud, SDDC and advanced data analytics. While 2014 may continue to consume EMC's resources in executing the shift the company is heading in the right direction and should reap the benefits of this transformation in the coming years.
Bleak Prospects for Traditional Storage
The Information Infrastructure business has been EMC's bread and butter and still constitutes about 74% of the company's total revenue.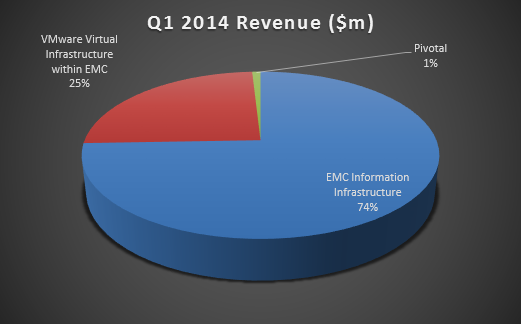 This segment has been negatively affected as more efficient ways of data storage have evolved over time. However, since the company has already deployed this infrastructure to a lot of corporate customers the company will continue to spend money on support, though only minimally.
Emerging Storage Growth is Encouraging
The company is investing in emerging storage. EMC launched ExtremIO in 2013 as the industry's first all-flash array for consistent high performance to any application workload. EMC Isilon and EMC Atmos are emerging storage services specifically designed to handle large quantities of unstructured data. Emerging storage revenue increased 54% YoY in the year 2013 and was up 81% YoY for Q1 2014.
VMware to Lead Cloud and SDDC
VMware is the market leader in virtualization infrastructure solutions, offering products for software-defined data centers, end-user computing, and hybrid cloud computing. VMware solutions help businesses to reduce IT costs, increase operational efficiencies, and develop more automated and resilient systems that are flexible enough to respond to various business demands. The hybrid cloud business more than doubled in Q1 2014, compared to Q1 2013. Software-defined data center promises all elements of the IT infrastructure including networking, storage, processing, and security to be virtualized and delivered as a service. The SDDC market is growing exponentially and is expected to grow ten-fold from its 2013 level by 2016.
EMC acquired VMware in 2004 and still owns an 85% majority stake in the company after a 2007 IPO for 15% of VMware's stocks. VMware has proven to be a major driver for EMC's bottom line contributing 70% of the company's net income in Q1 2014 despite making only 25% of EMC's total revenue.
Pivotal's Potential will Soon be Unlocked
Pivotal is a relatively newer initiative from EMC and aims to provide enterprises a place to build data analytics applications for cloud-like infrastructures. Pivotal can be categorized as a startup for now as it has only been one year since it was launched in April 2013. In Q1 2014 its revenues accounted for only about 1% of EMC's sales but Pivotal's orders are catching up fast. EMC's Chief Financial Officer, David Goulden, said Pivotal's Q1 2014 revenues are not indicative of the bookings the company had in this quarter as Pivotal has a subscription-based revenue model. The CFO also confirmed that Pivotal won landmark orders in Q1 2014 including those from a major global telecommunication company, a large US bank, and a global consumer electronics manufacturer.
Value for Shareholders
EMC has strong fundamentals. The balance sheet is rich in cash and the debt is not excessive. For 2014 the company expects a more than 6% YoY rise in revenue and a 5.5% increase in free cash flow. Diluted EPS is expected to grow about 5.5% year-over-year. The company also rewards shareholders with dividends which it increased by 15% starting July 2014. The dividend yield now stands at a good 1.7%. The company bought back its shares for $1 billion in 2013 and plans to repurchase another $2 billion in 2014. Considering the fact that there is abundant cash available within the company stock repurchases can be expected to continue in the coming years.
Final Take
The year 2014 will take EMC a step closer to achieving a major shift in its priorities from traditional storage to next-generation solutions. The company's investment in cutting-edge technologies including emerging storage, cloud, SDDC, and data analytics are expected to be beneficial in the years to come. Therefore I see a turnaround in revenues and earnings to becoming visible and significant 2014 and beyond. An EPS increase of more than 5% in 2014 along with a 1.7% dividend yield makes the stock attractive at a forward P/E multiple of less than 13x.
Disclosure: I have no positions in any stocks mentioned, and no plans to initiate any positions within the next 72 hours. I wrote this article myself, and it expresses my own opinions. I am not receiving compensation for it (other than from Seeking Alpha). I have no business relationship with any company whose stock is mentioned in this article.