This article now brings the series to a close as it covers the final sector of the stock market, the Utilities Sector. With this article I hope to identify five stocks that are currently "On Sale" in a market that is once again pushing all-time highs.
3. Energy
4. Financials
5. Healthcare
6. Industrials
7. Technology
8. Materials
10. Utilities
Sector #10 - Utilities
The Utilities Sector is one of the heavyweights of David Fish's U.S. Dividend Champions "CCC" List, as it contains 54 of the 526 (10.3%) of the stocks on the list. This list can be found at The DRiP Investing Resource Center.
The Utilities Sector is a popular one at the moment, as the yield on treasury bonds have dropped near lows for the year and investors look to other options, including higher yielding equities, for income. This is evident by looking at the returns of The Utilities Select SPDR (NYSEARCA:XLU), which has moved up from $37.92 to $41.76 since the beginning of 2014, good enough for an impressive gain of 10.1% versus a gain of just 3.0% for the S&P 500.
This result is further explained by the Utilities Sector definition from Investopedia:
A category of stocks for utilities such as gas and power. The utilities sector contains companies such as electric, gas and water firms and integrated providers.

Because utilities require significant infrastructure, these firms often carry large amounts of debt. With a high debt load, utilities companies become sensitive to changes in the interest rate. As interest rates rise or drop, the debt payments will increase or decrease. The utilities sector performs best when interest rates are falling or remain low.
The combination of a beneficial interest rate environment that has helped investor sentiment, and an unusually cold winter that has lead to increased profits for electric and natural gas providers, has helped spur the increase in share prices among many utilities. While this run-up has caused many utility stocks to move above fair value, there are still several trading at attractive valuations.
The stocks that were selected for this week's article are listed below. The information shown was collected from various sources, including the previously mentioned "CCC List", F.A.S.T. Graphs, and Yahoo Finance.

ITC Holdings Corp. (ITC) is engaged in the transmission of electricity in the United States and is the nation's largest independent electricity transmission company. The company functions as a conduit, allowing for power from generators to be transmitted to local distribution systems. ITC operates high-voltage transmission systems in Michigan's Lower Peninsula and portions of Iowa, Minnesota, Illinois, Missouri and Kansas. The company was founded in 2001 and is based in Novi, Michigan.
ITC is a member of the Dividend Contenders List, as it has raised its dividend for the past 10 consecutive years, with a compounded dividend growth rate over the last 5 years of 6.2%.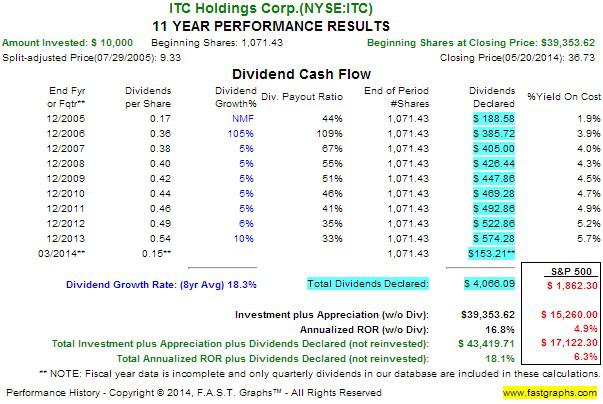 ITC is different than your typical utility company in that its earnings growth rate is much higher than what you'd typically see in a regulated business. As you can see in the chart below, the company has grown its earnings at a rate of 16.4% during the period, which would be impressive for a tech startup, let alone a dividend paying utility company. In order to fund this growth, the company has a lower dividend payout ratio than what is generally seen in the sector, and it results in a yield of just 1.6% at current prices.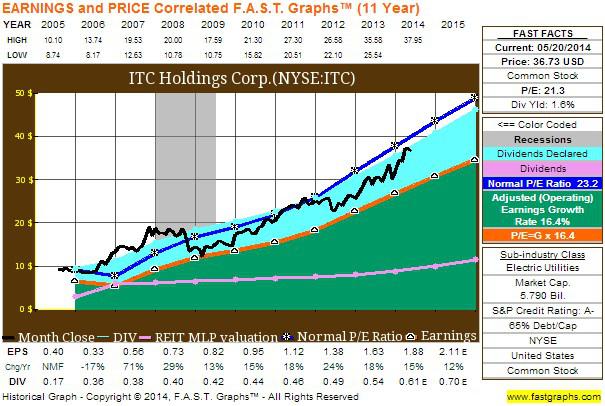 Double digit earnings growth is expected to continue in the years ahead, as analysts project 13.5% annual growth over the next 5 years. Company management projects similar growth, as they expect earnings growth of 11-13% and dividend growth of 10-15% in their 5-year plan, as shown in their most recent earnings presentation.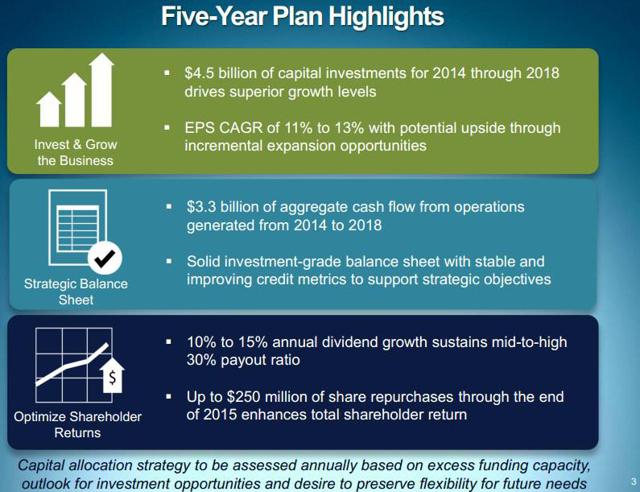 This combination of high earnings and dividend growth at a decent price should lead to decent long term gains for shareholders.
SCANA Corporation (NYSE:SCG) is engaged in the generation, transmission, distribution, and sale of electricity in South Carolina. It owns nuclear, coal, hydro, natural gas, oil, and biomass generating facilities. It owns two liquefied natural gas plants in South Carolina and offers tower site construction, management, rental services, and sales in North and South Carolina. SCANA supplies electricity to approximately 678,000 customers and provides natural gas to approximately 509,000 customers in North and South Carolina, and markets natural gas to approximately 454,000 customers in Georgia.
The company also owns and operates a 1,125 mile fiber optic network and data facilities in South Carolina and builds, manages, and leases communications towers with interests in 2,280 miles of fiber in South Carolina. SCANA was founded in 1924 and is based in Cayce, South Carolina.
SCANA is a member of the Dividend Contenders List as it has raised its dividend for the last 14 consecutive years, with a compounded growth rate of the dividend over the last 10 years of 4.0%. It most recently raised the payout in February, with an increase of 3.45% from $0.5075 to $0.525 per quarter.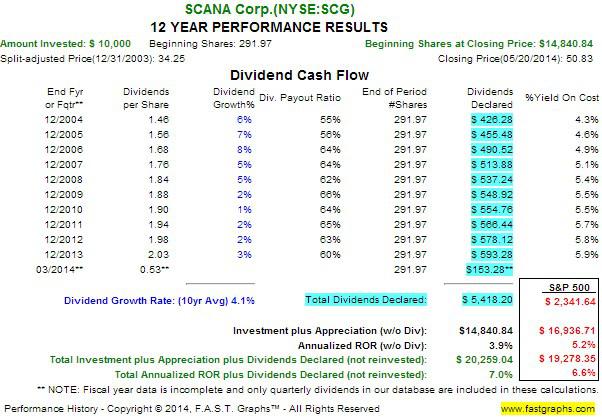 SCANA has been a consistent performer over the decade as it steadily increased earnings at a 3.1% annual rate during the period.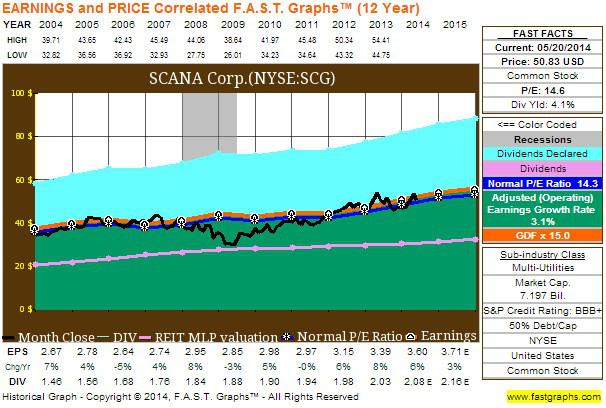 SCANA beat earnings estimates by a wide margin in the first quarter as unusually cold weather in their service area led to increased electric and natural gas sales. Analysts are optimistic that the company can grow earnings at a bit higher rate than in the past, as they are forecasting growth of around 4.5% per annum over the next 5 years.
Southern Company (NYSE:SO) operates as a public electric utility company involved in the generation, transmission, and distribution of electricity through coal, nuclear, oil and gas, and hydro resources in Alabama, Georgia, Florida, and Mississippi. The company also provides digital wireless communications services to telecommunications providers in the Southeast United States under the Southern Telecom name. The company was founded in 1945 and is based in Atlanta, Georgia.
Southern Company is another member of the Dividend Contenders List as it has raised its dividend for the last 13 years, with an average annual increase over the last 10 years of 3.8%. Southern also recently raised its dividend, as it increased the payout by 3.4% on April 21.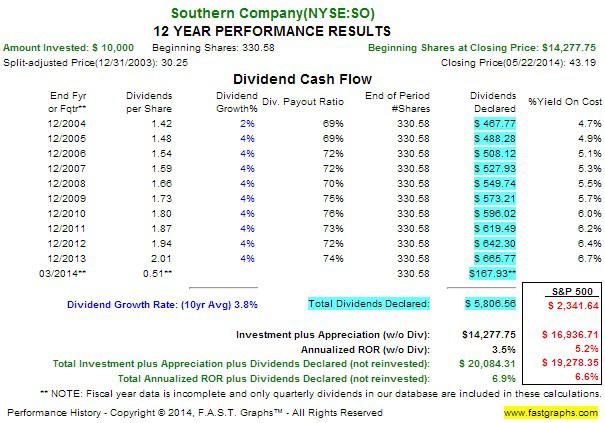 Southern has been another slow and steady grower as it has grown earnings at a annual rate of 2.9% over the last decade. As shown above the dividend growth has been at a slightly higher rate than earnings growth, and as a result the payout ratio has slowly crept higher over time and now has reached 74% of earnings. The company maintains an attractive "A" credit rating from S&P, which is a positive thing to see when considering the higher payout ratio.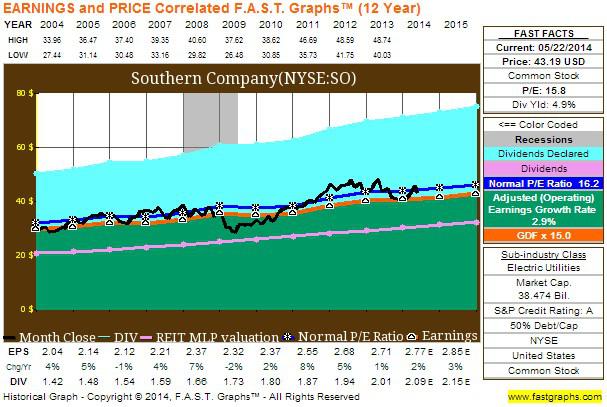 The share price for Southern has struggled as the company has battled multiple setbacks during construction of the Kemper Project, which is an integrated gasification combined cycle "IGCC" coal power plant that the company is building in Mississippi. This project has been a drag on earnings but is expected to begin firing up in the second half of 2014 and be put into service in May of 2015.
As this project winds down, capital expenditures for the company are also expected to drop, which should help with cash flows. The company's 2013 Q4 earnings presentation laid out the expected expenditures through 2016.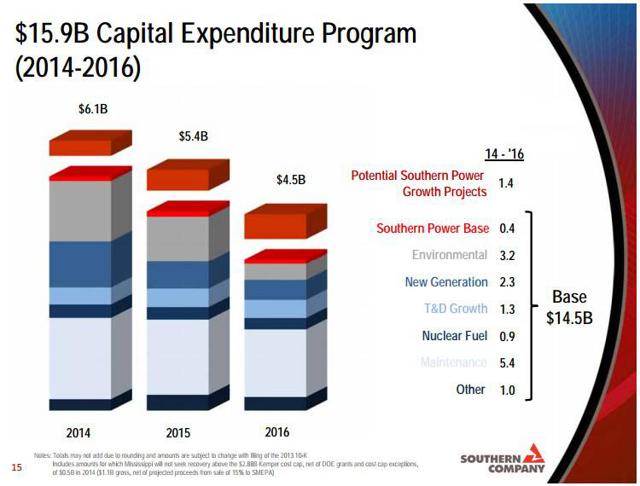 Westar Energy, Inc. (NYSE:WR) is an electric utility that generates, transmits, and distributes electricity in Kansas. The company has 7,200 megawatts of electric generation capacity produced through coal, uranium, natural gas, wind, and landfill gas. The company provides retail services to residential, commercial, industrial customers, and electricity wholesale to electric cooperatives, municipalities, and other electric utilities. The company serves approximately 700,000 customers. Westar was founded in 1924 and is headquartered in Topeka, Kansas.
Westar is a recent addition to the Dividend Contenders List as owns a 10 year streak of dividend increases, during which it has increased the payout by an average rate of 5.9%. Westar most recently raised the payout by 3% with its first quarter 2014 payment.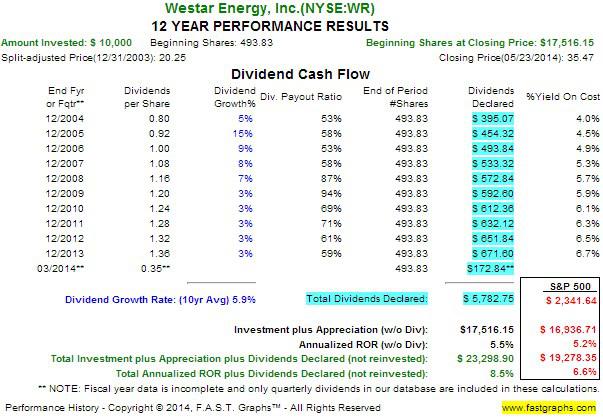 Westar suffered a fairly severe drop in earnings during the 2008-2009 recession as earnings dropped from $1.85 per share in 2007 to $1.28 in 2009. Overall however, earnings have been on a steady climb as they have grown at a 3.8% rate over the last decade.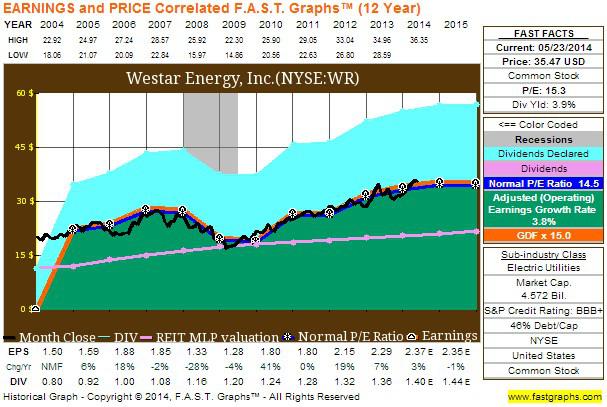 In its May 2014 Investor Update, the company outlined growth objectives for the coming years and issued a 5 year guidance of 4-6% earnings growth. The company also outlined its dividend payout guidance of 60-75% of earnings. With a current payout ratio of just 59%, there is room for more significant growth in the dividend than what has been given in recent years. If the company can reach its goals of mid-single digit earnings growth, one could expect the dividend to grow at a high single digits rate to move the payout ratio more into the mid-point of company guidance.
Xcel Energy, Inc. (NYSE:XEL) is engaged in the generation of electricity and the purchase, transmission/transportation, distribution, and sale of electricity and natural gas in the United States. The company generates electricity using coal, nuclear, natural gas, hydro, solar, biomass, oil and refuse, and wind energy sources. It serves customers in portions of Colorado, Michigan, Minnesota, New Mexico, North Dakota, South Dakota, Texas, and Wisconsin. The company was founded in 1909 and based in Minneapolis, Minnesota.
Xcel is a member of the Dividend Contenders List with 11 consecutive years of increasing dividends, during which its increased the payout by an average of 4.0% per year. The dividend was given a 7% boost to $0.30 per quarter in February, which is a higher raise than what has been seen in recent years.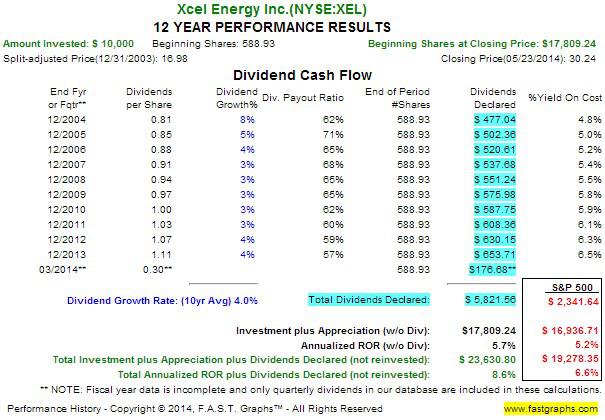 Xcel is a remarkably consistent grower, as it has steadily increased earnings at a 4.2% rate over the last decade. Its impressive to see that the last year of negative earnings growth occurred back in 2005, when earnings dropped by 8% from $1.30 to $1.20.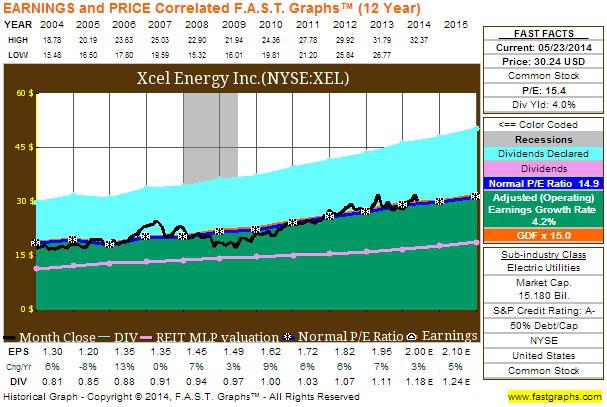 Both analysts and the company itself expect earnings growth to accelerate mildly over the next 5 years as analysts project growth of around 4.8% in the coming years. In its recent presentation, Xcel projected earnings and dividend growth at a slightly more optimistic rate of 4-6%. With the company currently providing a solid 4.0% yield and trading at a reasonable 14.9 times earnings, an investor could expect 8-10% total annual returns in the years ahead.
Conclusion
The recent run-up in prices of utility stocks has caused many companies to now trade at rich valuations. However, with such a large universe to chose from, there are still several companies trading at attractive levels. With this list of four traditional slow and steady growers in traditional utilities, and another providing higher growth in the electric transmission side of things, there are opportunities available for both income and total return investors alike. I hope the stocks selected provide some good ideas for investors that are worthy of further due diligence.
With this being the final sector of the market, this brings to a close the "Blue Light Specials" series. In the next week or so, I will be providing an overview article of all of the selections made during the series and plan to highlight some of my favorites that are still trading at discount prices to the market.
Disclosure: I have no positions in any stocks mentioned, and no plans to initiate any positions within the next 72 hours. I wrote this article myself, and it expresses my own opinions. I am not receiving compensation for it (other than from Seeking Alpha). I have no business relationship with any company whose stock is mentioned in this article.
Additional disclosure: I am a Civil Engineer by trade and am not a professional investment adviser or financial analyst. This article is not an endorsement for the stocks mentioned. Please perform your own due diligence before you decide to trade any securities or other products.