2013 was a good year for Starbucks Corporation (NASDAQ:SBUX). Shareholders of the company must be quite happy, as its share price moved more than 41% last year from $55 per share to more than $78 per share. However, year-to-date, the stock has lost more than 6.5%. Nevertheless, the stock still has a great upside potential.
Starbucks primarily operates and competes in the retail coffee and snacks store industry. This industry is in a mature stage, with a medium-level concentration. Growth in the industry is largely dependent on disposable income and consumer spending. Between 2010 and 2020, global consumer spending is expected to increase by $12 trillion. The United States and China will account for 25% and 19% of the world's spending growth through 2020, respectively. Both the U.S. and China are important markets for the company.
As the coffee market in the U.S. is slowing, there are other emerging markets for the specialty coffee industry. The coffee and snack shops industry in the U.S. is expected to grow only 1.4% this year. Starbucks' biggest growth is in its International segment. The emerging markets of Brazil, India, China, South Africa and Mexico, with a growing middle class population, continue to offer significant opportunities to add new stores and serve more customers.
China is the major country for Starbucks to explore. The country is expected to be Starbucks' second-largest market after the U.S. in 2015. Starbucks' China and the Asia-Pacific (CAP) segment has produced strong double-digit comps for 11 consecutive quarters. The company has been in China for 13 years, with a strong presence in the major cities such as Beijing, Shanghai and Guangzhou. It expects to have 1,500 stores operating in over 70 Chinese cities by 2015. The Chinese coffee market is growing quickly. Over the past decade, China's coffee market has grown by an estimated 10%-15% annually, in comparison to the worldwide average of just 2%. Coffee consumption in the country is expected to increase from 45,000 tons in 2006 to 300,000 tons annually by 2020. A growing Chinese coffee market means Starbucks will see significant profits rise as its new star target market begins to rise. The company has a strong transnational strategy that will allow it to continue to achieve success in the years to come. It has already made significant inroads into the Chinese market, but there still is a lot of untapped potential growth in this market.
Another growth market for Starbucks is India. India is one of the emerging markets throughout the world that is becoming a spending-oriented country. Starbucks entered the Indian market in October 2012. Its stores are operated by the joint venture, Tata Starbucks Limited, and branded as Starbucks Coffee. In India, tea was the common beverage for the upper and middle classes, but now coffee is becoming a statement of wealth and prosperity. The coffee shops and café market in India is expected to witness incredible growth in the next five years. India's coffee market has been growing at a rate of 15% per year. It is forecasted that the coffee shops/cafés market in the country will cross INR 5600 crore ($959 million) by 2017. To benefit from the growing Indian coffee market, Starbucks plans to open "thousands of stores" in India in the near future.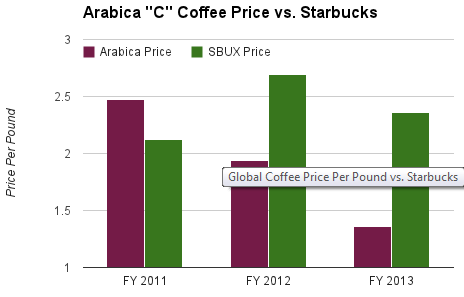 Source: ibtimes.com
Coffee bean prices have grown significantly over the past few months. The price of Arabica beans that Starbucks uses in most of its coffee has risen over 90% year-to-date due to a drought in Brazil, the world's largest producer of the beans. Brazil produces around a third of the world's coffee. Many analysts expect that the rise in price could force the company to increase its coffee price to keep up with the growing commodity cost. The recent rise in coffee bean prices will not affect the profitability of Starbucks, as the company already has a year's worth of coffee locked in at earlier prices. Starbucks purchases Arabica coffee using fixed-price and price-to-be fixed purchase commitments. This strategy allows the company to hedge against commodity price hikes and ensure timely delivery of high-quality coffee beans. Due to low coffee prices last year, Starbucks saw a $97 million benefit in fiscal 2013. It expects to see a positive impact of $110-120 million this year as a result of subdued coffee prices.
Analysts are also bullish on Starbucks. According to Yahoo Finance estimates, the company will report revenue of $16.48 billion this year and $18.25 billion next year. EPS is estimated to be $2.67 and $3.16 in 2014 and 2015, respectively.
Bottom Line
The future of Starbucks looks promising. It is a strong corporation that is in a growing industry. The company has high growth prospects in the international market. China and India will provide great growth opportunities. Although two-thirds of its stores are currently domestic, over the next few years, the percentage of foreign stores will escalate. In my opinion, Starbucks is an attractive investment for long-term investors.
Disclosure: I have no positions in any stocks mentioned, and no plans to initiate any positions within the next 72 hours. I wrote this article myself, and it expresses my own opinions. I am not receiving compensation for it (other than from Seeking Alpha). I have no business relationship with any company whose stock is mentioned in this article.