Nalco (NYSE:NLC) has performed well since I last wrote about the company and given Friday's market euphoria, there could be a sick sense of having missed the boat...but not so fast.

First, a reminder of exaclty who Nalco is, courtesy of Morningstar Research:
Nalco provides integrated water treatment and process improvement services, as well as chemicals and equipment programs for industrial and institutional applications. These can include anticorrosion techniques, papermaking process improvements, and upstream and downstream energy services. Nalco is the largest player in the water-related services and chemical market. A majority of Nalco's sales are outside the United States, and the firm owns plants all over the world.

Have a look at Nalco's (NLC) price history courtesy of Chartfacts.com: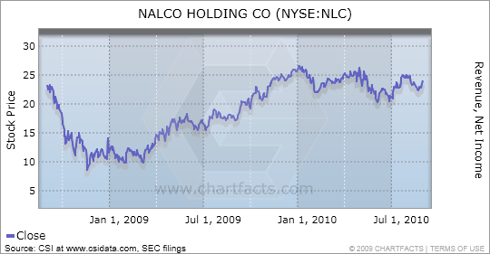 For most of 2010, NLC has been back in the zone it left due to the 2008 market debacle. Part of that has to do with the overall market recovery. And part of it has to do, in my opinion, with the market's belief that the services performed by NLC are not only vital today, but increasingly so in years to come and in more and more countries around the globe.

In my view, NLC is a play not just on the water treatment business, but also a global play on many emerging and emerged countries. As I stated in my original note on this on August 27 (see link above):
With all of the talk of droughts around the world (witness chronic conditions in Australia, recent conditions in Russia and just last night's news reported in China Daily that the growing shortage of farmland and water resources in China could put its grain output targets over the next decade out of reach) and with the increasing needs of Emerging Market countries for water purification and water desalinization, this company is likely to be well situated to benefit and grow in this space as it operates all over the world.




Management is a big part of the Nalco story. In early 2008, Erik Fyrwald, formerly of DuPont's (DD) agricultural and nutrition division, took the helm. His mission is not only to shepherd this company into its globally expansive growth, but to use the cash generation to pay down a relatively large debt load that still overhangs the balance sheet. It looks like Fyrwald & Co. are on the case! As Morningstar notes (in the same link above):

On the balance sheet front, priorities shifted following the financial crisis. Before late 2008, stock buybacks had been a favored destination of free cash flows. Since Nalco aims to move toward a less leveraged capital structure, debt reductions will be a bigger priority.
Finally, I'm likely to get a 'comment' on this piece noting that Warren Buffett has a big stake in the company. For whatever comfort that might or might not provide potential investors, I'm a big fan of doing my own homework and strongly urging readers to do the same. Towards that end, for a very balanced view of the company, I'd suggest a look at MarketGrader.com's note on Nalco (open the link and search for NLC)

It points out the recent negative price action of the overall 'materials sector' and neutral performance of 'specialty chemicals', Nalco's 'industry group'.

So this could be a stock to consider now in anticipation of seeing the whole industry and sector rebound, especially if today's NFP really turns out to be the game-changer that the market hopes it to be. And even if it's not, for medium and longer term horizon portfolios, this is a company whose business fits in nicely with a view, that I subscribe to, of continued global infrastructure build-out and emerging country development.

I'd urge a close look. It may be worth putting some of your oars in this water!


Disclosure: LONG: NLC, MMM