In late February I wrote an article titled "Vipshop And Zulily: Which One Is A Buy", and argued that Vipshop (NYSE:VIPS) is severely undervalued compared to Zulily (NASDAQ:ZU) and that it should vastly outperform Zulily this year. Since the article was written, Vipshop is up 52% and Zulily is down 37%. Although this is a great result, their respective valuations are still not aligned, and I believe that Vipshop still has more potential, although the valuation gap has narrowed.
Improving growth outlook for Vipshop
Vipshop reported Q1 earnings that blew past analyst estimates, as the strong growth momentum keeps its top and bottom line growing in triple digits. In fact, revenue growth accelerated in Q1 after three consecutive quarters of slowing growth. The company also guided FY 2014 revenue $100 million higher than the analyst consensus at the time. The growth in expectations caused Vipshop's forward valuation to only rise slightly despite a 52% rise in its share price from late February. We should see continued strong growth in the rest of 2014, and further margin expansion as a consequence of increased scale and the integration of the Lefeng acquisition, where the company will take advantage of cross selling opportunities and benefit from synergies which will lower the combined operating expenses.
I expect that Vipshop will continue to grow ahead of expectations and I believe that there might be further upside for FY 2014 earnings and revenue, which will lead to a higher share price going forward.
Zulily's momentum slows
Unlike Vipshop, Zulily crashed after its Q1 earnings report. The company missed the EPS consensus, but the revenue growth was ahead of expectations. Zulily raised full-year revenue guidance by $50 million to $1.15B-$1.2B, which was slightly ahead of analyst expectations at the time. However, the company kept its net income and adjusted EBITDA guidance at $15M-$25M and $45M-$55M respectively. Another contributing factor to the rapid decline of its share price was a 200bps gross margin decline.
Although Zulily's valuation was cut in half, I still believe that there are substantial downside risks, especially when compared to Vipshop and its current valuation and growth potential. My near-term price target for Vipshop is $220 and $30 for Zulily, which translates into 30% upside for Vipshop and 15% to 20% downside for Zulily.
Valuation - Vipshop is still the top pick
When I compared Vipshop's and Zulily's valuations in late February, Vipshop came out as a clear winner, with stronger overall growth potential and a quite lower valuation. The situation has changed since, and Vipshop's growth prospects have improved significantly, compared to Zulily's modest increase in expectations. However, the share price performance has lead the valuation gap to narrow, but Vipshop is still the winner, and I expect that it will continue to outperform Zulily in the future. In the table below, you can look at their forward valuations and expected growth levels.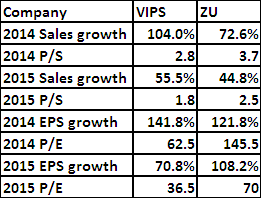 Source: Yahoo! Finance
Conclusion
Vipshop has broadly outperformed Zulily in the last three months, and I expect this trend to continue going forward. Vipshop remains a buy here, and I would continue to avoid Zulily until their respective valuations are more aligned. In fact, Vipshop now deserves a premium valuation over Zulily because of the higher overall growth prospects.
Disclosure: I have no positions in any stocks mentioned, but may initiate a long position in VIPS over the next 72 hours. I wrote this article myself, and it expresses my own opinions. I am not receiving compensation for it (other than from Seeking Alpha). I have no business relationship with any company whose stock is mentioned in this article.