Thesis
Quanta Services (NYSE:PWR) is currently a financially healthy company that is a leader in many of the markets it operates in. With infrastructure spending expected to grow rapidly, and Quanta perfectly positioned to capture this growth, the stock is trading right around where it should be at $33.20.
Company Overview
Quanta is a specialty contracting company that offers solutions to companies in the infrastructure industry. The company's main markets are electric power and oil and gas in North America, and then there are other international markets they serve as well. At the end of 2013, the company had a total of 20,900 employees, according to the company's 10-K. The company's operations are divided into a few segments: Electric Power Infrastructure Services, Oil and Gas Infrastructure Services, and Fiber Optic Licensing and Other. Here is a brief glimpse of the revenue breakdown (taken from an investor presentation):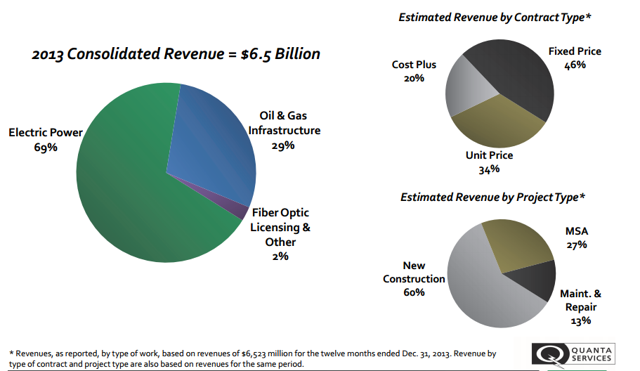 Recent Performance
The company has found decent success in their search for infrastructure projects in recent years. This is reflected by the rising net income, displayed in the graph below.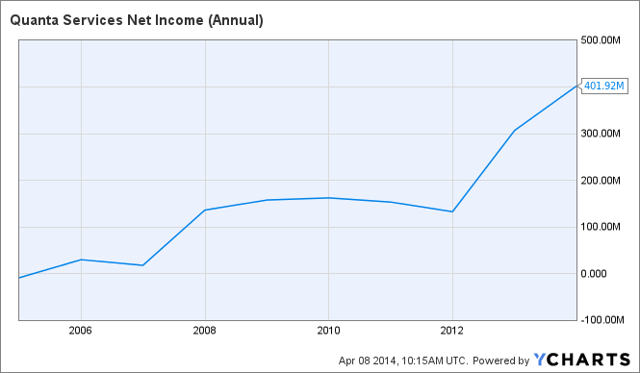 PWR Net Income (Annual) data by YCharts
Although there have been a few dips and plateaus along the way, the general trend is definitely a positive one for Quanta. They are continuing to serve high quality, well known, and established companies, such as National Grid plc (NYSE:NGG) and the MidAmerican Energy Company. As companies such as these continue to build up new infrastructure and maintain the old infrastructure, earnings will continue to steadily rise for Quanta.
Quanta ended fiscal 2013 with record revenue ($6.52 billion), net income ($401.9 million), and diluted EPS ($1.87). This was no slow year for Quanta, as they increased revenue by 10% and EPS by 38%. Quanta is continuing to benefit from macroeconomic factors as revenue increases, and they are fine tuning their business model to increase earnings. While looking at this impressive growth, also consider the fact that there was much more work to be done in 2012 as a result of Hurricane Sandy. As a matter of fact, the company did $140 million more storm work in fiscal 2012 than in fiscal 2013. Despite this, the Electric Power segment hit record revenues in 2013 and margins remained strong. It is important to note that Quanta seems to aim to invest heavily within the company in fiscal 2014. Despite the fact that revenue is expected to rise up to $7.4 to $7.8 billion, EPS is only expected to be between $1.65 and $1.85.
On top of this, the company just reported first quarter earnings for fiscal 2014, and the story is just as impressive. Revenues were $1.76 billion compared to last year's $1.59 billion. Adjusting for a series of expenses caused by an arbitration decision that cost the company $38.8 million, EPS was $0.44 compared to last year's $0.38.
Competitive Positioning
Quanta is fully prepared to compete effectively. One of the reasons for this is that the company focuses intensely on safety and performance. They hire and train qualified employees and devote immense amounts of efforts to completing projects without injuries. As the chart below depicts, Quanta is a leader in the initiative to make their industry safer. This emphasis on safety translates to a higher stock price in the fact that when Quanta does a high quality job for a customer and avoids injuries and the headaches that follow, the customer is more likely to higher them for additional work. Also, other companies that have not yet done business with Quanta are more likely to do so when they are able to maintain such a respectable reputation.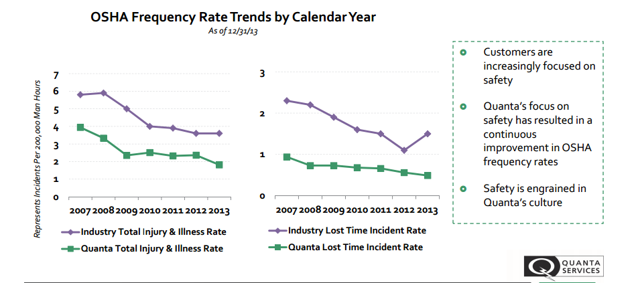 Other than continually improving safety and performance, Quanta has a few other aspects of the business that help them differentiate. First of all, the company should be able to continue to leverage their current leadership positions in the markets they engage in. For example, their success in the electric industry leads them to a great opportunity, which is the position to capitalize on the rising solar power market. As Quanta continues to grow, they are able to also capture all the growth of their industry thanks to their historical success and reputation. Another example of Quanta's management making a strategically effective move was when they acquired Price Gregory and as a result will be able to profit from pipelines needed for shales and the Canadian oil sands. This was a major benefit to the company's Oil and Gas Infrastructure segment. The acquisition of Price Gregory also eliminated some redundant costs and cross selling issues with other operations in this segment. Price Gregory specializes in large diameter transmission pipelines, and is the leader in this field. Now that Quanta has acquired them, they become a leader in yet another growing market. The expertise and customer relationships provided by this acquisition will help Quanta to provide America with a means of reaching energy independence goals. A third example is that the work Quanta has done with infrastructure on land gives them a chance to expand into off shore operations, which they believe could be a $1 billion annual market for them. Because of their historical and current success, Quanta will always have a number of markets to break into. For this reason, Quanta will be able to capitalize on industry tailwinds in any market of the infrastructure industry.
Quanta also has a competitive advantage because they are often one of the first companies to take advantage of new places to profit. Australia, for example, could also one day be providing the company with $1 billion in annual revenue. This growing market also provides some diversification for the company's customer base, which is largely in the Western Hemisphere. The company can start with just expanding a few core competencies to Australia and then eventually break into niche markets and essentially create an "Australian Quanta". Quanta does work in the energy infrastructure market of this country through their two owned entities, Nacap and Coe Drilling. This revenue should start coming in for Quanta within the next couple of years. Already, Quanta is making their mark in Australia. For example, Coe Drilling recently completed the first horizontal directional drill intersect in Australia. This is no small feat, and the company will continue to profit from the growing energy infrastructure market in Australia, continually gaining new projects and customers. With the need for the "unconventional shale formations" in Australia to be converted into actual energy for use, many pipelines will have to be built connecting production sites, demand centers, etc. Nacap, too, can help with the increasing demand for pipelines in Australia, as they have already built over 3,000 kilometers of them according to the company website. The Australian energy infrastructure market is set to grow rapidly in the coming years and Quanta has positioned themselves nicely to capitalize on this opportunity.
Catalysts Are Extensive And Exciting
There are a number of catalysts that I believe will drive growth for Quanta in coming years. According to the earnings call transcript for FY fiscal 2013 as well as 4Q 2013, management expects to "see continued opportunity for double-digit growth for at least the next 2 years." Now I will describe to you why this idea is feasible and this growth can be very sustainable.
Quanta is currently the largest "electric power specialty contractor" within North America. The company serves the majority of utilities companies within the United States and Canada. This positions Quanta perfectly for success. They are a market leader in an industry that will have constant and growing demand for its services into the foreseeable future. As decades old infrastructure continues to break down, Quanta will be there to maintain and repair it. As populations continue to expand and grow, Quanta will be there to build the infrastructure that is necessary for people to survive and thrive. Electric utility customers are currently "deploying capital at record levels" to meet reliability expectations and regulatory requirements. These companies are constantly investing in the effort to repair and maintain old infrastructure while building the new stuff. The company reports that internal research has led them to believe that their utility customers will continue to spend record amounts of money, as the annual growth rate in capital expenditures through 2017 is expected to be as much as 15%. Quanta is uniquely positioned to capitalize on the opportunity brought about by the need of our population to maintain and continue building infrastructure. Quanta will be able to profit from the hundreds of billions of dollars that will be spent in this area over the course of the next few decades.
The amount of infrastructure spending that we will see in coming years is expected to be quite large and growing rapidly. Let's start with the Electric Power segment. According to this May/June 2014 Investor Presentation, transmission spending has increased to more than 3 times historical levels in North America and will continue to rise due to underinvestment and the need to meet regulatory and functional requirements.

Quanta is North America's largest electric power specialty contractor and thus have extensive information available to them concerning capital programs of companies in the industry. Management believes that there will be "continued record investment in transmission with up to 15% annual growth in capital expenditures through 2017". The company is already getting some large projects. As of the Q4 2013 earnings call, Quanta had been awarded $650 million worth of projects that are worth at least $100 million each in the previous three months. In terms of the services offered, CEO Jim O'Neil refuses to let quality suffer. Competition will be fierce as this industry grows rapidly, and O'Neil aims to keep his workforce at the top, as he expressed in this interview. The company's 2200 acre training facility in Texas should be complete by early 2015.
There is a very similar story for the Oil and Gas Infrastructure segment. As shale oil, natural gas, and natural gas liquids continue to be produced at growing paces, companies in these industries will spend billions to keep up. The charts below are probably a beautiful sight for Quanta, which is the leading pipeline contractor in North America.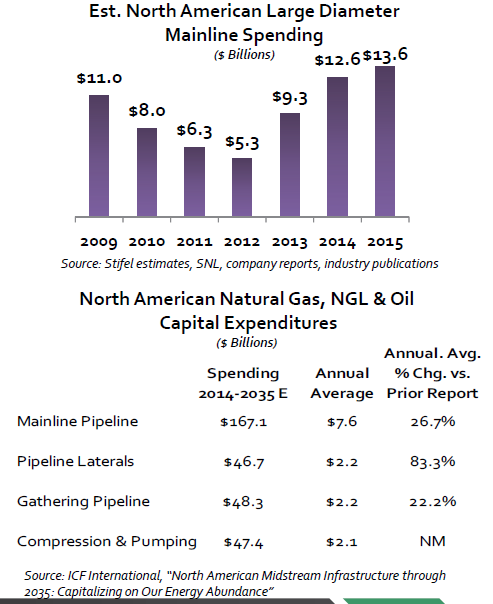 As we continue to harvest greater amounts of energy from the ground, significant investment in pipelines, storage facilities, equipment, and much more will be required. One particularly exciting market is that of the unconventional shales in the Canadian oilsands. This is, of course, a unique way of acquiring energy and the location of the energy is in an area with somewhat undeveloped infrastructure compared to some other areas where shales are harvested. As this area becomes more prominent in the world of oil and gas, infrastructure will have to be significantly built up. Markets such as these as well as more traditional locations that need the maintaining and repairing of infrastructure have driven pipeline contracts for Quanta. By early 2015, management expects to see demand for pipeline construction to outpace industry resources, according to the 4Q 2013 earnings call.
Risks
One of the main risks to address is competition. As of right now, Quanta is a leading infrastructure construction company in North America. But as both private and public companies continue to fight for market share, Quanta will have to stay on its toes. Luckily, management is thoroughly prepared for this and they will combat this issue by continuing to provide high quality services and maintaining a safe working environment. Also, as the competition heats up, Quanta's sizeable backlog should give them the upper hand. Total backlog is currently at more than $9 billion. This is arguably the main threat that Quanta faces, and investors already have reason to believe that the company is well positioned to maintain their reputation and market share.
Here's a comparison of Quanta and a few competitors:
| | | | | | |
| --- | --- | --- | --- | --- | --- |
|   | Quanta Services | MasTec (NYSE:MTZ) | Chicago Bridge & Iron Company (NYSE:CBI) | Furmanite Corporation (NYSE:FRM) | Matrix Service Company (NASDAQ:MTRX) |
| Market Cap | 7.23B | 3.00B | 8.57B | 412.16M | 873.21M |
| Revenue | 6.70B | 4.37B | 11.77B | 463.20M | 1.15B |
| Net Income | 384.25M | 144.23M | 509.46M | 12.48M | 35.62M |
| Operating Margin | 8.08% | 6.35% | 6.60% | 5.04% | 5.13% |
| ROA | 6.16% | 6.24% | 5.40% | 5.67% | 7.58% |
| ROE | 9.90% | 15.04% | 24.82% | 9.74% | 14.39% |
As you can see, Quanta is doing very well in terms of size, profitability, margins, and return on assets, while the return on equity is a bit weak. Overall, though, Quanta is arguably in the best position out of these competing companies. In the future, a multitude of catalysts that I've already discussed should allow them to continue to grow revenue while maintaining return rates.
Another risk is that macroeconomic conditions could worsen. As a result, customers could decrease spending and Quanta would see falling revenues. The huge backlog that Quanta has built up would likely act as their main defense if things got really bad. The way that Quanta operates, the company ends up with a growing backlog and expanding customer base as time goes on and they acquire more and more projects. In a fundamental sense, this is a solid hedge against macroeconomic risks. In the past, Quanta has been significantly hurt by global economic struggles. In the 2008-2009 recession, net income was very stagnant, as shown by the chart below (the shaded region represents the recession).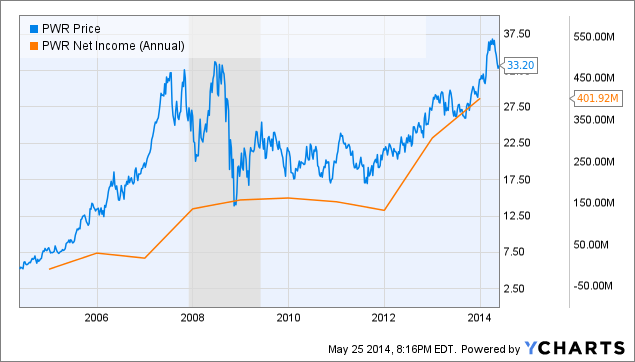 As you can see, though, Quanta's stock is a bit cyclical. The chart shows the significant drop in Quanta's price during the recession despite the relatively flat earnings.
Thirdly, quarterly earnings can be somewhat unpredictable due to factors such as weather, regulatory delays, varying margins, worsening economic conditions, and so on. Luckily, this isn't much of an issue to value investors such as myself. Having a little bit of harsh weather cause Quanta to push some projects back doesn't change the business model. This is worth noting, but there isn't much room for extra details as we'll never know if these random factors will favor or harm Quanta. Nevertheless, using a wider time horizon for analyzing the company's performance will do the trick.
Valuation
Below is a comparison of valuation metrics between Quanta and a few competitors.
| | | | | | | | |
| --- | --- | --- | --- | --- | --- | --- | --- |
|   | Quanta Services | MasTec | Chicago Bridge & Iron Company | Furmanite Corporation | Matrix Service Company | Average | Standard Deviation |
| P/E | 18.72 | 23.71 | 16.89 | 32.76 | 24.77 | 23.37 | 6.20 |
| P/S | 1.07 | 0.68 | 0.72 | 0.85 | 0.75 | 0.81 | 0.16 |
| P/B | 1.67 | 2.88 | 3.48 | 2.91 | 3.23 | 2.83 | 0.70 |
| EV/Revenue | 1.03 | 0.90 | 0.84 | 0.92 | 0.74 | 0.89 | 0.11 |
| EV/EBITDA | 9.68 | 9.40 | 10.17 | 12.17 | 11.22 | 10.53 | 1.15 |
Quanta is below average in 3 out of the 5 metrics. It doesn't necessarily stand out as either undervalued or overvalued based on these measures. If the company was trading at the average P/E, that would result in a 25% gain. If it were trading at the average P/S, though, that would be a 25% loss. This valuation analysis doesn't lead to any concrete conclusions just yet.
Now let's look at it in terms of discounted cash flow. Here are my assumptions:
A discount rate of 11%
Earnings will grow at 12% for the next five years. This is realistic considering the company has had impressive growth rates in recent years and the market continues to look encouraging.
After this, earnings will trail off to a growth rate of 5%, which is realistic considering that investments in infrastructure are going to be, and have typically been, very large and drawn out over a long period of time.
These assumptions put Quanta at a fair value of $43.83, an upside of more than 32% from the current price of $33.20. Taking into consideration the inconclusive comparables analysis and the cash flow point of view, Quanta appears to be at a fair price right now, if not slightly undervalued.
A combination of a strong business model, and growing infrastructure investments seem to make Quanta a clear buy. But the valuation leaves us with the impression that it might be best to wait for a dip, depending on how much risk you can afford to take on.
Disclosure: I am long PWR. I wrote this article myself, and it expresses my own opinions. I am not receiving compensation for it (other than from Seeking Alpha). I have no business relationship with any company whose stock is mentioned in this article.