I've been an investor in Gold Resource Corporation (NYSEMKT:GORO) since October 2006. I advised them for just under two years, bought shares in the open market, and have since watched their dream become a reality. The stock itself is arguably the best performing gold stock during the 2006-2010 timeframe. The GORO story has everything you look for as a gold stock investor: 1.) A new low cost gold producer 2.) High grade deposit that is still 98% unexplored 3.) Low cost production (sub $200/oz cash cost) 4.) Management owns 20-25% of the company 5.) 1/3 of cash flow going to a dividend [already paid two special dividends since 7/1/10] 6.) Fantastic share structure 7.) 9 year mine life which will be expanded.
First years production is anticipated to be 70,000 oz at a $200/cash cost increasing to 200,000 ounces at a 0 cash cost by year 3. At $1,000 gold, with just over 52 million shares fully diluted, GORO will have $1.07/share in operating cash flow in year one, growing to over $3.81 OCF/share by year 3. Management's goal is to pay 1/3 of operating cash flow out as a dividend so one could expect dividends to grow from $0.36 - $1.27 per share during this 3 year timeframe. The company has already announced $0.06 in dividends since the start of commercial production on July 1, 2010 which tells investors management is serious about paying them.
Newmont Mining (NYSE:NEM) and Barrick Gold Corp (NYSE:ABX) currently pay the largest dividends among all gold producers. It is not too farfetched to say that Gold Resource Corp (GORO) will likely surpass both these companies in terms of dividends per share over the next couple of years. Among gold producers that pay a dividend, the average dividend yield is less than 1%. But let's say that GORO will be priced at a 3% dividend yield to remain conservative. If you assimilate a 3% dividend yield on a $1.27 per share dividend that is a $42 stock price. The chart below () further illustrates the power of dividends and its effect on GORO's share price given different dividend yields.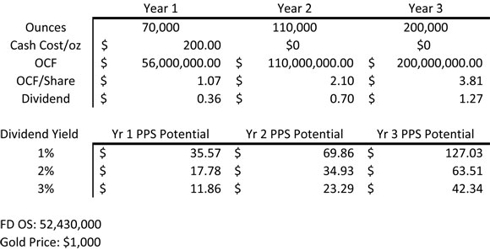 In today's market environment more and more investors are being drawn to dividends. Why you ask? Because you can't manipulate dividends like you can earnings. Cash is cash and in uncertain times cash is king. Gold Resource Corp's dividend policy is what drew a lot of investors into the story, and now they are starting to pay them. I expect GORO shares to continue to appreciate over the coming months and years as more investors are drawn into this great story.

Disclosure: LONG GORO