Sprouts Farmers Market (NASDAQ:SFM) is a supermarket company that focuses on selling organic, natural, raw, and bulk foods. This category is a fast growing one as it is expected to grow from $54 billion to $112 billion by 2020. There is a high amount of competition in the space, so it is important to pick out the best companies to invest in instead of blindly buying into an organic player.
The main player in the space is Whole Foods (WFM), which has recently reported disappointing earnings based on the fact that its prices are too high. This is where Sprouts excels. Sprouts is unique in that it offers these healthy products at a discount to not only Whole Foods, but also to the other traditional stores such as Kroger (NYSE:KR). Sprouts' main selling point to get people in the stores is its low produce prices. The produce sells for a 20%-25% discount to regular supermarkets and about a 50% discount to companies like Whole Foods. They are able to do this because produce is a main focus of their stores, being that they are in the center, which allows them to buy in bulk. Another reason why they can sell at these low prices is because they have switched the traditional pricing in supermarkets.
Traditional players compete on price in the consumer packaged goods section and try to make up those profits on the produce. Sprouts sells their produce at low prices to get customers in the store and charges higher prices on its other items such as vitamins. I believe they are able to do this because of their customer service; they employ nutritionists on site and refuse to have self checkout.
There was a study by Bloomberg Industries' Jennifer Bartashus that showed that in an average basket of 148 brand items cost $691.92 at Sprouts $780.64 at Whole Foods. The reasoning behind the lower prices at Sprouts was mainly due to promotions. This shows how Sprouts is truly competing on price with the traditional supermarkets as Whole Foods is much higher in price. Whole Foods has recently stated that they will begin to lower prices, but I believe it will be extremely difficult for them to catch up to Sprouts as Sprouts was founded on the idea of having low prices. Their motto is "Healthy Living for Less."
This business model is clearly working as Sprouts had 12.8% same-store sales growth and raised their full-year guidance from $0.58-$0.60 to $0.63-$0.65 per share in Q1. The estimate for the amount of stores that Sprouts can have the U.S. is 1,200. The company currently has only 172 stores, so there is an enormous growth potential.
Besides competing with traditional supermarkets and health food stores such as Whole Foods, The Fresh Market (NASDAQ:TFM), and Natural Grocers by Vitamin Cottage (NYSE:NGVC) the company has to compete with new competitors such as Amazon (NASDAQ:AMZN) and Wal-Mart (NYSE:WMT). I believe that Amazon is not going to be a serious threat in the near term (the next three years), as they have a $299 annual fee and it is difficult to determine the produce that you want to buy online, since it requires you to feel it to determine freshness. Wal-Mart will have a tough time competing with Sprouts just as other supermarkets do because they will have to have the huge brands in their stores which crowds out the ability to sell more organic foods. This is a huge competitive advantage that Sprouts has; it focuses on food attributes such as GMO-free or gluten-free instead of the name of the brand. This is a change in behavior that customers will have in the future, in my opinion. Sprouts also focuses on promoting team members from within, which definitely will give consumers a better experience than they will ever get at Wal-Mart.
Now that I have explained why Sprouts is a solid company with huge growth potential, I will focus on the stock. Analysts expect the company to earn $.83 per share next year. This would give it a forward P/E of 32.7 based on the $27.12 share price it currently trades at on May, 23rd 2014. The long-term growth rate of the company is 23.4%, so the PEG would be 1.396. This compares to the PEG of Whole Foods being 1.481, Kroger being 1.585, The Fresh Market being 0.897, and Natural Grocers by Vitamin Cottage being 0.919. Therefore, Sprouts is cheaper than Whole Foods and Kroger, yet more expensive than The Fresh Market and Natural Grocers. Sprouts definitely should be more expensive than The Fresh Market and Natural Grocers because of the fact that analysts have been revising their estimates upward for Sprouts, while they have been revising them downwards for the other two companies. Four of the six analysts making projections raised their numbers for Sprouts' 2015 earnings, while three of 13 analysts revised them downwards for The Fresh Market's 2016 earnings, and three of four analysts revised their estimates downwards for Natural Grocers' 2015 earnings. This shows that Sprouts has the most positive earnings momentum.
When looking at these previous metrics of positive earnings momentum, high same store sales growth, and 40%+ adjusted net income growth for the year, you would think that Sprouts stock would be increasing steadily. This is not the case as it is trading near its 52-week low of $25.73. The stock has been knocked down for three reasons in my opinion. The first is the high multiple that it had been trading at. Earlier this year, it had been trading in the high $30s; this would put its P/E even higher then it is now. The second reason ties into the first one; the high multiple stocks were out of favor earlier this year. Stocks such as Netflix (NASDAQ:NFLX) and 3D Systems (NYSE:DDD) corrected with their stock prices being cut by over 30% and 50% respectively. They have since started to recover, but Sprouts is still at its low. Sprouts should start to catch up in the coming weeks.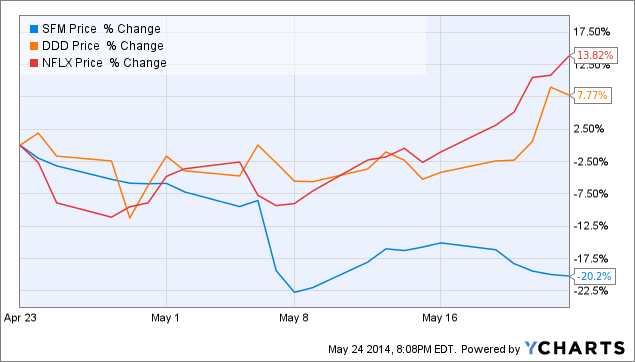 The third reason for the stock's decline is the poor performance of Whole Foods. Whole Foods is doing poorly because of its high prices; Sprouts doesn't have high prices, so it should not go down in sympathy with it. Sprouts has a 14-day RSI of 29.07, according to StockTa.com. This means it is oversold.
There are many risks to the thesis. One is that their business model does not transfer well in other markets (they are only in the southwest). California and Colorado are places where healthy eating is more popular than it is in other parts of the U.S. If you believe that the company cannot convince people in the Southeast to eat healthy then you shouldn't buy the stock. If you believe that food inflation will be high and Sprouts will not be able to pass on the increased costs (as it has historically done), then you shouldn't buy the stock. If the competition in the industry begins to copy Sprouts' business model of low cost produce the analysts' estimates are definitely too high. To go along with the first point, if consumer's tastes change, as they often do, and Sprouts does not sufficiently react to these changes then they will lose customers. Sprouts relies on Nature's Best for about 23% of its dry grocery and frozen food products, so if this vendor has problems with its quality, then it could adversely affect Sprouts.
In conclusion, Sprouts has a solid business plan with potential to grow from a regional player into a national one. The stock doesn't reflect this potential as the negativity surrounding the natural foods category has taken it to its 52-week low. Therefore, I believe it is a buy at $27. I would recommend you scale into the position by buying on weakness. In the near term, it may test and go below its 52-week low. If this happens, you should consider yourself lucky and buy more of it.
Disclosure: I am long DDD. I will be looking to buy SFM in the next few weeks. I wrote this article myself, and it expresses my own opinions. I am not receiving compensation for it (other than from Seeking Alpha). I have no business relationship with any company whose stock is mentioned in this article.