The benefit of dividend as opposed to growth stocks has been subject of a number of debates on Seeking Alpha. With many of my stock picks I am sitting comfortably between the chairs. Companies like Ecolab (NYSE:ECL), Canadian National Railway (NYSE:CNI) and Coloplast (OTCPK:CLPBY) have been offering both, dividends and growth. As I am investing in stocks in the context of a (modified) Permanent Portfolio, growth is an essential part of the plan. Why bother with dividends then? The answer is: safety. The aspect of safety is widely recognized as far as the usual suspects of dividend growers are concerned. I believe the case can be made even for smaller, otherwise more risky picks.
Investing in a nutshell
When you buy a stock the outcome is binary: Its returns can be positive or negative by the time you are selling. Thus, the function that determines returns comprises only three independent variables:
A stock

When you buy and

When you sell
You can aggregate a number of these functions to a portfolio, but in essence, there is no more to investing than that. When you think about it, it is quite fascinating, to see how many complex return optimization strategies have been derived from here.
Anyway, to simplify things even more, most investors focus only on a subset of the independent variables to generate positive returns: They pick a stock and determine the appropriate points in time for buying and selling. Or they decide for any point in time which the appropriate stock to buy or sell is. There are thousands of examples for both in real life: Investors on standby who like a stock, but not the price, as well as investors with money in the bank they want to put to work now.
Quality
Quality provides us with a link between the two. The higher the quality of a stock, the more windows of opportunity for buying and selling an investor will have. This means that if I buy quality stocks on a more or less regular basis, my timing should be more often right than wrong. Some quality companies pay dividends and others not. The difference in risk terms can be summarized as follows:
For the initial investment to pay back, the holder of a non-dividend paying stock needs to be able to sell the stock at a price that is higher than what he or she paid for it. And, yes, there are companies that can give investors the comfort of delivering on this requirement for most holding periods. Berkshire Hathaway (NYSE:BRK.A) (NYSE:BRK.B) comes to mind.
In the case of a company that distributes cash regularly back to shareholders, of course, the payback is not completely dependent on share price appreciation. The dividends push investors gently to break-even. They work like a valve that releases parts of the returns to the investor, creating a buffer in the total return calculation that can only grow. With some stocks an investor can reach break-even without selling at all. The variable 'when you sell' is then only relevant for calculating the exact profit the investor makes on the investment, but a profit will be in the bag by then.
Measuring the safety provided by dividends
The following two metrics can illustrate these benefits of dividends:
The sensitivity of total returns to a drop in share price

The period by which the cumulated dividends pay off the initial investment
At the risk of point out the obvious: In order not to get confused when looking at these metrics, it is important to remember that the former relates to the current share price, whereas the latter refers to a past share price that is the result of a goal seek.
We take a look at the sensitivities first. The following table shows the effect of a drop in share price by 20% today on the total return for a number of dividend paying stocks that I own [Novartis (NYSE:NVS), SAP (NYSE:SAP), CNI, ECL and HCP (NYSE:HCP)]:

(The values above are based on the total return prices as taken from ycharts.com)
After a 1 year holding period there may not be much of a difference between total return and movement in share price. However, one can see how the safety buffer for each of the stocks is building up, the longer the holding periods become. This is exactly what I am after as a retail investor who is holding individual stocks.
Let us now see how distant the break-even point for an investor can be, when we only take cumulated dividends and no proceeds from selling the stock into account. I have taken CNI (in this case actually the Canadian listing CNR.TO for which all necessary data was readily available on CN's IR pages) as well as HCP as examples to visualize that effect by means of the following simplistic charts.
One line is showing the year-end closing share prices. The other line shows for every year the cumulated dividends that an investor would have cashed in by today, had he or she bought the stock back then. All dividends and all prices are inflation-adjusted to 2013 values assuming an annual price increase of 2.5% (sorry, this is not scientific, but I doubt that any extra data crunching and inclusion of actual inflation numbers would have lead to significantly different results).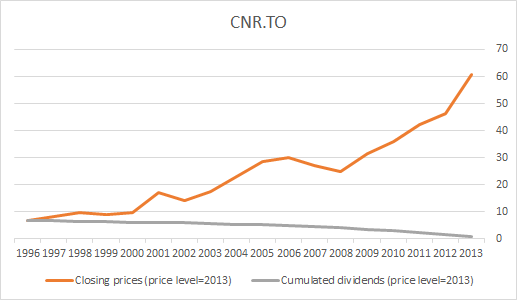 The point where the lines cross marks the payback period, considering only the dividend stream. In other words the cumulated dividends since 1996 equal roughly the price an investor would have paid for the stock back then.
For the higher yielding REIT HCP the equivalent payback period would have been three years shorter: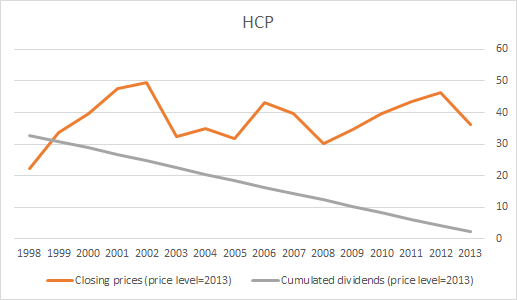 The dividends do not turn investments in these stocks into a no-brainer. Survivorship bias is clearly relevant here and, yes, even those who are not into HFT may need binoculars to see the point of irreversible break-even in the distant future. Having said that, let us not forget that we are taking an extreme view on valuation here that completely ignores non-distributed earnings as well as assets. And still, this point of break-even can be in reach well before retirement for investors with a long breath.
Moderating the high risk that comes with high returns
Historically, small caps have been offering in aggregate over many periods above average returns. The above average returns have the downside of extra risk, though. What is true on the aggregate level can be even more dramatic on the level of individual stocks.
Dividends can help to de-risk investments in the small cap space. The two current high-flyers in my portfolio, Energiekontor (EKT) and IAR Systems (OTC:IARSF), may serve us as examples. Both stocks are actually micro caps. EKT's business is renewable power generation and project development, whereas IAR is selling software development tools for embedded systems. Their market capitalization is above the $100 million dollar threshold up to which SA puts up warning signs below articles. Still, neither EKT nor IAR would qualify for dividend growth investing, let alone retirement. However, they have a policy of returning cash to shareholders whenever this is reasonably possible.
Their sensitivities to a 20% drop in share price are as follows:

(The values above are calculated based on nominal share prices and dividends)
The safety buffers look very similar to the numbers we have seen above. Arguably, investors would have use for larger buffers given the higher risk. At the same time, it is notable how these micro caps have managed to build up buffers that are comparable to some of the most reliable dividend payers.
Let us now take a look at the equivalent payback periods of EKT and IAR.B (this time normalized to 2014 prices, still assuming 2.5% inflation):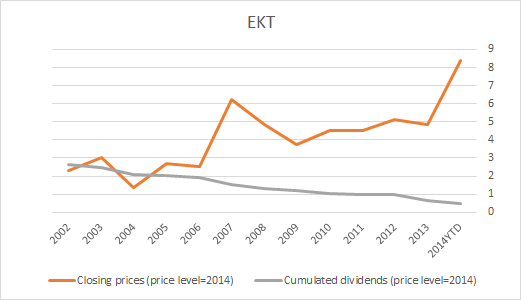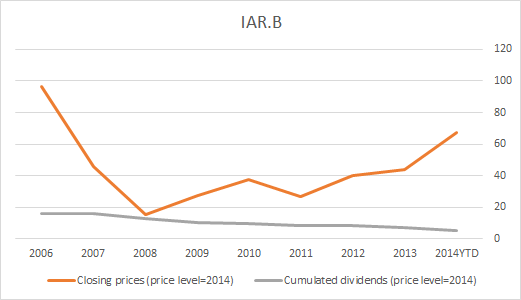 We can see that an initial investment in EKT 10 or 12 years ago would have paid off by today -- only based on dividends. OK, as far as IAR is concerned, I need some goodwill from your side as we can see that the lines have not crossed, yet. (They would still not cross with further data points included.) With that goodwill the equivalent payback period of an investment in IAR could be considered to be 6 years, if the investor had perfect market timing. That is a big 'if' and we do not have to be pedantic here: The former case is more compelling than the latter by this metric.
Still, we can see that there are windows of opportunity for investing in dividend-paying small cap stocks that allow investors to take a shortcut to break-even compared to well-known quality dividend stocks. On that basis, an investor may be more inclined to accept the potentially higher risk that he or she is exposed to in the small cap space.
To be clear:
The given examples are backtests that may not say much about future returns of these stocks

Dividends do not always signal quality

The given metrics can only form a tiny little part of any due diligence
Having said that, the above may provide some food for thought to those, who aim at enhancing their returns at limited risk.
Disclosure: I am long CLPBY, CNI, ECL, HCP, IARSF, NVS, SAP. I wrote this article myself, and it expresses my own opinions. I am not receiving compensation for it (other than from Seeking Alpha). I have no business relationship with any company whose stock is mentioned in this article. I am also long Energiekontor (no U.S. listing).
Editor's Note: This article discusses one or more securities that do not trade on a major U.S. exchange. Please be aware of the risks associated with these stocks.