Orexigen Therapeutics (NASDAQ:OREX) will announce on June 10th the FDA's decision on their weight loss drug Contrave. Recent events in the world of biotech trading provide supporting evidence for Orexigen's share price to run higher into their PDUFA.
The IBB is an ETF composed of biotech and pharmaceutical companies traded on the Nasdaq. The ETF traded up over 300% from early 2009 reaching a high of $275 in February 2014. However, on March 20th, 2014 Henry Waxman and others in Congress wrote an open letter to John Martin the CEO of Gilead Sciences (NASDAQ:GILD) questioning the price of Gilead's breakthrough Hep C drug Sovaldi. The letter caused Gilead's share price to drop over 10% and the ripple effect was felt by most biotech companies as the IBB dropped almost 70 points from previous highs. Small cap biotech was hit the hardest as investors began to question the valuations of many developmental stage companies. the sell-off has had a dramatic impact on the way investors have traded over the past few years. Since 2009, a popular strategy employed by biotech traders was to trade the run up into a company's major catalyst such as clinical trial data, Adcom meetings, and PDUFA decisions to name a few. Virtually every biotech with a pivotal catalyst saw a share price increase as their event approached. Most traders looked to buy a stock about 2-3 months ahead of a major event, with the strategy often producing sizeable gains.
For now, the days of buying 2-3 months out and patiently waiting for a nice gain are over. The good news is there is still money to be made for catalyst traders. Instead of 2-3 months ahead of a catalyst, the new play is 2-3 weeks or even less in some cases. The following table shows companies who have already reached their catalyst or are in the process of running up into their announcements. As demonstrated, each company with a catalyst date already passed has seen significant gains in a short period of time.
| | | | | | |
| --- | --- | --- | --- | --- | --- |
| Stock | % gain | Run Up | Time | YTD High | Catalyst Date |
| Pozen (NASDAQ:POZN) | 28% | 7.56=9.73 | 13 days | yes | 4/25 |
| Flamel Technologies (FLML) | 38% | 9.53-13.21 | 9 | no | 4/28 |
| Cytokinetics Inc. (NASDAQ:CYTK) | 58% | 8.35-13.26 | 7 days | yes | 4/25 |
| Durata Therapeutics (NASDAQ:DRTX) | 27% | 13.51-17.12 | 13 days | yes | 5/23 |
| BioDelivery Sciences (NASDAQ:BDSI) | 11% | 8.55-9.47 | 11 days | N/A | 6/7 |
| Nektar Therapeutics (NASDAQ:NKTR) | 10% | 10.79-11.88 | 15 days | N/A | 6/11 |
| Trimel Pharmaceuticals (OTCPK:TRLPF) | 52% | .45-.68 | 9 days | N/A | 5/28 |
| Omeros Corp. (NASDAQ:OMER) | 20% | 9.76-11.76 | 7 days | N/A | 6/2 |
| Orexigen | 6% | 5.40-5.72 | 13 days | N/A | 6/10 |
Pozen had a PDUFA date on April 25th of this year for PA8140/PA32540 (aspirin and omeprazole). The run up started on April 7th when the stock traded at a low for the day of $7.56. In just 13 days, Pozen shares traded 28% to a YTD high of 9.73. To the surprise of investors, the company received a CRL relating to manufacturing issues.
Flamel had a PDUFA date of April 28th for a product that was undisclosed due to competitive reasons. The run up started on April 15th when the stock traded at a low for the day of $9.53. In the next 9 days, the share price rose 38% to 13.21. Similar to Pozen the FDA issued a CRL citing manufacturing issues.
Phase IIb Clinical Trial of Tirasemtiv was announced on April 25th. I included CYTK because their benefit ALS trial had a defined date for data release. The run up started on April 15th, when the stock traded at a low of $8.35. In a short 7 days, the stock traded 58% higher to a YTD high of $13.26. The much anticipated data unfortunately was negative.
Durata had a PDUFA date on May 28th for its antibiotic Dalvance. The run started on May 7th and from a low that day of $13.51 increased 27% in just 13 days to a YTD high of $17.12. Dalvance was approved early on May 26th due to the Memorial day holiday.
Trimel has a PDUFA date of May 28th for their testosterone gel CompleoTRT. On May 15th, just 9 days until PDUFA, Trimel traded at a low of .45 and on May 23rd, hit a high of .68 for a 52% gain with just a few days left until their catalyst.
The company has a PDUFA date on June 2nd for their inflammatory and pupil eye drug Omidria. Their run up started on May 21st, just 7 days before PDUFA from a low of $9.76 gaining 20% in 2 days to a high of $11.76. With a YTD high of $14.69 it's difficult to say if the stock will test YTD highs but regardless Omeros looks very strong for a significant jump over the next few days into their PDUFA.
BioDelivery has a PDUFA date on June 7th for its opioid dependence drug Bunavail. On May 22nd, with just 11 days before their PDUFA date the stock was trading at a low of $8.55. The following day the share price jumped 11% to $9.47. It's very likely that the stock will surpass its YTD high of $10.20 giving it a potential run up of at least 20%. Expectations are positive for approval.
Adcom meeting for their (oral once-daily peripherally-acting opioid antagonist Naloxegol on June 11th. On May 20th, the stock traded at a low of $10.79 and moved up 10% to a high of $11.86. With 12 days remaining until their Adcom meeting Nektar could follow suit and test their YTD highs of $15.34.
Orexigen like most other small biotech companies was hit hard when the IBB sold off. On March 19th, the stock hit a YTD high of $7.82 only to follow the IBB down to a low of $4.76 on April 15th. The stock quickly recovered and has since been trading in the mid $5 range. It appears Orexigen's run up started on May 23rd when the stock traded from a low of $5.36 to close at the high of the day at $5.72. Now with 11 trading days left before PDUFA, Orexigen is poised to explode higher and break through their YTD high.
The weight loss battle is one of the most emotionally charged in the biotech industry. Most investors bought on the hype that Belviq and Qsymia would be billion dollar drugs. However, both products have experienced a slower uptake than was expected. Most analysts believe Contrave will outperform the other 2 and quickly become the market leader. I won't go into an in depth discussion comparing Contrave to Belviq and Qsymia but I highlight below some of the potential advantages the drug has.
Largest sales force
Recently Orexigen's CEO announced that Takeda (OTCPK:TKPHF) is planning on starting with 900 sales reps for the initial launch. Takeda reps have many years of experience and solid relationships with key providers. Takeda has virtually unlimited resources and Contrave is a key product for the company. The company is a marketing machine and the Contrave launch should look much different compared to the previous two weight loss products. Takeda's experienced managed care team and a long history of success in diabetes care gives Contrave a leg up on the competition.
Exclusivity with samples
Contrave will be the only weight loss drug sampled in doctor's offices. This is a huge advantage as patients and Physicians like the convenience of samples.
Cardiovascular Safety data
Orexigen had the unfortunate role of being the first of the three weight loss drugs up for approval. In Jan 2011, the FDA issued a complete response letter noting only one deficiency, the need to conduct a large clinical trial to exclude any potential cardiovascular issues. Orexigen worked with the FDA to develop a (SPA) special protocol assessment for the Light Study, a double-blind placebo-controlled cardiovascular outcomes trial that randomized approximately 8,900 patients. The primary objective of the Light Study was to rule out excess cardiovascular risk in overweight and obese patients receiving Contrave. In November 2013, Orexigen announced successful results of the interim analysis of the Light Study, stating that it met the pre-specified criteria to exclude a hazard ratio of 2.0, using the upper bound of the 95% confidence interval for excess risk of major adverse cardiovascular events in patients receiving Contrave as compared to placebo. While Orexigen was busy focusing on the completion of the Light study, the FDA under pressure to approve a much needed weight loss product approved both Belviq and Qsymia despite having serious concerns on lack of cardiovascular data sufficient to show that patients weren't at risk. For Orexigen the CRL may have been a blessing in disguise as Contrave if approved will be the only product with robust cardiovascular data demonstrating its safety. Although it's likely that until the full results of the Light study are released, Takeda's sales reps won't be able to discuss the benefits. Either way, Physicians concerned with safety will have peace of mind writing Contrave.
Potential for European approval
Orexigen is the front runner to be the first weight loss treatment approved in Europe. The European approval is absolutely huge for the company considering the market outside the US is projected to be growing rapidly. The company is actively in discussions with potential partners outside of the U.S. and expects to announce deals upon European approval in Q3. Analysts expect a similar deal to Takeda's in which Orexigen would receive upfront payments on approval followed by royalties and sales milestones.
Short Squeeze potential
Huge short interest approximately 20% of the float. As of April 30th almost 20 million shares of OREX were short with approximately 10 days to cover. As we get closer to June 10th, PDUFA shorts will start covering and the share price will benefit dramatically.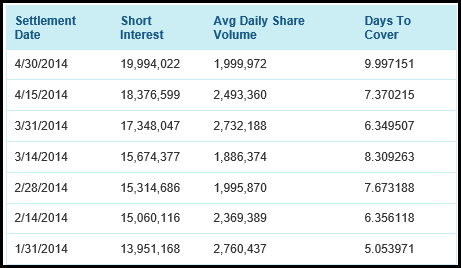 Analysts' Notes: I don't typically put a significant amount of weight in analysts' price targets but it should be noted that the vast majority of analysts are extremely bullish on OREX as seen in the price targets and notes below. All summaries were taken from the Streetinsider.com. Below is a brief summary from the last 5 Analysts upgrades. Avg PT=$12
5/1/14 Piper Jaffray PT-$16
Charles Duncan notes, "Two key potential advantages that came out of our recent KOL discussions were likely differentiated Contrave value in binging patients, and the ability to sample at launch following approval due to expectations of no DEA scheduling or restrictions to central pharmacies. On the other hand, variables that are currently unknown but could modulate initial uptake include Contrave pricing (high or lorcaserin-like as perceived by our KOLs or low, Qsymia-like) and potential interactions with opioids in chronic pain patients." Duncan also notes that unlike Qsymia, which was restricted to specialty pharmacy distribution in the first part of its launch and Belviq, which is DEA schedule IV, requiring additional paperwork, Contrave has none of these issues and should be able to be easily sampled from launch. "Our KOLs felt that this factor might be key in driving faster adoption," he said. The analyst reiterated an Overweight rating and price target of $16.
4/24/14 Wells Fargo PT-$11-12
"Based on our recent interviews with U.S. private payers, they expressed broad universal support for improved coverage if an obesity drug receives approval to treat T2DM, but were a bit more cautious on the impact a positive CV outcomes study will have on future coverage. While OREX's T2DM strategy still has clinical, regulatory, and marketing risks and won't play out until 2017E, we like it and believe it could ultimately be a key differentiator vs. Qsymia and Belviq in terms of NB32's sales and improved U.S. coverage/reimbursement. We are initiating coverage with an Outperform rating based on our view that OREX's share price does not appropriately account for its T2DM strategy," he added. Wells Fargo initiated coverage on Orexigen Therapeutics with an Outperform rating and a price target of $11-$12.
1/10/14 WallachBeth PT-$9
Despite challenges, Ai is positive on Contrave for several reasons. First, VIVUS (NASDAQ:VVUS) and Eisai's marketing efforts will provide a better reimbursement environment for when Contrave is approved (Takeda will launch the drug for Orexigen). Takeda is better positioned in the primary care environment and will provide Contrave with better market coverage than its peers. Also, Ai thinks Contrave's REMS program will be less restrictive than Qsymia, should one be required for approval. Contrave is not likely to have safety restrictions and might limit its marketability for women. Ai notes, This is critical, as about 80 percent of those who seek pharmacotherapy for weight control are women. Bupropion is a popular antidepressant and is familiar to doctors. One-third of obese patients are also treated for depression, meaning doctors might prefer Contrave versus peers for that reason. Finally, Contrave could be the first among peers to receive approval in Europe, given that the Light study will clear the potential for cardiovascular risk. WallachBeth initiates Orexigen Therapeutics with a Buy rating and $9 price target.
1/7/14 Cowen PT-$10
Cowen's Simos Simeonidis thinks Orexigen will win FDA approval of Contrave on June 10th and the drug will be introduced by partner Takeda shortly thereafter. The analyst also thinks Orexigen will secure a partnership covering markets outside of North America sometime in 2014. Orexigen might also become an acquisition target with Takeda the most-likely buyer. Simeonidis has Orexigen at Outperform with a price target of $10. The analyst thinks the current stock price still represents an attractive entry point.
11/27/13 JPMorgan PT-$12
In a note dated November 25th, Analyst Cory Kasimov commented, while details are expectedly sparse at this point, the press release notes that the interim analysis 'clearly achieved' its goal in ruling out excessive CV risk associated with the product. With an imminent NDA resubmission anticipated, we believe Contrave is well on its way to being approved in the US by mid 2014 and potentially in Europe later that year. In our opinion, today's development should finally trigger a substantial narrowing of the still meaningful valuation gap that exists between Orexigen and the other two pure play obesity companies, Arena (Nasdaq: ARNA) and VIVUS, Inc. Kasimov noted that the Contrave results bode well for Orexigen's other weight-loss drug candidate, Empatic. The analyst said, This Phase 3 ready product also includes buproprion as one of its two components, similar to Contrave. By demonstrating a lack of CV risk in LIGHT, we believe that the value and future probability of success of Empatic (wholly owned by OREX) also increases. JPMorgan maintains an Overweight rating and $12 price target on Orexigen following the company's positive Contrave announcement earlier in the week.
Finances
Orexigen had 155 million in cash as on March 31st and is expected to receive $100 million from Takeda on approval of Contrave. Additionally, the company has the potential to earn royalty and milestone payments of over $1 billion in the future
Investors have the opportunity to buy shares of Orexigen right at the beginning of the run into PDUFA. The previous companies mentioned have seen substantial gains as their catalysts approached and OREX looks ready to follow. I believe shares of Orexigen will surpass YTD highs as we get closer to the FDA decision date on June 10th. It's possible that the stock still has almost 40% upside over the next few weeks if it can take out the previous YTD high.
Of course trading biotech stocks is risky and investors should be aware that there is no guarantee that the stock price will move up. I think it's also important to mention that the stock could trade down after a pop on positive approval of Contrave.
Disclosure: I am long OREX. I wrote this article myself, and it expresses my own opinions. I am not receiving compensation for it (other than from Seeking Alpha). I have no business relationship with any company whose stock is mentioned in this article.