Few industries in the financial world are more fickle than fashion. Brands rise and fall each season as different looks come into and go out of style. The stocks behind the labels ride enormous waves of strength with popularity, and suffer terrible bouts of selling when retailers can't get products off the shelves. Over the past couple of years there has been no better anecdote to capture the zero-sum nature of the fashion industry than the fall of Coach at the hands of Michael Kors (NYSE:KORS).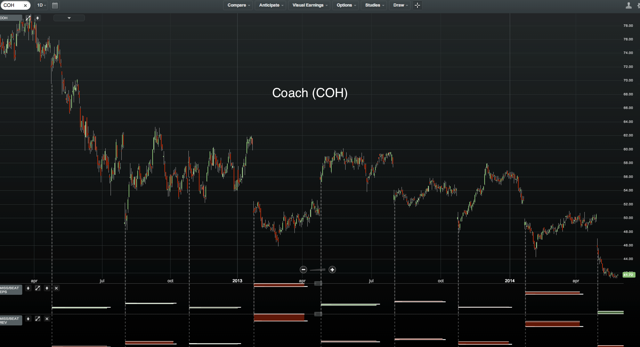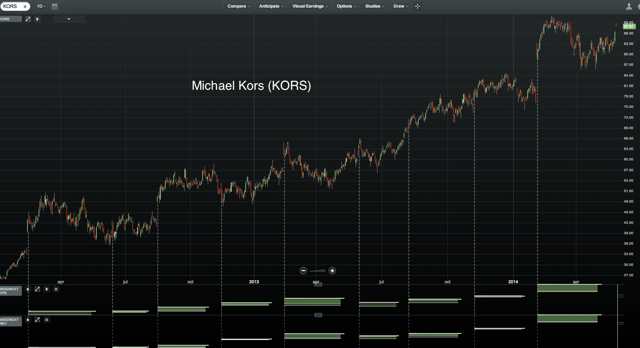 (Graphs from ChartIQ Visual Earnings)
Since their $25 debut on the market in December 2011, shares of Michael Kors Holdings Ltd. have steadily advanced to $97.68, nearly 4x their initial value. Over a similar timeframe Coach Inc.'s (COH) stock has been nearly halved from a March 2012 high of $79.70 to its current price level below $42. The rise of Kors stock at the expensive of Coach can be easily understood by doing a quick analysis of the two companies' underlying financial fundamentals.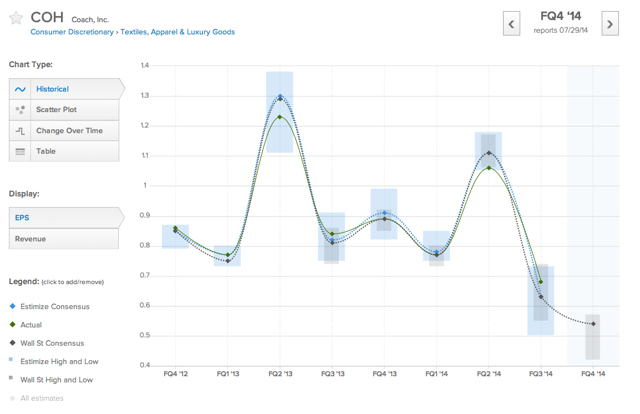 (Click here to see graphs and more interactive features for Coach)
Let's start with Coach. The earnings per share chart above from Estimize.com shows Coach's quarterly profit in each of its past eight fiscal quarters. In its past two quarterly earnings reports, Coach has seen falling profit and falling sales compared to the same quarter one year ago while in FQ1 2014 Coach reported flat earnings alongside declining revenue.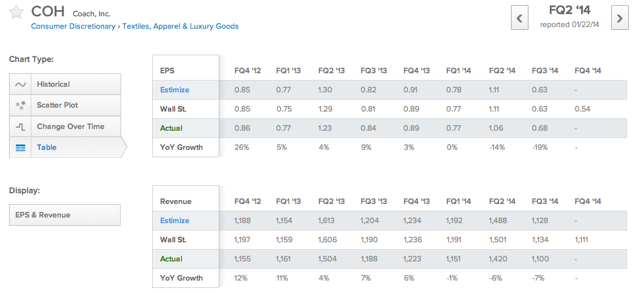 Recent history hasn't been great for Coach's fundamentals and shareholders have felt the impact. Back in January Coach reported $1.06 in earnings per share for a year-over-year quarterly drop of 14%. At the end of last month the once king of the handbag industry completed an even worse quarter with profit declining 19% over the period on a yoy basis.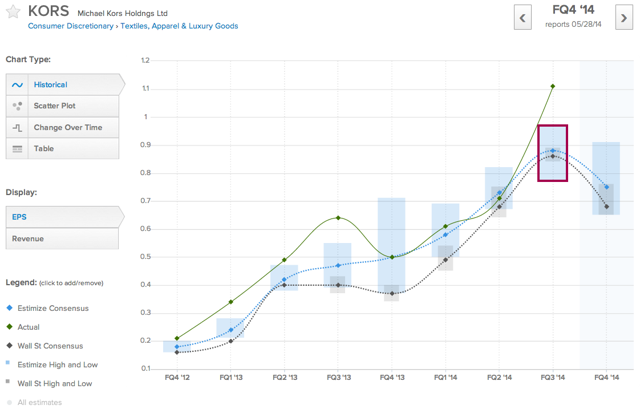 (Click here to see graphs and more interactive features for Michael Kors)
All the while, Michael Kors has been shattering expectations. The blue box surrounded by a magenta border above shows the range of estimates on KORS's earnings last quarter from 55 contributing analysts on the platform. Kors went well above and beyond even the most optimist analyst on Estimize.com. Last quarter KORS beat the highest earnings estimate on the platform by a whopping 14 cents per share.
Estimize crowdsources forward looking financial estimates from hedge fund managers, financial professionals, nonprofessional investors and students.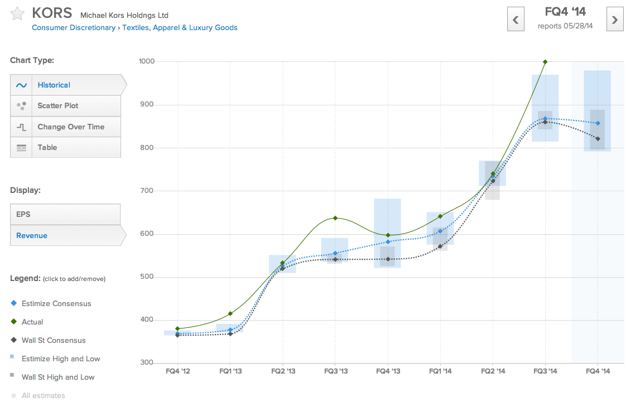 Over the past 8 quarters Michael Kors has met or exceeded the Estimize consensus on earnings 7 times, while beating sales expectations in every period. Michael Kors is set to report its next quarterly earnings report before the market opens on Wednesday, May 28th. Back in February KORS crushed all fundamental estimates from both Estimize and Wall Street and reported its first ever quarter of $1 billion in sales.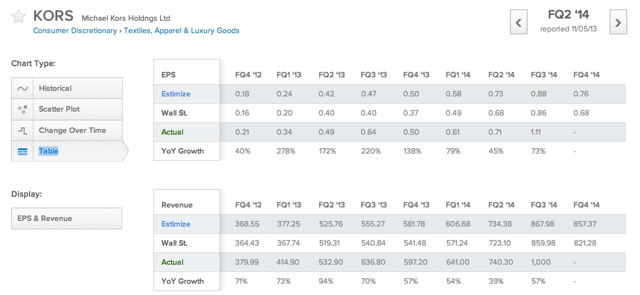 On Wednesday the Estimize community is expecting KORS to report earnings of 76 cents per share and revenue of $857.37. These numbers would represent a 52% increase in and earnings and a 44% boost in sales on a year over year basis. Estimize contributors are setting the bar high for KORS, but the outlook still remains comfortably lower than the home run metrics KORS reported this holiday season for a 73% hike in yoy EPS and a 57% increase in yoy sales.

The most accurate analyst covering KORS on the Estimize.com platform over the past two years is ZachLehner, an analyst who identifies as an independent research financial professional. Among all analysts who have made at least two scored predictions on Michael Kors, ZachLehner is the leader of the pack with an average points per estimate score of 14.90. Points are awarded to an analyst for being more accurate than Wall Street on a given estimate. Detailed rankings and statistics are provided to each contributor so analysts can learn about their own behavior, track their improvement over time, and see how they stack up to Wall Street and the pros.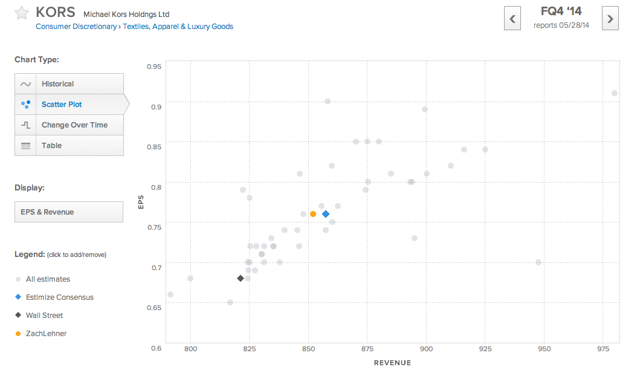 As the scatterplot above shows, ZachLehner expects KORS to report in-line with the Estimize community's consensus on EPS while coming up $5.37 million short on revenue. The scatterplot also shows that just two of 48 contributing analysts are predicting that KORS will miss the Wall Street consensus on EPS. Sentiment surrounding Michael Kors Holdings is overwhelmingly positive going into Wednesday's earnings release. The only question is, can KORS continue to stay in vogue by exceeding the high demands from the market?
Disclosure: None.