Apple (NASDAQ:AAPL) has had a terrific run on the strength of its strong March quarter and high expectations for the iPhone 6 to be launched this fall. The stock ran from the low $500s into the $600s in a matter of a few weeks, much to the chagrin of shorts like me who took a bath as it did.
Has it gone too far too fast? No one will be surprised that I think it has, but some might be surprised at who else shares my view.
Apple bull and long-time blogger Philip Elmer DeWitt captured the sentiment in his May 23, 2014 article.

I like to think of myself as "smart money," although my dismal track record on betting against Apple suggests that at least in this case I am anything but.
Surprisingly to many, including my immediate family, I am undeterred. Just as the best investments are held for the long term on the bullish side of the street, good shorts sometimes take a long time to mature and the ride can be painful.
In a nutshell, Apple depends on two markets - it must hold its massive share in Japan and build share in China. Together in Apple's most recent quarter, Japan and China comprised over $13 billion of Apple's $46 billion revenue for the quarter, and I am guessing an even greater share of its profits. Sales in Japan grew 26% and in China 13% year over year. Without growth in these two markets, Apple's quarter would have been a 5% year-over-year revenue decline instead of a 5% year-over-year revenue increase.
Japan
Apple's 2013 deal with NTT DoCoMO proved to be a blockbuster, with iPhone sales in October 2013 reaching 76% of all smartphones sold in the country, accordingly to Bloomberg. A fantastic performance without doubt, but it will be a hard act to follow. The same Bloomberg report forecasts that mobile sales in Japan will actually fall over 4% in the year that began April 1, 2014.
In parallel, Apple has seen its commanding market share at December 31, 2013 of 68.7% fall to a still impressive 57.6% in March 2014, according to Kantar World Panel.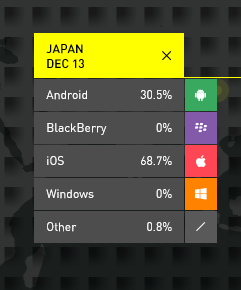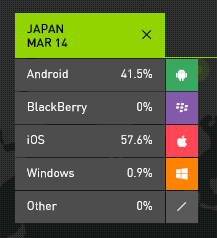 Source: Kantar Worldpanel
The combination of declining market and declining market share suggest lower sales from Japan are on the cards for Apple for the balance of this year, unless the iPhone 6 triggers an outpouring of demand for the new device. Since the surge in iPhone demand in Japan was quite recent, I am of the view that the users who bought an iPhone 5S or iPhone 5C as part of the blistering sales of the past few months are unlikely to junk those new phones for an iPhone 6 just yet.
China
IDC expects 440 million mobile phones will be shipped in China this year, making it the world's biggest market. Apple signed its long-awaited deal with China Mobile (NYSE:CHL) a couple of months back, but the data from the March quarter show a painful trend for Apple. While Apple's sales in the country rose 13% year over year, the iPhone market share in smartphones actually fell despite the CHL deal. Apple now holds a fourth spot in China behind Samsung (OTC:SSNLF) with 18%, Lenovo (OTCPK:LNVGY) with 11%, and Xiaomi with 10%, while Apple has a 9% share.
Digitimes Research sees the smartphone segment of the China market reach 422 million units in 2014 with 144 million of those going to international vendors including Samsung and Apple, 4% higher than 2013, if they hold their respect market shares. In my judgment, a 4% rate of growth will not inspire Apple investors to pile into the stock since based on everything I read from SA readers' comments, expectations are much higher.
At a 9% market share, that would put iPhone sales in China at 38 million for the year and generate revenues of about $23 billion. With sales of Apple's other products, Apple's China revenues might come in at $30 billion, 20% higher than 2013 more or less.
A few caveats on that bullish projection are in order. IDC put China smartphone sales in the September quarter of 2013 at 94.8 million units, falling to 90 million in the December quarter.
Counterpoint research put the March 2014 quarter at about 100 million units. With the past three quarters pretty flat and running at an annual rate less than 400 million, there is at least some doubt that the 422 million figure will be achieved.
Moreover, there is a good case Apple will continue to lose share in China. As a group, Digitimes expects the local Chinese vendors to sell 280 million, a number that I can see expanding to 300 million plus as consumers see a wide range of excellent devices at prices below $300 U.S. Every point of market share loss is 4 million iPhones, a figure that may prompt some Apple bulls to rethink their views that market share is unimportant.
Apple has what used to be the world's most valuable brand. That is changing fast. BrandZ just released its latest rankings. Google (NASDAQ:GOOG) (NASDAQ:GOOGL) displaced Apple at number one and Microsoft (NASDAQ:MSFT) is rising fast, with Google's brand rising 40% in value and Microsoft's rising 29%. The Apple brand, once unchallenged, fell 20% in value.

Source: Financial Times
Apple's declining brand value is not hard to understand. Apple charges premier prices for very ordinary hardware on the basis it has a massive and powerful ecosystem. It does, but its ecosystem is no longer ahead of competitors by the wide margin it used to enjoy and may no longer be best in class. Apple's strategy to hold its loyal fans is pretty hollow - it is planning to make its iPhones larger and charge more for them.
Apple is also rumored to be testing ARM Holdings (ARMH)-based Macs, no doubt a move to increase margins by replacing expensive Intel processors with very low-cost ARM chips with an acceptable performance hit. That would be a blow to Intel (NASDAQ:INTC) if it happens, but it also might backfire on Apple. I have always thought Macs to be among the best designed personal computers available and applauded when Apple moved from Power PC RISC chips to Intel x86 CPUs, giving users best-in-class performance together with Apple design and reliability. A step backwards in performance to achieve lower costs could further water down the Apple brand.
The "cult of Apple" shows every sign of making the iPhone 6 another blowout success for Apple, but it may be the last one. Since introducing the rectangular icon with rounded corners, Apple has just about exhausted its grasp on geometry as the leading edge of its innovation. I suppose we might see a circular iPhone (they may call it the iWatch) or some other shape, but sooner or later, Apple will suffer the same fate as IBM did in personal computers - the brand will not be enough to maintain prices and margins in a commodity market.
Samsung has not gone away. Rather, Samsung is offering serious competition for the iPhone, even in the United States market. Chitika reports that the Galaxy S5 appears to be outselling the Galaxy S4 in the first 25 days since release.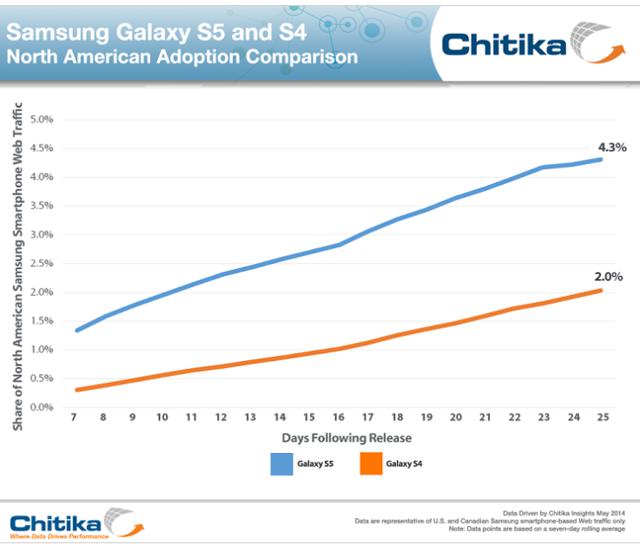 Source: Chitika
I have no doubt some of the Galaxy S5 buyers are ditching their iPhones to buy one, a trend I see continuing since the Galaxy S5 offers advantages unmatched by the iPhone 5S. Those who argue the iPhone is a better choice typically cite better design, more intuitive user interface, the iOS ecosystem and security. Those arguments are more judgment calls than objective differences, and from what I have seen, users of Samsung Galaxies are quite happy with the design, user interface, ecosystem and security of the device. The "hard" differences include storage expandability, ability to change the battery, better camera, and larger screen.
My estimates for iPhone volumes in 2014 are much less optimistic than most forecasts that I have seen. I project iPhones sales in calendar 2014 at less than 150 million, a year-over-year decline.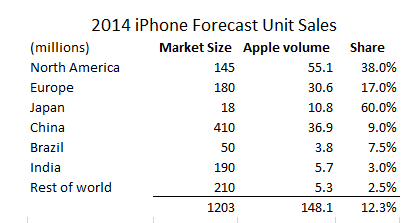 Source: Blair Estimates
Of course, Apple reports on a fiscal calendar that ends September 30, 2014 and has already turned in two solid quarters with iPhone sales of 95 million so far. I expect iPhone sales to drop to the 30 million range in the June quarter and rebound to 33 million for the September quarter to finish the fiscal year at 163 million, just shy of a 10% year-over-year rise. For the first quarter of fiscal 2015, I project that iPhone sales will drop sharply to about 42 million from 51 million in the prior year.
Despite the enthusiasm for the iPhone 6 that seems everywhere, a Piper Jaffray survey of consumer buying intentions in the United States shows a continued decline in consumers' intentions to buy an iPhone in the next three months, falling from 44% in December 2013 to 34% in May 2014. That ten percentage point drop is paralleled by an 11% percentage point increase in consumers' intentions to buy an Android device in the same time frame.

Source: Apple Insider
No doubt part of the hesitancy to plan to buy an iPhone soon relates to Apple's new products expected later in the year, with a rumored 4.7 inch and 5.5 inch iPhone believed to be coming.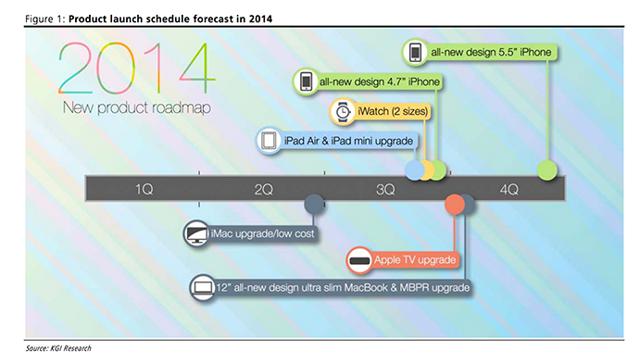 Source: Apple Insider
I see a real risk that demand for the second rate iPhone 5C will simply fall away. The iPhone 5S is a somewhat better device and the price differential is nominal. Releasing both at the same time gave customers the chance to see what they were paying for and many saw the emperor without his clothes. A plastic back, A6 processor and absence of a fingerprint reader was not much to distinguish the devices, so the real iPhone enthusiasts bought the iPhone 5S and would have anyway almost regardless of price, while the next tier of users who are more price sensitive chose one of the many Android devices in the same performance category for a few hundred dollars less.
I would not be surprised if Apple cut production of the iPhone 5C substantially and soon. Demand for the iPhone 5S will no doubt remain at reasonable levels for those who can't wait to see the iPhone 6.
The drop in sales that I foresee this fall will result from Apple's plan to raise the price on the iPhone 6 by $100 to an average $749. Staggering two new phones may encourage many to wait until both are in the market to assess which one suits. As I see the world unfolding, that will result in the following year-over-year changes to iPhone sales by region in the normally strong December quarter:

Source: Blair estimates
Shorting a large capitalization stock with a horde of bullish followers is like fishing - you need patience. If everyone is bullish, you can be certain the price will peak when the stock rises even on bad news. The enthusiasm for Apple right now is unbelievably high, but the bullish run has legs, so I reduced my short by half and wrote some short-term puts to protect against further upward movement.
Sustained strong growth in the overall smart device market can save Apple for a few more quarters if I have the timing wrong, but I am in no hurry. It is a risk I take willingly without fear. Like all over-priced stocks that look cheap, they look cheap for a reason. In big tech, when the change in sentiment comes, it comes in spades, and a few quarters of mark to market losses will not dissuade me from waiting for this one to turn South.
I am short the name.
Disclosure: I am short AAPL. I wrote this article myself, and it expresses my own opinions. I am not receiving compensation for it (other than from Seeking Alpha). I have no business relationship with any company whose stock is mentioned in this article.