I was attracted to International Business Machines (NYSE:IBM) for the same reason I researched Microsoft (NASDAQ:MSFT) and Apple (NASDAQ:AAPL): Each of these companies are (or were) significantly undervalued and are investor friendly.
While I believe Microsoft and Apple have barriers to competition, I'm of the belief IBM may boast the deepest, broadest moat of the three.
TALKING BOUT' A MOAT!
"If you're a bank or a credit card firm, you've really got no other option…How would you even go about reorganizing such a system?" (Rakesh Kumar of Gartner, reflecting on IBM's mainframe dominance in the banking industry.)
IBM's dominance of the mainframe industry prompted the European Union to initiate an anti-trust lawsuit against the company. After a few minor concessions by IBM, two probes into the company's business practices were dropped; however, the episode serves to highlight the strength of the moat surrounding IBM.
The mainframe is a hugely profitable business for IBM. Only 4% of the company's sales are from the mainframe itself; however, when additional hardware, storage, software and related services are considered, the mainframe accounts for a quarter of IBM's revenues and 40% of the company's profits.
Over 70% of Fortune 500 companies use the mainframe to run their core business functions.
IBM mainframes process $23 billion in ATM transactions and $6 trillion in credit and debit transactions each year.
In 2000, IBM renamed their mainframes System z, Z standing for zero downtime.
Visa has relied on IBM mainframes for decades to process 150 million transactions a day. In the last 20 years, Visa has not experienced a second of downtime.
Consider this: Aside from the complexity and cost of replacing IBM mainframes, why would you replace a system with flawless performance. Put yourself in the place of one resolving to replace the Z series with a competing platform. What is the risk/reward for one implementing that decision?
INITIATIVES FOR THE FUTURE
ELEMENTARY, MY DEAR WATSON
If you've ever read any of Conan Doyle's Sherlock Holmes stories, you know at some point the esteemed detective will be standing in the midst of a perplexed group of his countrymen, all seeking to unravel a mystery regarding a particularly heinous crime. The Lord of the Manor will proclaim himself flummoxed, and the Lord's gardener will humbly admit the crime scene is beyond his grasp. Meanwhile, the local constable and Holmes' trusty sidekick, Watson, will fumble about, asking importune questions.
Suddenly, Holmes will turn to Watson, having deftly solved the seemingly unsolvable, and utter the words, "Elementary, my dear Watson."
Well, if Sherlock were a detective in the year 2020, he very well might turn to Watson to solve a crime.
WATSON: A NEW ERA IN COMPUTING
"Watson provides us an opportunity at a scale and scope that only comes along once in a very long while. One of the things I love the most is shaping and creating markets around disruptive technologies." (Manoj Saxena)
Arguably, the first true form of artificial intelligence, Watson evolved from a former science project designed to beat Jeopardy! champions at their own game.
Watson can "listen" to natural language, discern meaning from the context of the wording, and generate hypotheses by analyzing a vast quantity of data. As inputs to Watson on a particular subject matter increase, Watson can "learn" from the inputs and provide improved results.
Sorting large streams of data has become big business. In 2013, it was estimated IT spending on data sorting reached $34 billion. When data is handled in an orderly fashion, it is easily processed by current technology, but what happens when data is derived from numerous, unstructured sources?
Consider this: Medical knowledge doubles every five years, but much of the information available for patient treatment is unstructured data…research papers, nurses' and doctors' notes, and in some cases, material concerning patients with dozens of prescribed medications, each with a variety of side effects. There are estimates that as many as 20% of diagnoses in the United States are incorrect, and the vast amount of unstructured data involved in a given diagnosis is one reason that troubling statistic is so large.
Enter Watson. Watson is the solution to unstructured data. As you read this, IBM and the staff of Memorial Sloan-Kettering Cancer Center are working as a team, utilizing Watson to provide structure to the constant stream of unsorted medical data.
Another example of Watson's potential for commercial use is the development of interactive apps. IBM and digital commerce company Fluid are collaborating on an app to allow consumers to interact with their electronic devices in the same manner as they would a store's sales associates. The app, known as the Fluid Expert Shopper, or XPS, will work through the Watson system as a cloud-delivered service. Watson's ability to understand subtle differences in language, as well as its capacity to improve with increased use, may render current shopping apps obsolete.
"Big Deal," one might say. Well, if you consider that Apple (AAPL) recently reached the #2 position in ecommerce by selling mostly iTunes, iBooks and apps, then you can appreciate the potential Watson has for revving up IBM's bottom line. In fact, IBM projects future revenues stemming from Watson will reach the $16 billion mark. (Ironically, Apple's search engine technology is known as Sherlock.)
CLOUD SERVICES: FULL SPEED AHEAD
Two weeks ago, International Data Corporation ((IDC)) released the results of a survey of businesses across the United States. The study revealed businesses ranked IBM as the #1 Infrastucture-as-a-Service (IaaS) provider. The rankings are based on responses from over 400 US- based companies with 1,000 or more employees. IBM garnered 35% of respondents' votes as the most preferred provider of IaaS. It is reasonable, considering the results of this survey, to assume IBM's cloud-based profits will increase in the near future.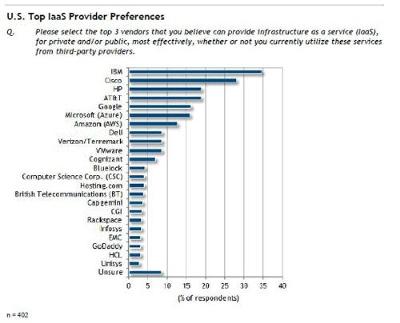 Source:IDC
The latest report from Gartner predicted global spending on cloud service would increase at a CAGR of 17.7% from 2011 through 2016. The total market is forecast to reach $210 billion by 2016.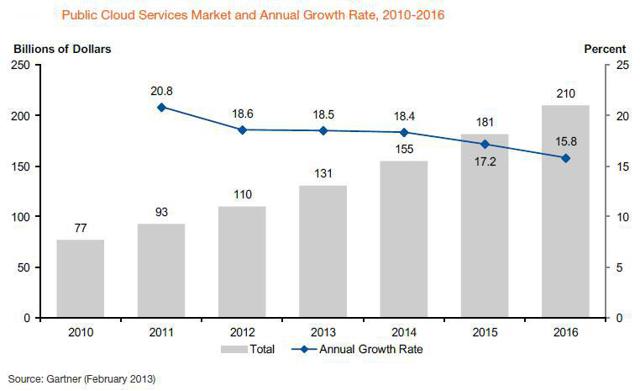 In the first four months of 2014, IBM announced three major cloud initiatives:
The launch of an IBM Cloud marketplace to provide access to IBM's cloud services.
A $1.2 billion investment in 40 data centers in every major financial center.
$1 billion investment to open enterprise software to the cloud and allow developers to create new applications on IBM's BlueMix platform-as-a-service.
While there is considerable attention paid to Amazon's cloud initiatives and the promise of greater profits from the companies' investments in IaaS, there are those who consider IBM a moribund enterprise. Meanwhile, IBM, with cloud revenues rivaling Amazon's, trades at a PE of 12.7 versus Amazon's PE of 489?! Furthermore, IBM's cloud revenues are growing at a faster pace than those of Amazon. (It should be noted, nearly all of Amazon's cloud revenues are from IaaS alone, while IBM's cloud revenues enjoy a significant contribution from SaaS products.)
The recent acquisition of SoftLayer Technologies, formerly the world's largest privately held cloud computing infrastructure provider, as well as Cloudant, a Data-base-as-a-service-provider, are serving to rapidly buttress IBM's initiatives in the cloud.
BUT, CHUCK, IBM REVENUES ARE DECLINING!
While it is true IBM's recent quarterly results were less than stellar, one must dig deeper into its 10Q to fully understand IBM's current position and growth prospects. Hardware system revenues declined by over 20%; however, IBM is at the end of the current System z product cycle. Furthermore, IBM is in the midst of the sale of its x86 server business to Lenovo (OTCPK:LNVGY).
It should be expected that IBM would record lesser hardware revenues as it jettisons lower margin hardware products. More importantly, one can fully anticipate increased revenues when IBM enters the next cycle of System z sales.
Meanwhile, software and services, which constitute 87% of IBM's first-quarter revenues, grew (adjusted for currency) both in terms of total revenues and gross margins.
IBM'S SHAREHOLDER FRIENDLY POLICIES
I love Dividend Growth stocks. The only stocks I like better than DG stocks are undervalued DG stocks, and IBM fits the bill in both categories. The chart below is an eloquent to IBM's shareholder-friendly nature. For five consecutive years, IBM grew its dividend by an average of nearly 15%! If one traces IBM's dividend history to the year 2000, one finds a stock that grew dividends from 13 cents per share to $1.10.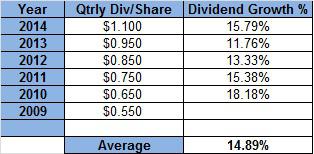 Source: Yahoo Finance
With a robust buyback history, IBM purchased 20% of its outstanding shares over the last five years. It is interesting to note IBM suffers a great deal of criticism for the company's buyback efforts. There are those who claim the company is using buybacks as a means to bolster EPS. I, on the other hand, view IBM as a company in a state of transition. All successful companies must undergo occasional periods of restructuring to adapt to changing business environments. During such periods, a company's stock price often languishes, and then is the time to institute a vigorous buyback program. I, for one, applaud IBM's efforts to lower its share count.

Source: YCharts
SUMMATION
I contend IBM is undervalued and presents a stock price worthy of a value investor's perusal. Furthermore, IBM's investor-friendly policies should warrant the attention of DG investors. IBM's current revenue "problems" are related to the fact that it is undergoing a needed reorganization, is divesting itself of low margin businesses, has not yet gained sufficient momentum from initiatives that should soon prove profitable, and related to the mainframe business being at the end of a normal cycle.
When the mainframe segment enters a new cycle, IBM should see increased profits. Furthermore, the mainframe provides an enormous moat protecting the company's core business from competitors.
For information concerning 1st quarter results, visit this link.
For current and past 10K reports, visit this link.
For access to the IBM Investor Relation's site, visit this link.
Disclosure: I have no positions in any stocks mentioned, and no plans to initiate any positions within the next 72 hours. I wrote this article myself, and it expresses my own opinions. I am not receiving compensation for it (other than from Seeking Alpha). I have no business relationship with any company whose stock is mentioned in this article.