Each month we publish a list of our "Stable Dividend Growth Stocks" for our members. This list highlights stocks that have consistently grown their dividends and earnings over the past 10 years. To make it on this exclusive list a stock must meet the following criteria:
Dividend Yield: > 2.0%
5 and 10-year Dividend CAGR: > 5.0%
5 and 10-year EPS CAGR: >5.0%
Payout Ratio: < 60%
The reason we picked this criteria is simple. Stocks that consistently raise their dividend over the rate of inflation help investors maintain their future purchasing power and offers the opportunity to increase income over time. In addition, stocks that consistently grow earnings have a higher probability of maintaining future dividend growth and offer higher potential for capital appreciation. Throw in a low payout ratio (the percentage of earnings that a company "pays out" as a dividend) and you feel really good about future dividend sustainability.
That said, we recently scanned our Stable Dividend Growth list and came up with our current SDG All Star Team. This team is made up of the 20 stable dividend growth stocks with the highest Parsimony Ratings yielding over 2.5%.
We will highlight each of these stocks over the course of a 4-part series. Below is a schedule of the entire series. Please make sure to "follow" us so that you will be notified when each new article is published.
The SDG All Stars: Second Team
Our 20 SDG All Stars have an average 5-year dividend CAGR of 12.3% and an average dividend yield of 3.3%. This article highlights the 5 stocks that made the Second Team (stocks #6-10). The tables below summarize some of the key data points that we analyze when ranking our dividend stocks.
#10 Mattel, Inc. (NASDAQ:MAT)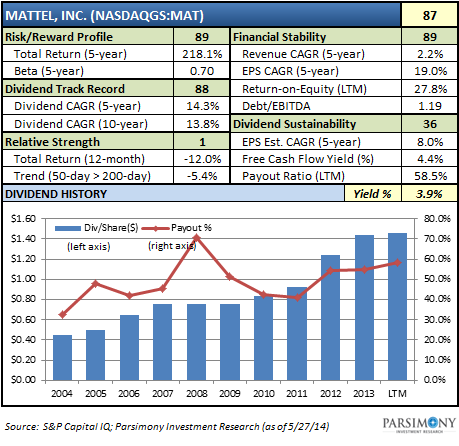 Mattel has increased its dividend to shareholders at a compound annual rate of 13.8% over the past 10 years, including a 35% increase in 2012 and a 16% increase in 2013. The stock has struggled lately (hence the extremely low Relative Strength rating), but MAT rates relatively well in Financial Stability (89) and Dividend Track Record (88). The drop in share price over the past 6 months may prove to be a great buying opportunity for long-term investors!
#9 Kimberly-Clark Corp. (NYSE:KMB)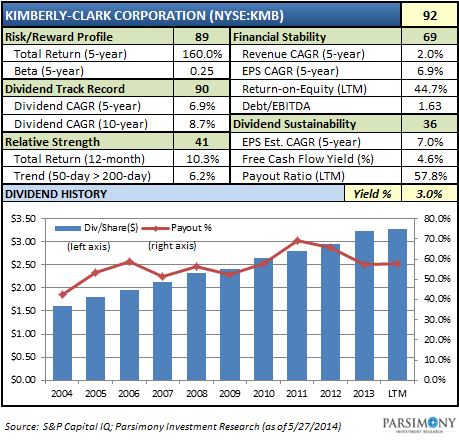 Kimberly-Clark has a decent current dividend yield (3.0%) and a very respectable 5- and 10-year dividend growth rate of 6.9% and 8.7%, respectively. The stock has also performed well over the past 5 years, with a total return around 160%. All that with an ultra low beta of 0.25!
#8 Eaton Corporation (NYSE:ETN)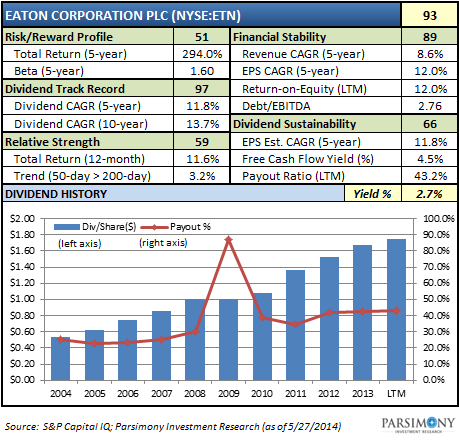 Eaton Corporation has paid a continuous dividend to its shareholders every year since 1923. Recent dividend growth has also been very steady with 5-year and 10-year CAGRs of 11.8% and 13.7%, respectively. In addition, ETN has decent Financial Stability (89) and Dividend Sustainability (66) ratings, which we believe will translate into solid future dividend growth as well.
#7 McDonald's Corp. (NYSE:MCD)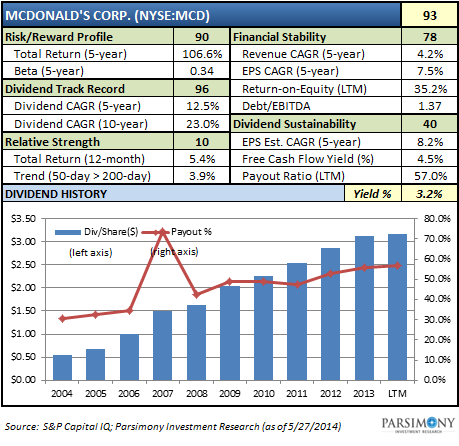 McDonald's carries a very high rating for Dividend Track Record (96) and we believe that it is a great long-term stock for a DIY Dividend Portfolio. MCD has produced a very respectable 5-year total return of 107%, with a very conservative maximum drawdown of 21%. Even more impressive is the fact that the company has increased its dividend at a compound annual rate of 23% over the past 10 years! MCD is probably one of the best dividend growth stocks of all time.
#6 Cracker Barrel (NASDAQ:CBRL)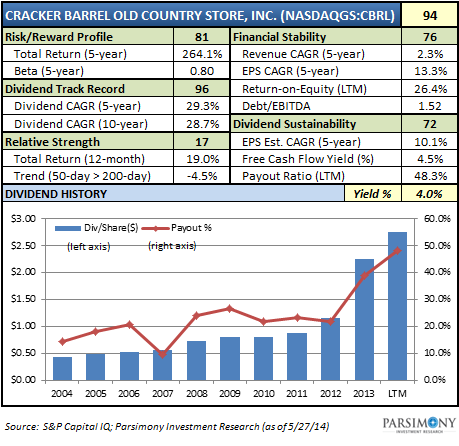 Cracker Barrel is one of only a handful of stocks in our universe that has a rating above 70 for Dividend Track Record, Financial Stability, and Dividend Sustainability. To be completely honest, this stock wasn't even on our radar until we developed our rating system, but we are glad that we found it! The company gave shareholders huge dividends increases in 2012 (+31%) and 2013 (+96%). CBRL should definitely be on your watch list if you are a dividend investor.
Summary
If you are looking to generate safe and stable income in a volatile market environment, the SDG All Stars are a great place to start your diligence. We believe that any of the 20 All Stars would make a nice addition to a long-term dividend growth portfolio.
Disclosure: I am long MAT, CBRL, MCD. I wrote this article myself, and it expresses my own opinions. I am not receiving compensation for it (other than from Seeking Alpha). I have no business relationship with any company whose stock is mentioned in this article.