My favorite two mid-cap investments in the energy sector are Devon Energy (NYSE:DVN) and SandRidge Energy (NYSE:SD). From a risk/return perspective, I believe mid-cap energy players such as SandRidge Energy or Devon Energy offer investors better value propositions than large-cap, diversified energy enterprises such as ConocoPhillips (NYSE:COP) or ExxonMobil (NYSE:XOM). I do like ConocoPhillips and other globally operating energy concerns, but smaller companies can steal the show with their much more concentrated operations footprint, which in turn can lead to extraordinary return potential if their concentrated exploration bets pay off.
I have endorsed SandRidge Energy quite a couple of times over the last year. A key pillar of my investment thesis has been that SandRidge Energy concentrates on the Mid-Continent/Mississippi region as its strategic growth region. And I think the strategic focus is paying off for investors.
In the first quarter 2014, SandRidge Energy reported positive well results and continued to forecast strong production growth in the U.S. Total recurring production is expected to increase 26% to 28.3 MMBoe in 2014 vs. 22.5 MMBoe last year. The chart below highlights that SandRidge Energy's core production from its Mid-Continent operations will increase dramatically this year: SandRidge Energy forecasts a total production of 23.2 MMBoe, up 36% from last year's 17.0 MMBoe.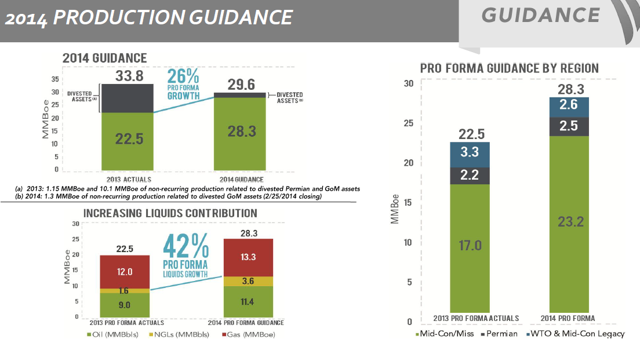 (Source: SandRidge Energy Q1'14 Earnings Update Presentation, May 7, 2014)
Positive well results, improving weather conditions supporting well connections and booming Mid-Continent production should translate into meaningfully higher share prices of SandRidge Energy.
Though the production guidance for 2014 given by SandRidge Energy is certainly appealing, this is not where the story ends. SandRidge Energy has implemented a multi-year production plan that should lead to substantially higher production volumes all the way through 2015, 2016 and 2017.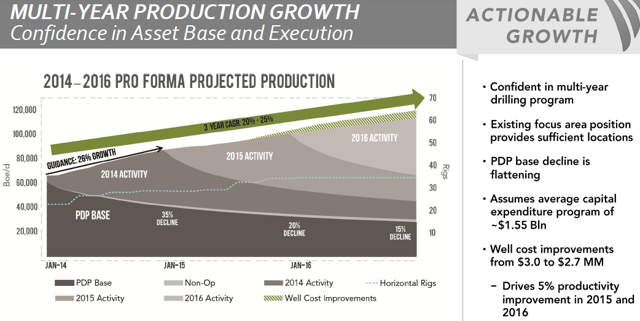 (Source: SandRidge Energy 2014 Barclays High Yield Bond & Syndicated Loan Conference, May 13, 2014)
SandRidge Energy displays high confidence in its drilling program, and so far, results seem to reaffirm the company's strategic focus on the Mid-Continent. After selling off non-core assets in the Gulf of Mexico and the Permian, SandRidge Energy can now fully concentrate on the development of its most promising acreage in the Mid-Continent.
As I have said in my last article about SandRidge Energy:
There is one thing that is particularly attractive about SandRidge Energy and will largely determine the direction of its share price: The growth of SandRidge's Mid-Continent/Mississippian operations. SandRidge's business transformation and a concentration on high-impact production areas are the best things management can do to create long-term value for shareholders.
First-quarter takeaways
Two things, apart from production growth and capital spending, are of particular importance with respect to SandRidge Energy's first-quarter results: First, despite adverse weather conditions, SandRidge Energy reported an adjusted net income of $37.9 million ($0.07 per diluted share), which was substantially more than the $2.0 million ($0.00 per diluted share) reported in the previous year. In addition, SandRidge Energy beat analysts' earnings estimates of $0.05 per share. Secondly, the divestment of SandRidge Energy's higher operating cost offshore assets has contributed to a decline in lease operating expenses, which fell 6% y-o-y to $13.83 per Boe.
Investment spending discipline crucial for improving business economics
SandRidge Energy has also shown capital discipline over the last year, and continues to focus on controlling capital spending. With 20% forecasted production growth and 30% EBITDA growth, SandRidge Energy remains utterly focused on consolidating investment spending. Total capital expenditures excluding acquisitions declined by nearly 29% y-o-y, from $389 million in Q1 2013 to $276 million in Q1 2014. While lower capital expenditures have been largely curtailed by harsh winter conditions, a focus on capital discipline has been a major theme in 2013/2014 to improve the economics of the exploration business.
Final assessment
SandRidge Energy is a highly attractive, yet concentrated, energy exploration company, whose equity value will mostly depend on the outcome of its multi-year drilling program and the consolidation of its capital expenditures. The production guidance suggests that investors can expect high double-digit production growth rates over the next couple of years, with potential upside coming from a higher well count. With the divestiture of its Permian and Gulf of Mexico assets, SandRidge Energy has created a much leaner, focused E&P company. Long-term BUY.
Disclosure: I am long SD, DVN. I wrote this article myself, and it expresses my own opinions. I am not receiving compensation for it (other than from Seeking Alpha). I have no business relationship with any company whose stock is mentioned in this article.