I appreciate well reasoned opposing viewpoints, however the recent detractors of OTC:CHBT discredit themselves with their reports. I would have been more inclined to take their articles seriously had they not thrown in spurious points in an attempt to bolster their argument. To anyone with an understanding of China-Biotics it is plain to see that these articles are not an honest attempt to present a reasoned bear argument on the stock. Rather, it is merely an attempt to spread fear, uncertainty and doubt.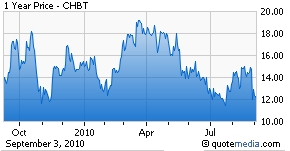 Citron's 'report' was full of distortions (number of CFOs), guilt by association (mention of an unrelated failed reverse-merger stock, and attempts to paint all companies which use a particular auditor as frauds) and selective disclosure (mentioning coming financial commitments without mentioning that the company has three times as much in cash). Citron's main argument attacks a segment of China-Biotics' operations which represent only a fraction of the company's overall sales and which the company has already begun to scale back in the most recent quarter. For a detailed rebuttal of the points made in the Citron article, see here.
Before I leave the subject of Citron's report, I would like to recommend everyone read the following article which provides a more balanced viewpoint on Chinese reverse mergers than the Barron's article cited in Citron's report.
China Company Analyst's article, while I commend the amount of effort that was put into obtaining and translating the SAIC documents, is equally one-sided and transparent in its motives. His assumption that SAIC filings must be correct and SEC filings must be wrong ignores the reality that some companies report lower numbers to the SAIC to avoid disclosing information to competitors, or to remain under the radar. The SAIC fines are generally minimal, if they are enforced at all. These articles here and here mention how many affluent Chinese half-jokingly refer to the Forbes China Rich List as the "Death List" and prefer to appear poorer to avoid being hit up for favors, or worse, from local officials.
Instead of the selective comparison presented in CCA's article, I would like to see a more comprehensive look at SAIC filings to determine how common mismatching statements are. A study on this site is in the process of obtaining SAIC filings for 70 companies. While the process is still underway, they have indicated that initial results are that none of the filings they have obtained thus far come anywhere close to matching. Are we to believe that they are all frauds?
For more on the SAIC issue, I recommend reading the following informative posts here, here and here.
China Company Analyst's biases are further illustrated by his description of ONP as a "renowned fraud" when no wrongdoing has been proven in ONP's case. In fact, Muddy Waters, the outfit that originally accused ONP of being a fraud, has said that it has since moved on. If Muddy Waters was convinced that ONP was a fraud, wouldn't it stay short ONP?
Equally amusing is China Company Analyst's reports from the field where he said he provided simple instructions to Shanghai residents to visit said locations and describe what they saw. The report he gets back includes analysis from someone who apparently did not even know that these retail outlets account for only a fraction of China-Biotics' sales yet still felt qualified enough to declare the company a complete hoax. That hardly sounds like an unbiased investigator to me.
These articles would have you believe:
- That China-Biotics had only $400,000 in revenue in 2007, and $500,000 in revenue in 2008, according to their SAIC filings.
- That the probiotics industry is not capable of supporting the kind of sales and growth that the company has reported in its SEC filings.
- That the entire company is a hoax.
It is easy to attack these US listed Chinese small cap companies because of the difficulty for most investors in seeing these companies' products and operations first hand.
Here are some links from independent Chinese sites which I believe illustrate how real the company's operations and growth prospects are. The links provided are from the Google Translations for your convenience. Note that the company's name in the Chinese articles translates into "Yun Ying Biotechnology" in the Google Translations.
Here is an interview from a trade magazine with China-Biotics' vice general manager of manufacturing, Mr. Li Bin (formerly general manager of Yili Group Beijing branch). Link
Here is China-Biotics' listing from the leading Chinese online recruitment site, 51job, with close to 100 job openings waiting to be filled. Link
Here is a story from China's Northwest A&F University, College of Food and Science Engineering's website detailing a recruiting pitch China-Biotics made to students. Link
Here is a market study which mentions that probiotic capsule sales in China have been growing at around 20% annually. China-Biotics' retail sales have grown at an average rate of 33% over the last 5 fiscal years. I feel China-Biotics' growth is entirely consistent with the statistics quoted in the article given that the majority of China-Biotics' retail sales are in Shanghai, where awareness of the health benefits of probiotics is likely higher than the national average.
This market study also mentions China's almost complete dependence on foreign suppliers for bulk additives and makes the point that besides higher cost, this dependence on foreign suppliers also inhibits the development of China's probiotics industry. The solution recommended is development of domestic enterprises which can become leaders in the space. This validates China-Biotics' strategy to pursue bulk sales and corporate customers. Smart companies adjust strategies as needed, and the shift away from retail outlets for China-Biotics is the correct strategy. Link
Lastly, to add a little humor, here is an advertisement for one of the company's products. Link
Are these actions consistent with a company that was fraudulent or had a measly $500,000 in sales? How does a company with that little in sales amass $160 million in cash? After subtracting the $75 million raised in last year's stock offering and the $25 million raised in December 2007's convertible debt issuance, there is still $60 million to account for, $85 million including the amount the company has spent constructing its new bulk facility. That cash is traceable and consistent all the way back to its reverse merger in 2006. Are we to believe that over the course of four years of financial reporting and 2 major capital raises totaling $100 million, that audits and due diligence failed at something as basic as verifying bank statements?
Everyone will, of course, decide for themselves the merits of China-Biotics. I hope the information I have presented helps them to reach a more informed conclusion, as will the information from the company's upcoming investor day. The investor day is a full day event, including tours of the existing facility, the new facility, 3 1/2 hours dedicated to touring retail locations, speeches by distributors and bulk customers, and ample Q&A sessions. The scope of the investor day should be sufficient to answer any questions about China-Biotics' size, scale, and growth prospects.
For those new to China-Biotics, articles here and here provide a summary of why I believe China-Biotics presents a compelling investment opportunity. At its current valuation with roughly half its market cap in cash, and a PEG ratio around .25, in my opinion this presents an attractive long term opportunity.
Disclosure: Author is long CHBT and JOBS, no position in any other stocks mentioned