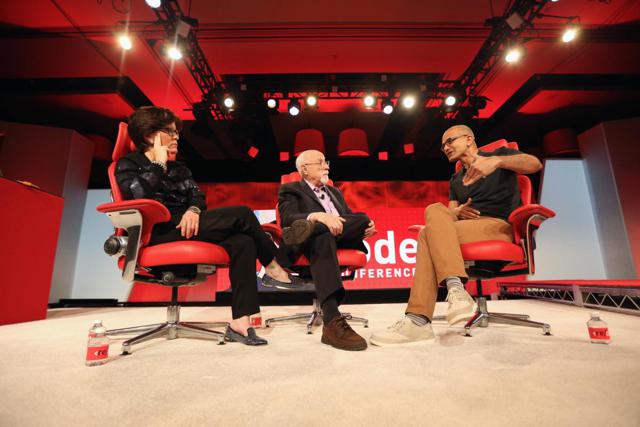 Today, Microsoft (NASDAQ:MSFT) CEO Satya Nadella had a lot to say as he kicked off the Recode.Net Code Conference.
In the interview, the soft spoken Microsoft CEO provided a very subtle and sometimes confusing glimpse into his style of leadership and guiding principles.
We learned quite a bit more about Nadella's plans to take Microsoft in a new direction in his first in-depth interview with Walt Mossberg and Kara Swisher.
Here are my 9 takeaways from Mr Nadella's interview Wednesday.
**Note: My quotes are from Recode.net, the source of the conference.
He believes we live in a Post Post PC World
Microsoft is no longer about software tied to a specific device.
Rather he sees Microsoft as a software company creating software that will spread across multiple platforms.
Microsoft is not that focused on the smartphone
This was curious to me.
The quote:
Walt: What do you have to change that caused you to miss those turns. The smartphone was a pretty big deal. You were making them. you were making sort-of, kind-of smartphones. Then iPhone came along and Android came along.

Nadella: It's an interesting question, but should it be the one he is worried about. We have 4 percent global mobile market share. I think the question is what is the next thing that is going to make us better.
Seems to me that he isn't fighting for Windows Phone but has decided to move on, which is odd.
Seems that he would care more about what could be an integral part of the Windows ecosystem.
Microsoft plans to stay in the Search business with Bing
Mr. Nadella was pretty clear that he had no plans to sell the search business to Yahoo (YHOO).
The quote:
"We are very happy to partner with Yahoo serving the search results."
He clearly wishes Nokia was not a part of Microsoft
The man is pretty direct. This was a bombshell to me.
The quote:
Kara: Were you in favor of the Nokia deal when it was first struck?

Satya: "I'm not going to answer that."
I think that Mr. Nadella wishes Microsoft had not acquired the phone company because it leaves Microsoft saddled with lots of employees, patents and technology to fight a battle his heart's not really in.
Not good.
Microsoft is a software company - most of the time
The quote:
Nadella: Software is the most malleable experience and Microsoft's strength, but not alone sufficient. You do need to, from time to time, build devices.
This is the most confusing quote of the night for me.
Sometimes the company will need to build devices but most of the time cross platform software will suffice?
He gave no guiding principles about when the company would choose hardware over software.
Interesting.
Xbox will not be spun off into a separate business
The quote:
Kara: Will you spin off Xbox?

Nadella: "I have no intent to do anything different on Xbox than we are doing today"
He noted that prior to Nokia, Xbox is where all of Microsoft's hardware know-how came from.
He's not proud, he's an aggressive pragmatist
When questioned about why Office was released for touch on the iPad before Windows devices, he was very candid.
The quote:
Walt: Why did touch Office come first to iPad?

Nadella: The intent here is to make sure our services are available on all devices. There are going to be Windows devices and there are going to be other devices and we have to make sure our services run on all of them.

That said, iPad has the most share. We are definitely going to have touch-first Office on Windows and it is coming. But, "I didn't want us to hold back."
Microsoft is making big bets on Natural Speech and language translation technology
In addition to having an employee actually demo Skype's language translation abilities, he expressed confidence in Microsoft leading the way in this department and soon.
The quote:
Walt: How long before I can make a call to somebody in Egypt, where neither of us speaks the language.

Nadella: I definitely think in the next two years… 2015, 2016 is when we can…
The Microsoft Surface Tablet is a long term play for Microsoft
It seems to me that the Microsoft Surface decision is one that is a very long term play for the company.
They may not get it right the first, second or third time but they plan to keep going until they do.
The quote:
What about Surface?

Windows and Server started slow too, he notes.

"You've got to have patience and the right amount of impatience," Nadella said.

Otherwise you will just start exiting everything.
The takeaway from all this
Mr. Nadella is a smart and grounded man who sees a lot of potential and challenges ahead of him.
I am stunned that it seems clear that he clearly didn't want Nokia (NYSE:NOK) and now has to figure out what to do with the company.
I am also troubled by his eagerness to breeze past Windows Phone and have to wonder if he feels the race for the smartphone is over for Microsoft.
While I respect his intellect and his demeanor, I think the honeymoon will be coming to an end soon.
We need to see what bold direction the CEO is going to take Microsoft in.
This interview raised many questions that I hope we see Mr. Nadella try and address over the coming year. It does seem to reinforce the notion that Microsoft is not going to be an aggressive growth stock any time soon.
The CEO is clearly in slow and steady mode.
Disclosure: I have no positions in any stocks mentioned, and no plans to initiate any positions within the next 72 hours. I wrote this article myself, and it expresses my own opinions. I am not receiving compensation for it (other than from Seeking Alpha). I have no business relationship with any company whose stock is mentioned in this article.
Additional disclosure: I am the CEO of Learn About The Web Inc. (learnabouttheweb.com). Learn About The Web™ is an online business education platform dedicated to providing universities and businesses with the tools required to credibly teach online business. I teach and discuss online business companies (including Microsoft) frequently. I also own and monetize several Microsoft-related online properties like Eye On Windows (eyeonwindows.com) and Windows 9 Update (windows9update.com). I also own a PeopleSoft-related web property (peoplesoft-planet.com).