Editor's note: Originally published on May 10, 2014
by Jeff Bailey
As the dust begins settling on sweeping - but let's face it, not all that harsh - federal regulations designed to trim abuse in the for-profit education industry, some players are finding ways to adapt to the new landscape, others are falling apart like meatloaf, and where there's change there's opportunity, right?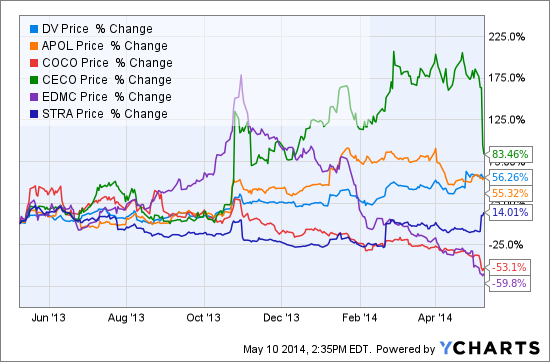 DV data by YCharts
Here we see six stocks in the industry and their performance over the past 12 months: DeVry (DV), Apollo Education (NASDAQ:APOL), Corinthian Colleges (NASDAQ:COCO), Career Education (NASDAQ:CECO), Education Management (NASDAQ:EDMC) and Strayer (NASDAQ:STRA). They've all shrunk in recent years as measured by revenue, reflecting enrollment declines brought on by a prohibition against incentive compensation for enrollment officers and other factors.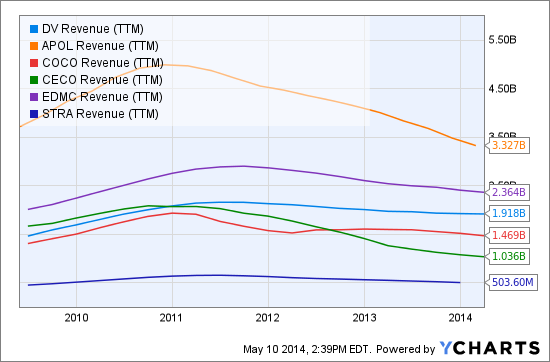 DV Revenue (TTM) data by YCharts
DeVry and Apollo, considered among the better-managed companies in the industry, still garner mostly hold recommendations from analysts. And yet, they're up more than 50% over the past year, and making big changes in their operations to adjust to the new business environment. Are we missing something here?
We'll look at DeVry. The company has an ardent fan in Timo Connor, an analyst at William Blair & Co., in Chicago, who rates DeVry outperform and believes it deserves to trade at a "significant premium" to most of its peers. His reason: DeVry, in Connor's view, "is increasingly becoming a medical and healthcare training business," and that's a field with strong job demand and students tend to repay their loans and find gainful employment, moreso than in other fields.
The healthcare part of DeVry's operations will account for nearly 80% of operating income in the fiscal year ending June 30, 2015, Connor points out. "This is not your father's DeVry," he adds. Might there be a series of such undiscovered growth stories among the largely unloved for-profit education stocks?
Seeing the glass as half full, of course, is required for anyone who's in the business of recommending stocks. And DeVry's forward PE ratio doesn't make it the costliest stock one could find.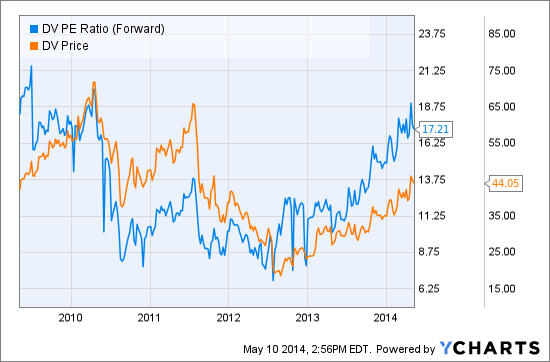 DV PE Ratio (Forward) data by YCharts
It is multiple expansion, however, not earnings growth that accounts for the rise in DeVry shares.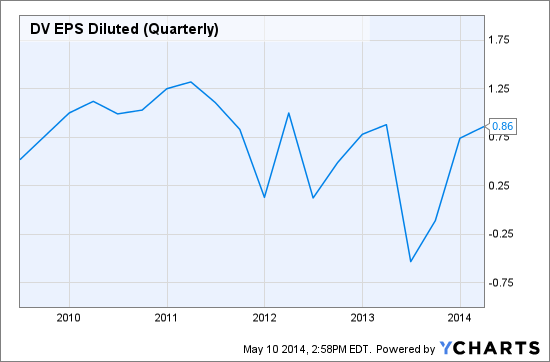 DV EPS Diluted (Quarterly) data by YCharts
And a modest amount of investment research, including reading the 10-K and most recent 10-Q filings and employment of some Financial Advisor Tools, tempers the enthusiasm one gets from reading Connor's recommendation.
DeVry may indeed be headed in the right direction, and the stock could make further gains as suggested by the analyst. But the company remains mired in a difficult turnaround effort. It's in an industry where redeploying assets - turning a little-used engineering school into an accredited medical school, say - is extremely difficult and time consuming, if possible at all. And transparency - which is lacking for consumers across both public- and private-sector higher education - would work against DeVry and its for-profit peers; community colleges and non-profit and public universities are often either higher in quality or less expensive than for-profit schools. Once some public-spirited programmer turns away from dating apps and such, the industry could face a better-informed and less malleable consumer.
DeVry's revenue through the first three quarters of fiscal 2014 were $1.44 billion, off 3% from the year-earlier period, and the company's shrinking and clunky business, technology and management sector (essentially what's known as DeVry University) accounted for just less than 50% of revenue, but only 15% of operating profits, or just $21.4 million. The unit is shrinking so fast that cost cutting can't keep up. The analyst, Connor, said he believes capacity utilization is below 60%, suggesting still more campus closure ahead. This is a unit that produced as recently as fiscal 2011 $1.46 billion in revenue and a stunning $359.4 million in operating profit.
The healthcare unit - which comprises Caribbean medical and veterinary schools, U.S. nursing schools and trade schools for health care support jobs - for the nine months ended March 31 generated a healthy $106.4 million in operating income on revenue of $570.9 million; the latter figure was up 14%.
So, yes, DeVry is increasingly a healthcare training company, but that's mostly because its long-time core business, DeVry University, is disintegrating. Enrollments are down significantly in the business, technology and management schools, and up nicely in healthcare.
Reading up on the for-profit education sector, one finds it impossible to avoid thinking like a taxpayer at times, rather than purely as an investor. That's because Uncle Sam provides most of the revenue in the form of guaranteed loans and grants. Federal financial assistance accounts for between 66% and 87% of revenue at DeVry schools eligible for such programs. Schools that exceed 90% for a sustained period risk losing access to the programs. Anyway, the taxpayer notices:
Graduation rates are low. DeVry University's 2006 freshman students, the latest class to be around long enough to either graduate or not in the statistical model used by the government, had a 32% graduation rate. Some public universities do worse, DeVry notes, and that's true, but it's hardly an admirable metric.
What DeVry calls the "cost of educational services" - the faculty and facilities to actually educate students - consumes just 49% of revenue. If this was an insurance company, the state commissioner would be up in arms about the low claims paying ratio.
Loan default rates are high at some DeVry schools, notably its flagship undergraduate operation, where, for 2010 loans, the latest data available, 13.3% defaulted. The Carrington Colleges that teach healthcare support skills also have a high default rate on loans: 12.9% to 16.7%.
A particular annoyance, whether you're investor or taxpayer, is DeVry's spotty disclosure on its second largest expense category, what it calls "student services and administrative expense." This is equal to about 39% of revenue. Here it lumps together, advertising, sales and marketing and general administrative costs and does next to nothing to help us see what the sub-categories amount to. We know that advertising was $261 million in fiscal 2013, or about 35% of the category's $756.4 million. One suspects there's a good deal of sales and marketing expense we aren't hearing about and that the company's description of the category is, well, less than candid.
Clearly, though, there's no handy way to judge the sales and marketing effort. That area, remember, is one the government has found, at times, abusive in the industry. And even investors who're agnostic on what amounts to a giant government subsidy, in the form of student loan guarantees, might want to know how efficient a marketer DeVry is.
DeVry's complaining on the topic of incentive pay for student recruiters begs the question: how do you measure recruiting efficiency, given that declining enrollment is sinking your biggest operation? From the 10-K:
Incentive Compensation. An educational institution participating in Title IV programs may not pay any commission, bonus or other incentive payments to any person involved in student recruitment or admissions or awarding of Title IV program funds, if such payments are based directly or indirectly in any part on success in enrolling students or obtaining student financial aid. The law and regulations governing this requirement never established clear criteria for compliance in all circumstances, but there were twelve safe harbors that defined specific types of compensation that were deemed to constitute permissible incentive compensation. The new rules eliminate the 12 safe harbors. These changes increase the uncertainty about what constitutes incentive compensation and which employees are covered by the regulation. This makes the development of effective and compliant performance metrics more difficult to establish. As such, these changes limit DeVry's ability to compensate our employees based on their performance of their job responsibilities, which could make it more difficult to attract and retain highly-qualified employees.
Uncertainty? It's the crystal-clear nature of this that seems to upset the people at DeVry. As an investor - or a taxpayer, for that matter - wouldn't you like to know what percent of enrollees was formerly snagged by commissioned sales people?
As excited as the analyst Connor is about the healthcare side of DeVry's business, the low-hanging fruit here is at shrinking DeVry University and its increasingly unpopular business, technology and management courses.
A word or two about management. Meeting DeVry's CEO, Daniel Hamburger, a few years back, I have to admit I wondered what such a smart guy was doing in such a dreary and limited industry. He has stuck it out, though, and recruited a mostly new management team around him since becoming CEO in 2006. Long-term, of course, the company needs to make its education more valuable to students. That would seem to set DeVry up to thrive in a transparent marketplace, rather suffer from one. And it would make the education easier to sell - regardless of how the sales staff is compensated.
Disclosure: No positions
Editor's Note: This article covers one or more stocks trading at less than $1 per share and/or with less than a $100 million market cap. Please be aware of the risks associated with these stocks.