About 10 days ago, I wrote a small article about Qiwi, the Russian payment services provider. A few days later, Qiwi came out with 2014 Q1 results which so far confirmed my thesis of future earnings based on 2013 and previous years, and the stock climbed +30% the following week.
Euphoric about this admittedly somewhat lucky punch, I went looking for a similar profile among the BRIC stocks. Eventually I ended up drilling SouFun, a company with a lot of nice characteristics that are quite similar to those of Qiwi:
Certain business segments show massive growth (+100% year to year since 2009)
Massive growth segments are now generating +50% of company total revenue
The company makes real money (3 digit million USD net profit in 2013)
Exponential growth in profit
Run by the founder who has a large holding in the company
Mainly digital business with great scalability and continuously improving margins
Massive market which is still expanding
Currently traded with a discount based on a fear, which seems exaggerated
Since the characteristics are very similar to Qiwi, readers of my previous article on Qiwi will probably notice some Ctrl-C/Ctrl-V going on.
The Business
SouFun (NYSE:SFUN) operates the leading real estate Internet portal in China. It provides a large array of services related to real estate and home furnishing, and it's engaged in both new and secondary homes as well as rental homes. SouFun was established in 1999 and did an IPO in 2010. The founder, Vincent Mo, is still leading the company as chairman of the board of directors and, together with other managers, has a very large holding in the company.
The four main segments in SouFun are marketing services (Marketing), e-commerce services (E-commerce), listing services (Listing) and other services (Other):
Marketing is online advertising directed at real estate developers, agencies and suppliers of home furnishing and improvement.
E-commerce includes free and paid membership services and online transaction platform services aimed at home furnishing and improvement vendors, and other types of services relating to property purchases.
Listing is online placement of services offered by real estate agents, brokers, developers, property owners as well as products and services offered by suppliers of home furnishing and improvement and other home-related offerings.
Other includes various online offerings such as information database and reports access, a financial services platform and more.
The Growth Rate
Until recent years the majority of the revenue has come from Marketing. Between 2009 and 2013, the revenue of this segment grew from USD 102M to USD 278M, representing a decent CAGR of 28%, but with some fading the last couple of years. The major growth of the revenue is now coming from E-commerce and Listing, which collectively grew 91.7% in 2012 and 99.8% in 2013. In 2013, the combined revenue from E-commerce and Listing represented 55% of total revenue. The CAGR of total revenue has been an astonishing 50% between 2009 and 2013.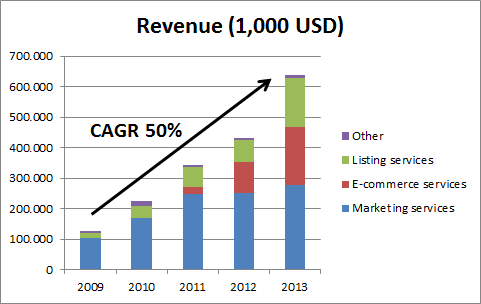 Source: SouFun 2013 20-F SEC filing
What strikes me the most about this graphic is that when one segment (Marketing) seems to have faded out in terms of growth (2012-13), other segments (Listing + E-commerce) take over. This could just be an accident, or it could be the sign of a business that's very capable of continuously developing its offerings and expanding into new markets.
Looking at the net profit makes it crystal clear that someone at SouFun knows what they're doing: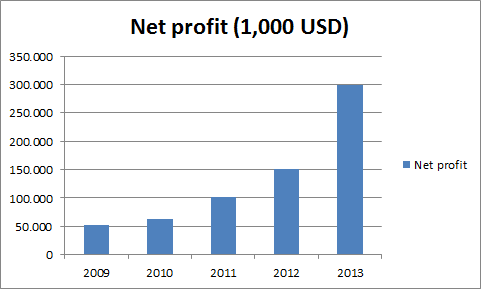 Source: SouFun 2013 20-F SEC filing
For the last four years, the profit trend looks like a dream to any investor. What P/E would you expect a stock with this profit trend to have? Well of course, that also depends on the future prospects which are covered in the next section.
A very interesting point is the profit growth vs. the revenue growth. Since SouFun basically offers digital services, you'd expect profit to grow faster than revenue due to the scalable nature of a digital business. Please consider the growth rates of the revenue vs. the growth rate of the profit:
2010
2011
2012
2013
Profit growth
20,0%
60,9%
49,4%
96,7%
Revenue growth
76,7%
53,2%
25,1%
48,1%

Profit growth to
revenue growth ratio

0,26
1,15
1,97
2,01
Although this is a very small data set it does give the impression that SouFun are leveling out at a profit growth to revenue growth ratio of 2: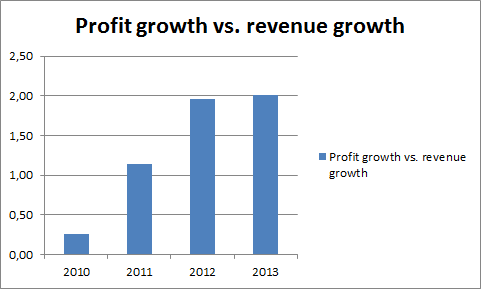 Source: SouFun 2013 20-F SEC filing
This indicates that the net profit of 2014 could end up somewhere around double the revenue growth, which is currently estimated at 22.5% - 25% by management.
Future Growth
To evaluate the future growth potential, let's consider the three main segments individually in the light of the 2014 Q1 results earnings call and information in the 20-F SEC filing:
Marketing is the largest segment and is offered to various professionals in the real estate business. The contracts are generally based on one-year terms with payment due monthly, quarterly or semi-annually. The growth of this segment was quite low the last couple of years (6% CAGR 2011-13), but the 2014 Q1 results released on May 7 saw a 31.2% increase in Marketing revenue relative to the same period in 2013. This was mainly attributed to more overall advertising spending, and it's quite interesting to see part of SouFun's business prosper in the face of a quarter with really difficult property market conditions.
E-commerce sees the revenue coming from the paid membership service, which primarily includes offers to home buyers to purchase properties with discounts and related services to facilitate property purchases. As this revenue is closely tied up with actual sales, the impact of the China housing crisis is pretty direct. In the 2014 Q1 results, E-commerce saw an 11.6% revenue increase (only) relative to the same period in 2013. The reason that SouFun is still able to make an increase in spite of the difficult property market conditions in first tier cities (Beijing and Shanghai), is the continued expansion into second tier cities (Shenzhen, Chongqing and 7 other cities) and lower-tier cities. It should come as no surprise that a Chinese company responds effectively to a crisis by expanding its market penetration, and this strategy has been used successfully by SouFun on previous occasions to ensure growth during tough times.
Listing is a service offered to real estate developers, owners, agents, brokers, managers and suppliers. The main revenue of this segment (90%) is coming from Basic Listing Services which are based on one to three-month contracts with the clients. The client type and the contract structure should provide some protection against the difficulties that have surfaced in Q1, and growth is still strong in Q1 results, with Listing revenue up 57.1% relative to the same period in 2013. The number of subscribers to the Listing service was 190.000 at the end of 2013, has passed 210.000 in early May, and still growing.
The overall revenue grew by 33.2% relative to the corresponding period in 2013. The outlook of 22.5 - 25% revenue growth was maintained by management. The stock dropped 10% the day the Q1 results were announced. It seems to me that someone might have mistaken SouFun for owning or selling real estate properties. SouFun is an internet company offering services to a potential market of approximately 1.5 million real estate agents and a billion people in need of housing. There's no logic supporting the idea that the China housing crisis should stop SouFun from expanding in such a vast market.
The Stock
At the IPO in 2010, SouFun was priced at 2.125 (all prices adjusted according to the 1:4 split in 2011 and the 1:5 split in 2014. Within a day, it almost doubled, and so far it peaked on March 6th 2014, at 19.94. This means that the stock price increased by more than 800% - or 400% if you measure by the second day of the IPO. This could seem like a heavily-inflated stock if it weren't for the fact that the net profit increased by approximately 375% between 2010 and 2013.
Since the peak in March 2014, the stock has dropped approximately 40% due to fear of the China housing crisis, and today (noon, May 23rd), it's trading at 12.06. The P/E currently is around 17 based on 2013 diluted ADS EPS and adjusted for stock split in 2014 (see the section below).
EPS and P/E Confusion
In April 2014, SouFun did its second stock split by changing the ADS to Class A ordinary shares ratio from 1-1 to 5-1. As this was executed early April, the 20-F SEC filing dated end of April had all data updated to represent the post-split. This has apparently caused some problems with various providers of financial data. Most likely it has mistaken the EPS of the 20-F SEC filing (USD 0.71) to represent the pre-split scenario and therefore have divided it (again) by five, resulting in an EPS of USD 0.14. Actually it was already divided (from the original USD 3.54).
Using the wrong EPS will of course also cause a wrong P/E, making it currently stand out as 85 instead of 17. The wrong EPS and P/E are currently listed on e.g. Google Finance, Reuters and FinViz. This means anyone seeking out investment opportunities using any of these platforms and disliking a stock with a P/E of 85 will miss it: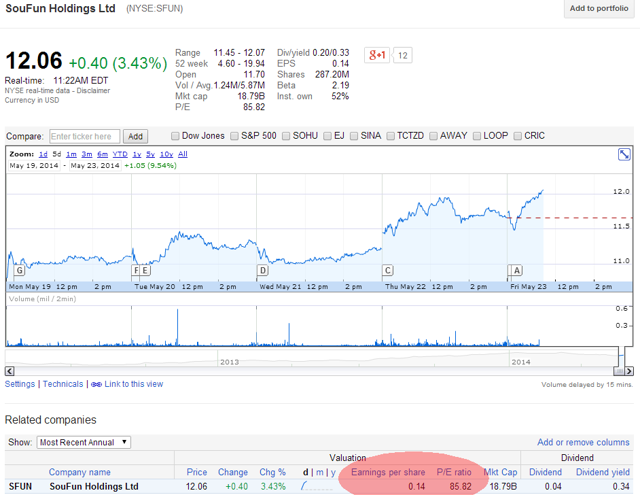 Even SouFun's own web page has the wrong EPS, as it is seeding data from Reuters.
It's difficult to say if there's any actual effect from this, but quite possibly it could add to the buy side when the correct data gets propagated to all systems.
Conclusion
It's my strong belief that although SouFun will of course get hit by the China housing crisis, it's not going to be something that will fundamentally destroy the ability of continued growth of the company:
Management has reported 14 consecutive above guidance quarters since SouFun was publicly listed
The current 2014 outlook is a 22.5% to 25% increase in revenue
Past profit growth to revenue growth ratios indicate that profit will grow twice as fast as revenue (est. 50% in 2014).
In my opinion, EPS for 2014 could therefore very well exceed USD 1 (1.5 x 0.71), which would result in a P/E of 12 (all-time low). However, if SouFun manages to realize a 2014 net profit increase of 50% in a tough market, it's more likely that the market will open their eyes (again) to this fantastic company and price it at a more reasonable P/E of 20 or more (10 weeks ago SouFun traded at P/E = 28), indicating a price north of USD 20, or a gain of 65% from today's price.
I don't see much (realistic) long-term downside on this stock, and I'd expect it to be something you'd want to hold on to for several years. Possibly the next massive growth segment we'll see from SouFun will be the SouFun Financial Services Channel which was launched December 2013 and which will ensure SouFun a deeper involvement in the USD 25B (+100% CAGR) volume currently handled by its E-commerce services.
Be aware this is a quite volatile stock, and the 20-F SEC filing of SouFun has a long list of risks that you should consider carefully.
Disclosure: I am long SFUN, QIWI. I wrote this article myself, and it expresses my own opinions. I am not receiving compensation for it (other than from Seeking Alpha). I have no business relationship with any company whose stock is mentioned in this article.