Medusa Mining Limited (OTCPK:MDSMF) has very low production costs compared to its competitors. Its cash cost forecast for FY2015 is $400 per ounce. It is listed on the Australian Stock Exchange (ASX:MML) and on the pink sheets.
With cash costs of $296 and a recovery rate of 89%, it had a great quarter ending with Mar. 31, 2013. Nevertheless, shares fell more than 35% since climbing to $2.6 in the mid of March, at which point they were still clearly undervalued.
Medusa Mining Limited has a P/E of 5.8 compared to an industry median of 16.7. Its 10-year historical minimum P/E is 4.94 while the maximum is 27.81. P/B has a value of 0.81 compared to an industry median of 1.14. Its 10-year historical P/B minimum is 0.69 compared to a maximum of 11.13. It has a net margin of 49.84% and a ROC of 38.96%. Its Shiller P/E holds a value of 5.48 compared to an industry median of 15.5. Its 10-year historical minimum Shiller P/E is 4.64 compared to a maximum of 26.83. The relatively low Shiller P/E suggests an interesting long-term outlook for the company.
Its fair value calculated with the Gurufocus.com fair value calculator is $4.13.



Fair value calculated with the Gurufocus.com fair value calculator
The forecast for its Co-O Mine production is 140,000 to 160,000 ounces per year in FY2015 at a grade of 5g/t-7g/t. Medusa Mining Limited has a 25-year mining license for its Co-O Mine, which is renewable for another 25 years.
The SAG Mill is currently operating between 2,000 to 2,500 tonnes per day at 90% to 95% recoveries.
Free cash flow increased more than 100% between June 2013 and June 2014 from 21.2 to 44.8 Million with plans to further increase free cash flow in order to strengthen the balance sheet. Concomitantly, there will be future growth from the Tambis Region.
A risk factor though are Phillipines' gold mining regulations. In 2012, for example, the authorities shut down illegal mines due to safety and environmental issues. In recent years, they welcomed big mining operators, such as Canadian-owned TVI Resources Development, which extracts copper, zinc, silver and gold in the southern island of Mindanao. The government is also planning to increase revenue from the country's gold resources, for example, by raising taxes. Safety regulations are not a major issue for Medusa Mining Limited in my opinion, as the company improves and ensures the safety of its workers constantly. A comprehensive safety review of the company's operations was undertaken by an external consultant. The company issued continued comprehensive health checks for all employees and expanded training activities for all underground personnel. Furthermore, all mine employees had first aid training for use at work and home. There is also regular intensive training for well-equipped mine rescue and firefighting teams who participate in annual national competitions and regular safety meetings that emphasize workforce participation in ensuring safety and hazard minimization.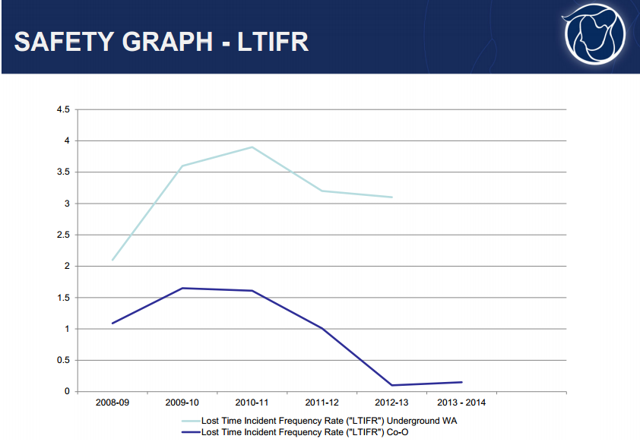 Safety graph: www.medusamining.com.au/wp-content/uploa...
Taking into consideration that Medusa Mining's share price also depends on the gold price, this could be seen either as a risk factor or as a possible driving force for its share price. Chinese demand is predicted to stay high for 2014 and bearish signals in the market could send the gold price higher. The low cash costs per ounce compared to its competitors are a clear plus in case of a falling gold price.
With Mr. Peter Gordon Hepburn-Brown as the Managing Director and Dr. Robert Weinberg as an Independent Non-Executive Director, I am confident the company is headed in the right direction.
Mr. Peter Gordon Hepburn-Brown was appointed Managing Director on Jun. 9, 2011, joined the Board of Medusa on Sept. 15, 2009, and was the Company's Executive Director - Operations since Jul. 27, 2010. He is a mining engineer with 29 years of experience in a wide range of mining situations, commodities and overseas jurisdictions. He has held senior management positions such as Executive Director Operations for Harmony Gold Australia, General Manager Operations for Great Central Mines, as well as other executive, operational and consulting positions.
Mr. Hepburn-Brown's experience includes hands-on shaft sinking and airleg mining in narrow vein mines, experience that is well suited to the company's current operations in the Philippines, as well as mining large open pit, disseminated ore bodies. Mr. Hepburn-Brown has a proven track record at operational levels, and his skills and experience will complement his fellow Board members.
Mr. Hepburn-Brown was a Non-Executive Director of Alloy Resources Limited, an ASX listed entity, from Jun. 2, 2004 to Nov. 30, 2010. During the past three years, Mr. Hepburn-Brown also served as a Non-executive Director of Morning Star Gold NL, an entity listed on the ASX from Feb. 18, 2010 to Feb. 1, 2011.
Mr. Hepburn-Brown is also a member of the Health & Safety and Nomination Committees.
Dr. Robert Weinberg gained his doctorate in geology from Oxford University and has nearly 40 years' experience in the international mining industry. He is an independent mining analyst and consultant, a Fellow of the Geological Society of London and also a Fellow of the Institute of Materials, Minerals and Mining.
Dr. Weinberg brings a wealth of gold marketing and investment banking experience to the company having held executive positions that include being Managing Director, Institutional Investments at the World Gold Council; Director of the Investment Banking & Equities division at Deutsche Bank in London; and Head of the Global Mining Research team at SG Warburg Securities. Robert has also held senior positions within Societe Generale and was head of the mining team at James Capel & Co. He was formerly marketing manager of the gold and uranium division of Anglo American Corporation of South Africa Ltd.
Dr. Weinberg is currently an independent Non-Executive Director of Solomon Gold plc (appointed Nov. 22, 2005), a company listed on the Alternative Investment Market, London; Kasbah Resources Ltd. (appointed Nov. 15, 2006), an ASX listed entity; and Chaarat Gold Holdings Ltd. (appointed Jan. 10, 2011) also listed on AIM.
Dr. Weinberg is Chairman of the Remuneration Committee and is also a member of both the Audit Committee and Health & Safety Committee.
It is also worth taking a look at the top 20 company shareholders:
Name of Shareholder

Number of

Shares Held

% Held

Total
150,315,024
72.34
1
HSBC Custody Nominees (Australia) Limited
41,988,567
20.21
2
National Nominees Limited
30,407,856
14.63
3
JP Morgan Nominees Australia Limited
15,164,525
7.30
4
Citicorp Nominees Pty Ltd
13,998,292
6.74
5
Zero Nominees Pty Ltd
10,200,000
4.91
6
JP Morgan Nominees Australia Limited (Cash Income A/C)
8,257,236
3.97
7
ABN Amro Clearing Sydney Nominees Pty Ltd (Custodian A/C)
4,739,429
2.28
8
Amalgated Dairies Limited
3,296,881
1.59
9
Mr William Douglas Goodfellow
3,141,925
1.51
10
Cedardale Holdings Pty Ltd (The G& S Davis S/Fund A/C)
3,037,673
1.46
11
UCA Growth Fund Limited
2,750,000
1.31
12
Vidacos Nominees Limited (KBL)
2,064,382
10.74
13
Barclayshare Nominees Ltd
1,971,567
10.26
14
TD Direct Investing Nominees (Europe) Limited (SMKTNOMS)
1,781,413
9.27
15
Nortrust Nominees Limited (TDS)
1,774,148
9.23
16
BNP Paribas Noms Pty Ltd (DRP)
1,378,219
0.66
17
HSBC Custody Nominees (Austalia) Ltd (NT-Comnwlth Super Corp A/C)
1,214,466
0.58
18
TD Direct Investing Nominees (Europe) Limited (SMKTISAS)
1,123,680
5.85
19
Hargreaves Lansdown (Nominees) Ltd (15942)
1,015,431
5.28
20
HSBC Custody Nominees (Australia) Ltd - A/C 2
1,009,334
0.49
The low price and the highly overvalued markets puts Medusa Mining Limited in an interesting light as a gold candidate with little risk and a lot of upside. It is down more than 75% from its highs at around $8 in 2011.
I wrote this article for everyone who is looking for an undervalued company, for all the gold bulls out there, and last, but not least to highlight this great and undervalued low-cost gold producer, which is also heavily engaged in social projects and should not be overlooked anymore.
Disclosure: I am long MDSMF. I wrote this article myself, and it expresses my own opinions. I am not receiving compensation for it (other than from Seeking Alpha). I have no business relationship with any company whose stock is mentioned in this article.
Editor's Note: This article discusses one or more securities that do not trade on a major U.S. exchange. Please be aware of the risks associated with these stocks.