The Priceline Group Inc. (PCLN) operates as an online travel agency. Priceline has acquired the European company Booking.com to provide online hotel reservation services; Agoda.com, an Asian online hotel reservation service; and rentalcars.com, that offers car rental services. Under the brand Priceline.com, the company also provides hotel reservations, airline tickets, vocational tours, and cruise packages. My article will mainly focus on the reasons behind Priceline's rapid growth, its shareholders' return, and its future prospects.
Financial Outlook:
Priceline has been able to grow its revenue by 29% to $6.7b YOY compared to FY 2012's $5.26b, and its net income by 33% to $1.8b YOY compared to FY2012's $1.4B. Priceline's main source of revenue is commission, because it acts as an agent between hotels, airline companies, and customers. Priceline's operating costs (selling and administration) were 48.6% of revenue in FY2013 (FY2012: 42.8%), which has reduced by 20% after replacing legacy gear with Juniper (NYSE:JNPR) EX switches. The Juniper EX switches support a range of features, including high availability and network access control "NAC." The NAC support enables the switches to enforce access policies rather than rely on firewalls, VPN gateways or other legacy gears. This efficient new networking system distinguishes Priceline from its competitors.
However, I have serious concerns regarding Priceline's future growth, because of the strong competition in the existing market. If Priceline wants a competitive edge over its competitors, then it should diversify itself in new markets.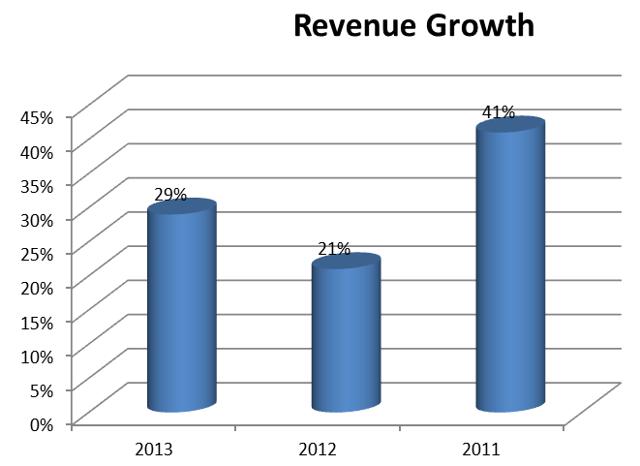 Source: Financial Statement
Priceline's Business Model:
Priceline has been heavily dependent upon its agency business model that it uses to request hotels and airline companies to quote the prices of their packages. Priceline also asks its customers to choose their own packages according to their budget. The inflation rate in the U.S. has increased to 2% from 1.5% within 2 months (Apr 2014 to May 2014). The hospitality business is highly sensitive and greatly influenced by inflation rate fluctuations, so this increase in inflation will negatively impact the purchasing power of customers. Due to low purchasing power, customers will not accept increases in prices, and will switch to other online travel agencies for lower prices. As a result, Priceline has to come to a compromise with regards to its commission margin to retain its customers, and this will reduce its profits.
Stock Price Fluctuations:
Priceline's stock has performed impressively in the last 12 months. It began trading at $627/share on January 5th, 2013, and reached its all-time high price of $1162/share on March 6th, 2014. The fluctuating behavior of Priceline's expensive stock is forcing its investors to think about its future trend. The high liquidity of Priceline's stock has played a major role in this fluctuation game. Priceline's current stock price is less than its target price ($1428/share). Analyzing the other factors, such as the company's strong presence in its market, its growth prospects, and its past stock price movement will help us to understand that this current short fall is temporary and that Priceline's share price will increase in the near future.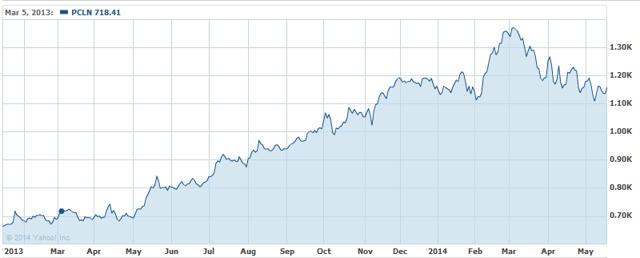 Source: Yahoo Finance
Expected Growth:
Priceline's effective networking system is the main competitive edge that distinguishes Priceline from its competitors, Expedia (NASDAQ:EXPE), Ctrip (NASDAQ:CTRP), and Orbitz (NYSE:OWW). Its effective networking system is what allows Priceline's profitably to improve. Compared to market leader Expedia, Priceline has successfully captured an additional 1.2% of market share in the U.S. and reduced the gap of captured market share to 2.5%. Priceline acquired European online travel agency Booking.com back in 2005. Booking.com had captured 47% of the online European travel market. The online European travel market grew by 6.4%, compared to 3.9% in the U.S. during 2012-13. The online travel sales in Europe increased from $118 billion in 2010 to $150 billion in 2013, and are estimated to reach approximately $180 billion by 2016. The online travel markets of the Latin America and Asia-Pacific regions are estimated to reach $34 billion and $131 billion because of the 2014 FIFA World Cup and 2016 Summer Olympics in Brazil, and the 2020 World Expo in Dubai. These events will create opportunities for Priceline to capture these markets.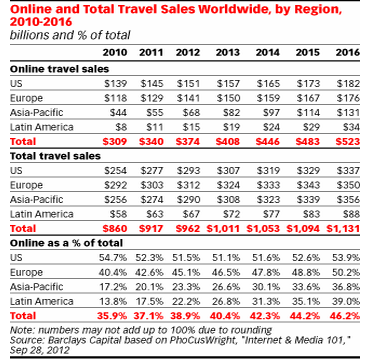 Source: Travel Sales
New Service Initiatives:
Priceline and Travelocity have launched new service initiatives in an effort to claim a bigger market share in the U.S. It has planned to offer a free personal concierge service to vocational package customers. Customers of vocational packages that include an airline-hotel combination on the site will be emailed the phone number of a concierge, who will be able to provide information on subjects such as restaurants, entertainment, and leisure recommendations. Furthermore Travel Guard [owned by AIG insurance] will provide travel insurance for customers, with in-house representatives. Priceline has also joined hands with Israel's power tech ad company Qalika, and this company will help Priceline to advertise its campaigns in different geographical regions. This new initiative by Priceline and Qalika will differentiate its services from other travel companies in the U.S. online travel agency market, which has already shrunk by 34% in 2014 from 39% in 2010.
Conclusion:
My recommendation for Priceline is to go long term, after considering the fact that it is a highly liquid stock with a strong financial background due to its cost-controlling efforts and new service initiatives. I do expect Priceline to gain additional market share.
Disclosure: I have no positions in any stocks mentioned, and no plans to initiate any positions within the next 72 hours.
Business relationship disclosure: The article has been written by a Gemstone Equity Research research analyst. Gemstone Equity Research is not receiving compensation for it (other than from Seeking Alpha). Gemstone Equity Research has no business relationship with any company whose stock is mentioned in this article.