Introduction
WidePoint (NYSEMKT:WYY) has a low market cap of $112 million and recently won three government contracts worth a combined $670 million. Poised to benefit from outstanding growth within the cloud-mobility and security market, WYY is an attractive acquisition target because of its cheap valuation and strong growth outlook. We have completed a thorough review of WYY and determined the stock is grossly undervalued. Consequently, we assign a buy rating with a $6.50 price target, which would represent about a 300-percent increase from current levels.
Background
WidePoint Corporation was incorporated in 1997, with the goal of providing secure-identity management and communications. Through organic growth and strategic acquisitions, WidePoint has developed three stand-alone segments which can be integrated to provide unparalleled solutions in secure-cloud communications. WidePoint offers both the private sector and government a customizable suite of secure communications available within the cloud. These segments include:
Managed-Mobility Solutions -- A cloud-based portal for managing and tracking telecommunication with an emphasis on security, cost-savings and improved service
Cybersecurity Solutions -- Aims to verify identity assurance in mobile computing; this is especially useful in online banking, trading and e-commerce
Consulting and Support -- Offers an all-encompassing information-technology consulting service and support suite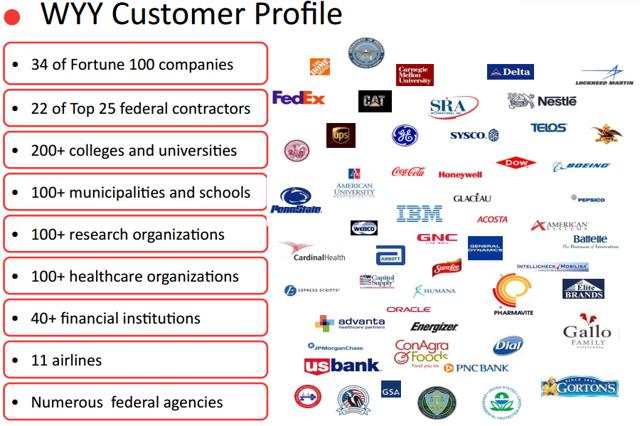 The cloud-mobility and security market is expected to grow substantially
The managed-mobility market has experienced accelerated growth in recent years because of advancements in cloud computing and increasing demand for mobile-device management as companies and governments move toward a more mobile workforce. Examples include wireless workstations, personal digital assistants, mobile hot spots, cloud-based video conferencing, converged voice and data for fixed and mobile communications, virtual networking and other Bluetooth-enabled devices. The transition from in-house data storage to the cloud will cut costs and provide greater data efficiency. In a March 2014 investor presentation, WYY chief financial officer Jim McCubbin predicted this market will grow to $3.2 billion by 2016 thanks to an outstanding estimated compounded annual-growth rate (CAGR) of 23 percent.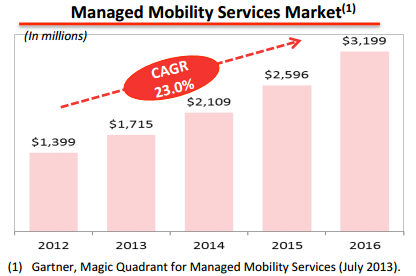 Recent acquisitions within the industry
An unusually high number of acquisitions have occurred within the industry in recent years, primarily because of the rapidly growing and changing market. WYY is well-positioned for acquisition by a larger company because it is trading at cheap levels and it has both a low market cap of $112 million and a government contract worth up to $600 million. Recent acquisitions in the industry include:
These are only a few of the many acquisitions that have taken place over the past year. In a Mar. 9, 2014 article he wrote for CNBC.com on the cybersecurity market, Bob Ackerman Jr., founder and managing director of Allegis Capital, said he anticipates more deal activity throughout 2014. In addition, he foresees that "more investors will be jumping on the cybersecurity bandwagon in 2014, and valuations will continue to increase-maybe twice what they are today."
WidePoint wins $600-million contract with Department of Homeland Security
On Dec. 23, 2013, the Department of Homeland Security (DHS) selected WidePoint's wholly owned subsidiary, iSYS LLC (NASDAQ:ISYS), as the single awardee for its Blanket Purchase Agreement (BPA) for Cellular Wireless Managed Services. The BPA period of performance is for a base of one year plus four optional ordering periods. The BPA ceiling is $600 million. Of WidePoint's cellular and cyber revenues, 80-90 percent are recurring, with an almost perfect re-signing rate as contracts come up for renewal. Therefore, it is highly probable DHS will opt to order after the first year and that it may extend past the four additional years. WidePoint CEO Steve Komar said during the first-quarter conference call that "we have found no reason to modify our forecast of a four to seven calendar quarter revenue ramp-up to an annualized run rate of approximately $75 million." Considering WidePoint's market capitalization currently is $112 million, this contract alone should provide WYY with significant upside. This is WidePoint's first Department-level enterprise contract.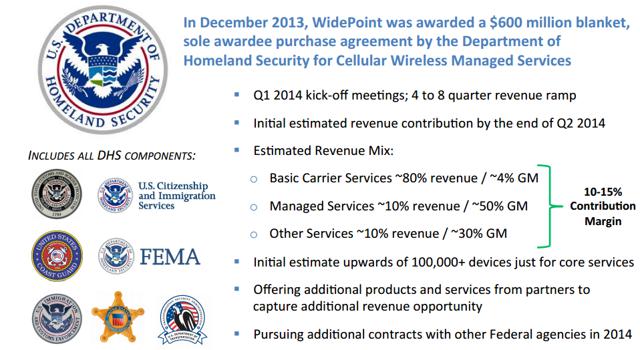 WidePoint wins $47.5-million contract with U.S. Department of Health and Human Services
On May 27, 2014, WYY announced that WidePoint subsidiary iSYS LLC had received a Blanket Purchase Agreement (BPA) from the Department of Health and Human Services (DHHS) for Telecommunications Inventory and Expense Management Solutions (TIEMS). Annual purchases that would be issued under task orders on the BPA are estimated at $9.5 million, or $47.5 million over the five-year period of performance. This is WidePoint's second Department-level enterprise contract.
WidePoint is awaiting formal notification of a $22.5-milion contract with the Department of Justice
During the first-quarter conference call, Komar said "we await formal notification of a separate five-year contract award from an agency of the Department of Justice with a $4.5 million annual-revenue run rate." This would be WidePoint's third Department-level enterprise contract.
There are 15 Cabinet Departments within the Federal Government. In the past six months, WYY has won contracts with two and has a third on its way. We expect this to be only the beginning of WYY's growth story.
WidePoint acquires Soft-ex Communications
On May 6, 2014, WYY announced it had acquired Soft-ex Communications Ltd., which is headquartered in Dublin, Ireland, and is a leading software provider of Telecom Data Intelligence (TDI) solutions throughout European and Middle Eastern markets. Under terms of the acquisition agreement, WidePoint, through a wholly owned subsidiary, paid $5 million cash at closing on May 1, 2014, then issued a one-year contingent, subordinated, unsecured seller's note payable for $1 million. WidePoint management expects the acquisition of Soft-ex to contribute at least $6 million in profitable annualized revenue. The deal also is expected to bring additional growth driven by several cross-selling opportunities supported by the combined companies' complementary services offerings, channel partners and other strategic global initiatives.
WidePoint entering a multi-year revenue-growth trajectory
WYY currently has a stable recurring-revenue base of $45 million. As a result of the three large government contracts and the acquisition of Soft-ex, we believe WYY will triple its 2013 revenues in only two years. Below is a table of our revenue projections: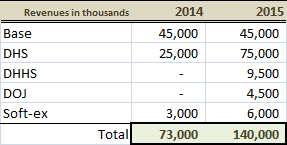 A peer-group comparison shows WYY is significantly undervalued
Because of its diverse market capabilities, WidePoint has competitors in many different fields. Therefore, in assigning a valuation to WYY, we compared it to many different peers. As you can see, WYY's price-to-sales (P/S) ratio is among the lowest of all the companies cited. Additionally, WYY should be among the revenue-growth leaders through 2015. By taking the 8.3 average P/S ratio, we conclude WYY should be valued at around $6.50 per share.

Conclusion
We believe WYY is undiscovered, which creates a huge opportunity for investors to profit. With a low market cap of $112 million and three new government contracts worth a combined total of $670 million, WYY should be a prime acquisition target. Consequently, we assign a buy rating with a $6.50 price target.
Disclosure: I am long WYY. I wrote this article myself, and it expresses my own opinions. I am not receiving compensation for it. I have no business relationship with any company whose stock is mentioned in this article.