The long, lazy days of summer are over. After the long Labor Day weekend, institutional investors are officially "back to work," manning the turrets with the first string players and kicking the substitutes back to the research desks.
For the past several weeks, a relatively low volume level has made it a bit difficult to judge just who is driving the major index price movement – and the sustainability of various trends has also been challenging to determine. The significant price advance from Thursday and Friday's session came on extremely light volume which calls into question whether this move is a legitimate reaction to data or novice traders enjoying their low-volume influence over the action.
There may be a few institutional stragglers at the beginning of this week, but volume should pick up as we move into the fall season. Managers of mutual funds, pension funds, hedge funds and advisor portfolios will all be reviewing strategic allocations, and the re-balancing process could significantly influence trends over the next few weeks.
So let's dive into the trade opportunities as we open a new four-day week.
Gold Mining Favors the Juniors
The action in gold miners has been strong for some time. Jack and I have had some good success booking profits trading the Market Vectors Gold Miners (NYSEARCA:GDX) along with some of the individual gold mining companies, such as Allied Nevada Gold Corp. (NYSEMKT:ANV) and Eldorado Gold Corp (NYSE:EGO).
It's interesting to note that the Junior gold miners have taken the leadership this past week, as the ETF has broken above resistance and hit a new high. As the name implies, the ETF gives investors exposure to small and mid-cap gold miners. A Friday WSJ article indicated that a good bit of the strength could be due to the increase in the number of deals announced where major gold miners are acquiring their smaller rivals.
The majors appear to be making the acquisitions to secure resources ahead of a sustained increase in the ultimate price of gold. This trend may very well lead to additional sharp price increases for miners with significant resources – regardless of their financial strength.
Click charts to enlarge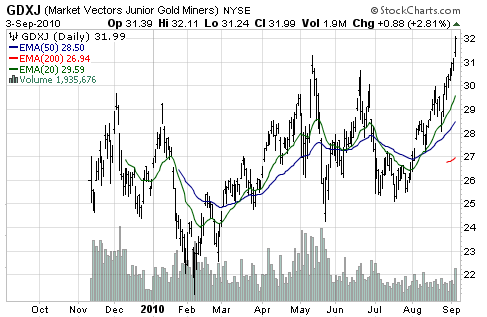 New Gold Inc. (NYSEMKT:NGD) is the largest constituent in the Junior Gold Miners index and the company has been working through an important transition from a net debt position (of $30 million) at the end of 2008 – to a net cash position of $157 million at the end of the last quarter.
Gold production has been increasing at a robust rate, while the cost of production remains at a very attractive $445 to $465 per ounce cost expected for the full year. The stock rallied sharply in August along with the industry, and a break above the $6.50 – $6.80 range could ignite another wave of optimism for the company and the industry.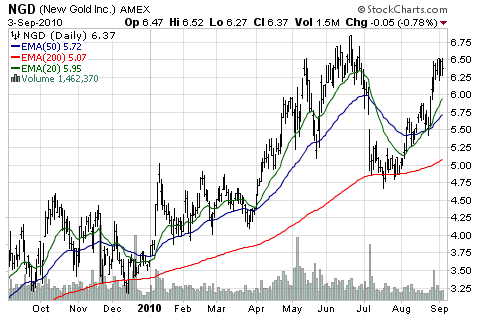 Select Retailers Still Vulnerable
Although retail stocks were relatively strong this past week, I look at the sector with a good bit of skepticism since the broad fundamental picture still carries a great deal of risk. Several key retail stocks have taken on water this summer as consumers struggled with the weight of heavy unemployment.
The last few days leading up to the Labor Day weekend have pushed many of the retail names higher – a few of which are now at attractive spots to short for a continuation trade lower.
Lululemon Athletica (NASDAQ:LULU) broke below the 200 EMA on heavy volume at the end of August. The subsequent rally brings the stock right back to the previous support area (now resistance) while the stock still remains very expensive for the industry. LULU was one of our Luxury Retail short candidates that has traded very much according to plan.
Analysts have already begun lowering their long-term earnings projections for the firm and investors are responding by reducing the multiple they are willing to pay for the stock. This week I'll be watching for any weakness in the stock and will likely enter a short position as LULU gives up the light-volume gains it put together last week.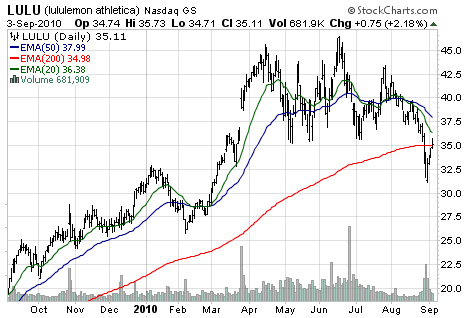 Tempur-Pedic Intl (NYSE:TPX) is another expensive retail stock that sold off late in August but rallied on light volume last week. The stock is not as richly valued as LULU, but with unemployment still a major concern, and new homebuilding still in a depressed state, it's hard to imagine robust demand for new luxury mattresses.
The stock is on the short blotter this week and a break back below $28 would give me a good bit of confidence that the bear trend is still in place.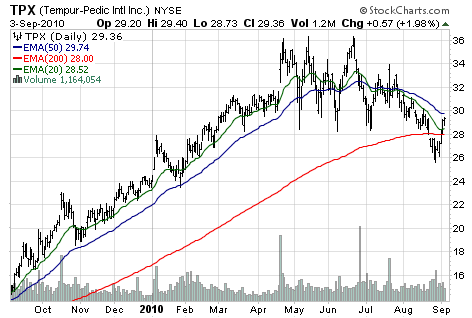 Separation in Solar
There is a widening rift between strong, well-performing solar stocks, and those that are fundamentally weak and lagging. It's been a bit disappointing to see stocks like JA Solar Holdings (NASDAQ:JASO) and Canadian Solar Inc. (NASDAQ:CSIQ) remain range-bound for the last few months.
On the other hand, some bright leaders are emerging and offering great trading opportunities. It's especially helpful to have some bullish opportunities to pursue when the indices are in short-covering or optimistic "hope" mode. While the broad economic picture still remains constrained, particular solar manufacturers can still benefit from government stimulus programs and the evolving technological advances bringing the industry closer to "grid parity."
Over the last 60 days, analysts have become particularly bullish on ReneSola Ltd. (NYSE:SOL). Two months ago, Wall Street models pegged the company's earnings at $0.93 for 2010 and $0.88 for next year. However, those projections have been revised higher to $1.44 and $1.41 respectively – boosting investor confidence and the stock's share price.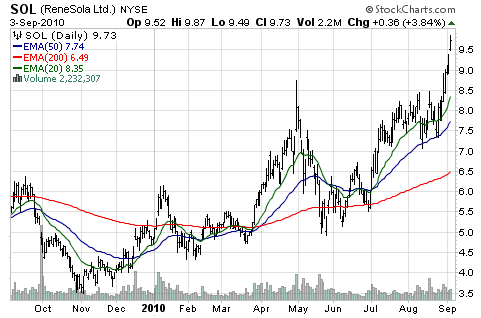 Jack and I picked up an opportunistic position in Solarfun Power Holdings Co. (SOLF) last week as the stock consolidated its robust August breakout. The position showed a sharp profit initially and we may very well add exposure above $12.00 if institutional bulls push this name to a new recovery high.
The company recently received a contract for a major installation which gives investors better visibility into the future profitability of the company. That boost of confidence will likely continue to drive multiple expansion and any additional contracts would help to build investor confidence not only in THIS security but in the broad industry.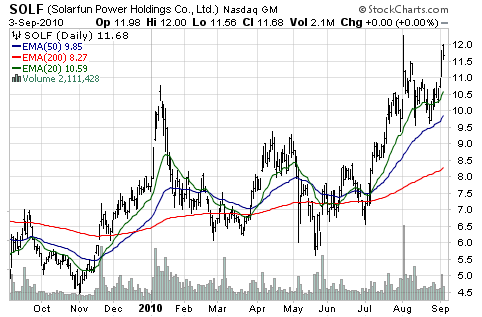 Premarket futures are lower as European bank concerns once again capture Wall Street's attention. We've got a number of setups that will do very well in bullish OR bearish situations, so let's stay focused and alert.
Disclosure: As active traders, authors may have positions long or short in any securities mentioned. Full disclaimer can be found here.