Hershey (NYSE:HSY) is the second largest confectionery company in the world. The company markets and produces primarily brand name chocolates and candies. The company owns the following brands (among others): Reese's, Hershey's, KitKat, Twizzlers and Ice Breakers. Hershey currently generates over 80% of its revenue in the U.S.
Current Events
Hershey revenue per share increased just under 3% for the first quarter 2014 versus the first quarter 2013, well below the company's five-year revenue per share growth rate of around 7%. The company maintained its 2014 outlook of 5% to 7% sales growth and cited weak consumer spending in the US as the reason for lower than expected growth.
Hershey's is especially susceptible to the US market, as the majority of its sales come from the US.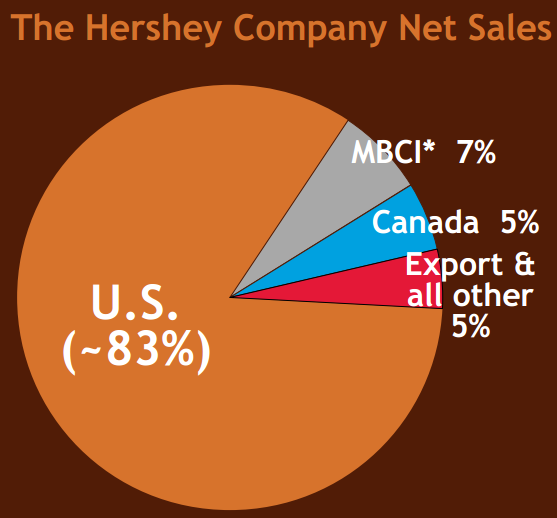 Source: CAGNY Conference Presentation, Slide 8.
Although Hershey's revenue is concentrated in the US, its growth plans lie overseas. The company grew MBCI (Mexico, Brazil, China and India) revenue by 18% in 2013. The company expects to grow MBCI revenue by 15% to 20% annually through 2017.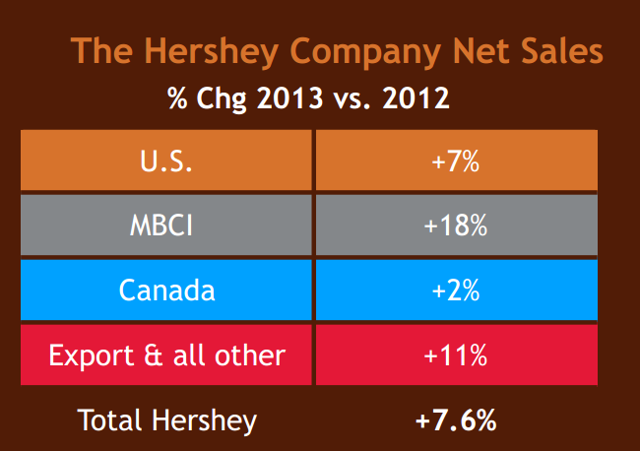 Source: CAGNY Conference Presentation, Slide 8.
The company is generating rapid growth in emerging markets by capitalizing on strong chocolate consumption growth trends in the region and by increasing market share. Hershey increased market share in international chocolate markets from 5.8% in 2011 to 6.7% in 2013. For comparison, the company has a 44.5% share of the US chocolate market. Worldwide demand for chocolate is growing quickly. Latin America, Brazil, China and India all have double digit expected CAGR for chocolate consumption.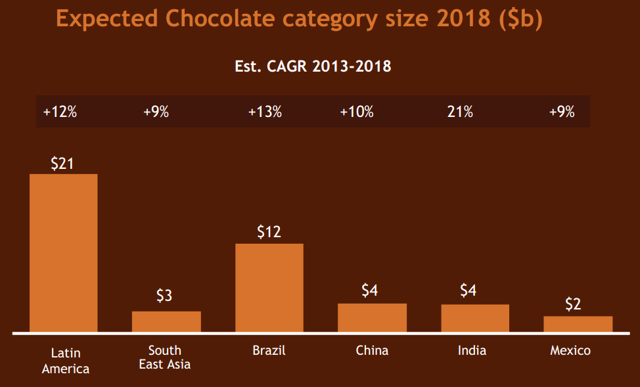 Shareholder Return
Hershey is expected to grow sales at 5% to 7% this year. Its five-year revenue growth rate is close to 7% as well. It is reasonable to expect Hershey to grow at 5% to 7% for the next several years. The company has repurchased about 2% of market cap per year over the last 3 years. Hershey has a dividend yield of 2% as well.
Shareholders can expect a total return of between 9% and 11% from growth (5% to 7%), share repurchases (2%) and dividends (2%).
Valuation
Hershey appears to be overvalued based on its PE ratio compared to the overall market. In fact, all confectioners appear to be overvalued based on their PE ratios. The S&P 500 is currently trading at a PE ratio of about 19. Hershey is trading at a about a 40% premium to the market.
| | | |
| --- | --- | --- |
| Ticker | Company | P/E |
| MDLZ | Mondelez International, Inc. | 35.13 |
| HSY | Hershey Co. | 26.51 |
| TR | Tootsie Roll Industries Inc. | 28.63 |
| RMCF | Rocky Mountain Chocolate Factory Inc. | 24.31 |
Consecutive Years of Dividend Increases
Hershey has paid increasing dividends for 37 of the last 38 consecutive years. The business froze its dividend (no increase) in 2009. It resumed increases the following year. Hershey is not a true "Dividend Aristocrat" because of the one-year pause in dividends. Conceptually, it is in the same group of high quality stocks as the Dividend Aristocrats.
Why it matters: The Dividend Aristocrats (stocks with 25-plus years of rising dividends) have outperformed the S&P 500 over the last 10 years by 2.88 percentage points per year. Source: S&P 500 Dividend Aristocrats Factsheet, February 28 2014, page 2.
Dividend Yield
Hershey has a dividend yield of about 2%, which ranks it 75 out of 112 businesses with 25-plus years of dividend history. Hershey will be a more attractive investment when its yield rises (and as the P/E ratio falls).
Why it Matters: Stocks with higher dividend yields have historically outperformed stocks with lower dividend yields. The highest-yielding quintile of stocks outperformed the lowest-yielding quintile by 1.76 percentage points per year from 1928 to 2013. Source: Dividends: A Review of Historical Returns.
Payout Ratio
Hershey currently has a payout ratio of 50.50%. The company has stated it will keep its payout ratio around 50% going forward. Hershey's dividend should increase in line with overall company growth as the company has no plans to raise its payout ratio. The company ranks at 66 out of 112 based on this metric as compared to other businesses with 25-plus years of dividend history.
Why it Matters: High-yield, low-payout ratio stocks outperformed high-yield, high-payout ratio stocks by 8.2 percentage points per year from 1990 to 2006. Source: High Yield, Low Payout by Barefoot, Patel, & Yao, page 3.
Long-Term Growth Rate
Hershey has grown revenue per share by 6.21% over the last decade. The company's solid growth ranks it at 39 out of 112 based on growth.
Why it Matters: Growing dividend stocks have outperformed stocks with unchanging dividends by 2.4 percentage points per year from 1972 to 2013. Source: Rising Dividends Fund, Oppenheimer, page 4.
Long-Term Volatility
Hershey has a 10-year standard deviation of only 21.35%, which ranks it at 20 out of 112. The company's low volatility is a sign of predictable cash flows and favorable long-term outlook.
Why it Matters: The S&P Low Volatility index outperformed the S&P 500 by 2 percentage points per year for the 20-year period ending September 30th, 2011. Source: Low & Slow Could Win the Race, page 3.
Conclusion
Hershey is a fantastic business with an exciting opportunity to grow business significantly in emerging markets. Its US sales continue to grow as chocolate and candy demand in the US rises. The company is a fantastic business to hold. Unfortunately, its high valuation makes it a hold rather than a buy based on the 8 Rules of Dividend Investing.
Disclosure: I have no positions in any stocks mentioned, and no plans to initiate any positions within the next 72 hours. I wrote this article myself, and it expresses my own opinions. I am not receiving compensation for it (other than from Seeking Alpha). I have no business relationship with any company whose stock is mentioned in this article.