Well, that didn't take long! Did the recent opportunity to buy shares of Bank of America (NYSE:BAC) at less than $15 already pass investors by? After disclosing that it submitted a revised capital plan to the Fed - which now has 75 days to review - Bank of America's stock moved 3.4% higher on Tuesday and closed at $15.22.
It is unknown, of course, what BAC's updated proposal contains in terms of dividend increases and/or share repurchases. In fact, the bank may have modestly trimmed one or both, to increase the likelihood of Fed approval. And there is ongoing uncertainty regarding future litigation costs and BAC's reserves for them.
In the meantime, however, the macro indicators of BAC's underlying business remain very strong. Net charge-offs are declining, from $2.5 B in 1Q13 to $1.4B in 1Q14. Consumer credit continues to recover: credit cards 30+ days past due declined 29% year over year, from $7.9B to $5.6B. Global Wealth and Investment Management revenue for BAC in the first quarter hit an all-time record of $4.5B. And finally, BAC's active mobile banking accounts continue to grow robustly, from 12.6 million in 1Q13 to 15 million in 1Q14. Bank of America's online and mobile banking solutions are best-in-class and seem to be attracting more and more customers each day.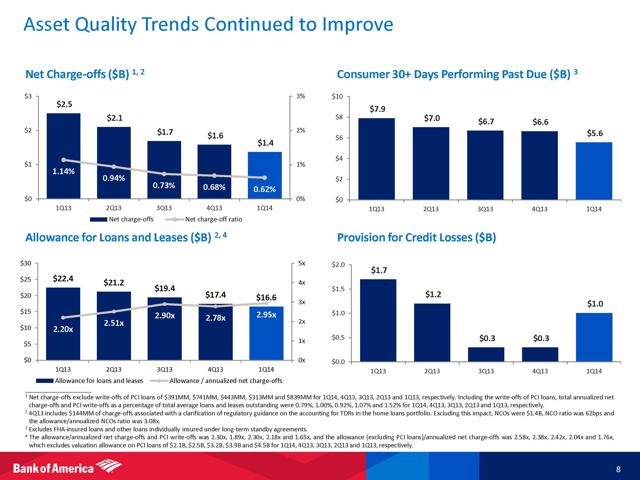 Mortgage originations at BAC, along with other major lenders, do remain relatively weak, as the recent refinancing boom finally seems to be slowing down and originations take longer. At the same time, the pipeline for new BAC mortgages increased 23% year over year.
Importantly, BAC also continues to reduce its cost footprint - its employee count has decreased 9% from 262,800 employees in 1Q13 to 238,600 in 1Q14.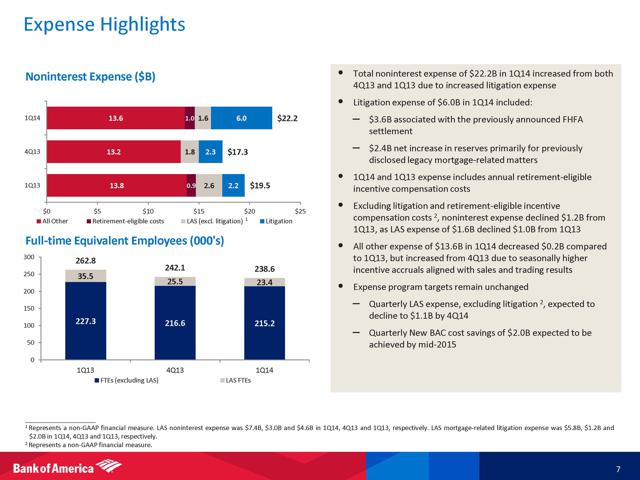 Is Bank of America's image still tarnished in some quarters? Absolutely. Has that created a drag on its share price? Of course.
BAC's reputation, along with many other Wall Street firms, remains damaged from the financial crisis, and negative chatter about the bank's leadership quality and management competence continue to this day.
At the same time, it's worth noting that BAC deposits have now grown to an all-time record of $1.13 trillion. Stop and consider that for a moment, relative to market perceptions of Bank of America. Perhaps, just perhaps, it is better to pay less attention to what boisterous shorts and political pundits say about BAC, and pay more attention to what tens of millions of BAC customers are doing with their money every day?
The long winter for Bank of America is finally ending. Over the next several years, as public relation and litigation overhangs from the financial crisis continue to fade, BAC will be distributing far less of its earnings to the government and far more of its earnings back to shareholders in the form of dividends and share repurchases.
My 12-month BAC price target: $18-19.
Disclosure: I am long BAC. I wrote this article myself, and it expresses my own opinions. I am not receiving compensation for it (other than from Seeking Alpha). I have no business relationship with any company whose stock is mentioned in this article.