On May 23rd, Parsley Energy debuted with its IPO that had high expectations, which were definitely met. Priced at $18.50, shares rose to $22.59 shortly after trading began. Shares traded up nearly 20% at $22.12 in the late morning Friday. In mid-morning trading May 28th, three business days after the IPO, Parsley traded at $23.35, nudged up 5% since day one.
Parsley Energy (NYSE:PE) is a pure-play exploration and production firm owning 111,644 net acres mostly in the Permian Basin's prolific Midland Basin. In the Delaware Basin, they hold 22,300 net acres and 89,344 of Midland acres. This makes their relative acreage holdings beyond that of smaller Permian peers Athlon (NYSE:ATHL) (102,000 net acres), RSP Permian (NYSE:RSPP), with 33,933 net acres, or Diamondback (NASDAQ:FANG) at 66,000 net acres. Most of Parsley's acreage is located in Tier 1 Wolfcamp prospectivity per Pioneer Natural Resources' (NYSE:PXD) year-end assessment.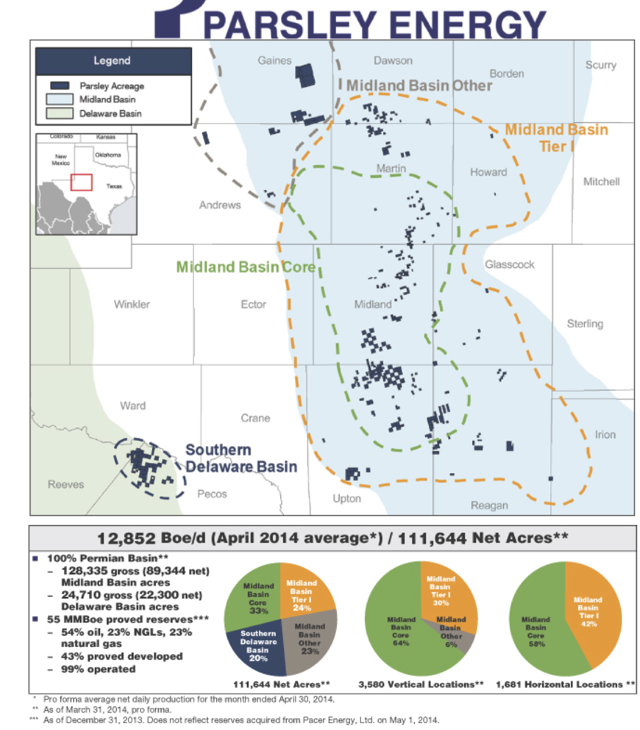 Parsley has 55 million of proved reserves (BOE) with 76% liquids (54% oil). In April 2014, production averaged 12,852 boe/d. Among other pure-plays, Parsley falls in between RSP Permian and larger peer Energen (NYSE:EGN) in terms of liquids production. RSPP has 84% liquids production (64% oil) as of first quarter 2014 (link to RSPP article), which is one of the highest levels of liquids production among all Permian players; Energen, with 87,000 Midland Basin acres (much of it in Midland, Martin and Glasscock counties) has 53% liquids (2013E), increasing to 61% (est.) in the first part of 2014 (EGN article link). RSP Permian notes 54 million of proved reserves at year-end 2013. Parsley also has Upton county acreage, much of it in the Midland Basin core area. Pioneer Natural Resources also cites considerable acreage in Upton as the RSPP map below indicates. This southern Midland Basin/Wolfcamp area is the very acreage for which Pioneer and partner China's Sinochem formed a joint venture.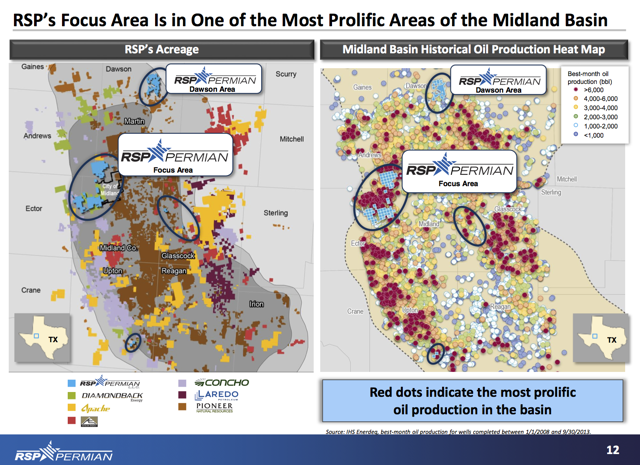 Operations
Parsley's vertical well activity has focused on the Spraberry, Wolfcamp, Upper Pennsylvanian (Cline), Strawn, Atoka and Mississippian formations. In addition to vertical activity, horizontal wells are planned in the Spraberry, Wolfcamp, Cline (Wolfcamp D) and Atoka shales. As you'll notice from the cross-section below, the Atoka interval is considered a successful horizontal interval, though operators have yet to bring its potential to light.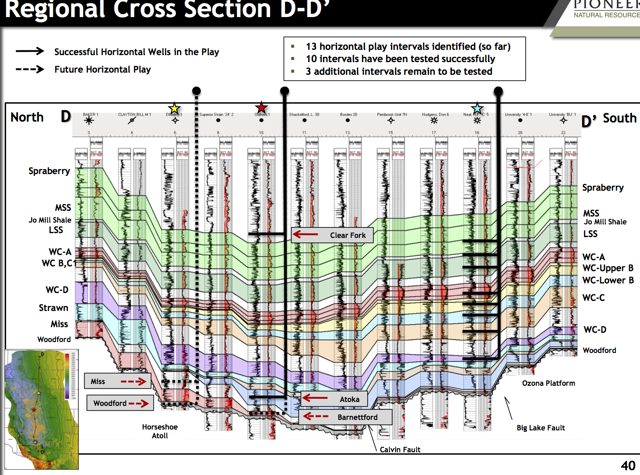 Parsley began operations in August 2008 after acquiring operator rights to Midland Basin Spraberry Trend wells from Joe Parsley, a co-founder of Parker and Parsley Petroleum Company. In total, PE has interests in 555 gross (271 net) producing wells, all of which are in the Midland Basin and 99% of which they operate.
Since November 2009, they have operated up to 10 rigs simultaneously and averaged 9 operated rigs for the 12 months ended March 31, 2014. Their large-scale drilling program in the core of the Midland Basin had increased net average daily production to 12,852 Boe/d for the month ended April 30, 2014, the majority of it organic growth. They currently operate nine vertical drilling rigs and two horizontal drilling rigs and expect to operate eight vertical rigs and increase to five horizontal rigs by the first quarter of 2015. This plan would parallel RSPP's horizontal drilling trajectory-history but still have a considerable number of vertical rigs. In my mind, for Parsley, this prudence characterizes a conservative but still aggressive approach to production. Given the volatility of commodity plays, Parsley appears to be taking steps forward to move production forward -and yet consolidate, watch and move strategically again. The chart below is $2 billion-cap RSP Permian to offer a comparison; they reported first quarter average production of 9,339 Boe/d, though they have a higher percentage oil weighting - 84% liquids of which 65% is oil. Of Parsley's reported overall production of 12,852 boe/d (52% oil), average Midland Basin acreage represented 9,734 boed/d (54% oil), the lion's share of their production (p. 94).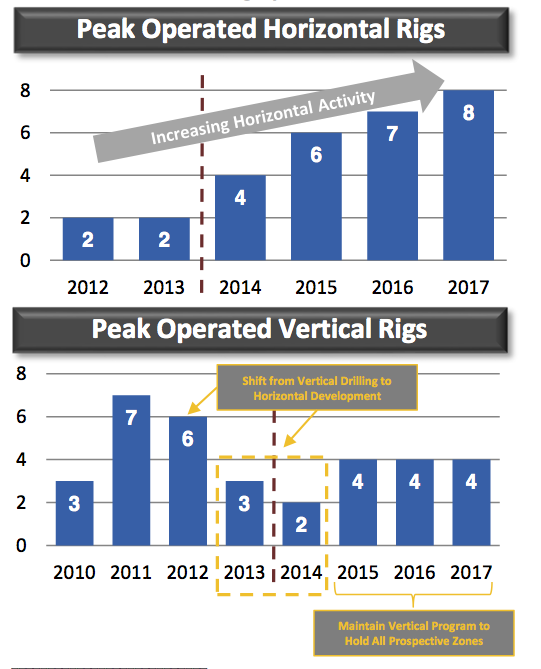 Vertical and horizontal wells
To date, the average drilling and completion costs with sufficient cost data and facilities cost for the 201 and 125 vertical development wells placed on production in Midland Basin-Core and Midland Basin-Tier I areas, is approximately $2.3 million and approximately $2.0 million, respectively. Parsley understands the need for cost efficiencies and well-managed execution. For 2014, Parsley projects upcoming vertical wells to cost approximately $1.8 to $1.95 million and horizontals ranging from $7 million to $9 million with laterals between 4,500' to 9,500'.
As of March 31, 2014, they had identified 1,594 80- and 40-acre potential vertical drilling locations, 1,986 20-acre potential vertical drilling locations and 1,681 potential horizontal drilling locations on their existing acreage (includes only 20 vertical locations in Gaines County, Midland Basin) and no locations in their Southern Delaware Basin acreage. Parsley expects to identify additional vertical and horizontal drilling locations in the Delaware and Gaines County. They started a vertical appraisal drilling program in the Delaware Basin during the first quarter of 2014, with plans to drill three vertical appraisal wells in 2014. They plan to proactively pursue leasing additional acreage, and selectively pursue acquisitions that meet objectives, with an emphasis on oil-weighted reserves in the Midland Basin. Below are some of the Midland-core and Tier-1 horizontal targets sourced from Parsley's S-1:
Midland-Core Targets: Andrews, Glasscock, Howard, Martin, Midland, Reagan, Upton counties.

Midland Tier-1 Targets
Source: Form S-1, May 12, 2014.
In November 2013, the firm started their horizontal drilling program in the Midland Basin with one rig targeting various intervals in the Wolfcamp shale. As of April 30, 2014, three wells were on production (Dusek 45-1HB, Shackelford 7-1HB and Dusek 44-1HB); one well undergoing a fracture stimulation treatment (Shackelford 7-2HB); and one well being drilled (Skaggs 8- 2HB).
The following details the productivity of the horizontal wells thus far:
• The Dusek 45-1HB had a 24-hour peak rate of 2,044 Boe/d (1,487 Bbls/d of oil, 387 Bbls/d of NGLs and 1,017 Mcf/d of natural gas) and a peak 30-day rate of 1,592 Boe/d (1,156 Bbls/d of oil, 303 Bbls/d of NGLs and 796 Mcf/d of natural gas) and is currently producing while on gas lift.
• The Shackelford 7-1HB had a 24-hour peak rate of 1,442 Boe/d (1,121 Bbls/d of oil, 223 Bbls/d of NGLs and 585 Mcf/d of natural gas) and a peak 30-day rate of 796 Boe/d (568 Bbls/d of oil, 158 Bbls/d of NGLs and 421 Mcf/d of natural gas) and is currently producing while on gas lift.
• The Dusek 44-1HB had a 24-hour peak rate of 1,569 Boe/d (1,158 Bbls/d of oil, 285 Bbls/d of NGLs and 758 Mcf/d of natural gas) and a peak 14-day rate of 1,298 Boe/d (948 Bbls/d of oil, 241 Bbls/d of NGLs and 649 Mcf/d of natural gas) and is currently producing while on gas lift.
Notably, Parsley estimated 22 and 25 years, respectively, of vertical and horizontal drilling inventory:

Source: Parsley, 2014.
Parsley has identified 3,580 vertical and 1,681 horizontal targets across their Midland Basin acreage. Their 2014 capital budget for drilling and completion is approximately $409.0 million for an estimated 164 gross (138 net) vertical wells and 26 gross (19 net) horizontal wells, excluding acquisitions. Their acreage and potential in the Southern Delaware is promising, located in Pecos and Reeves counties. This is the stomping grounds of Delaware Basin heavyweight Concho Resources (NYSE:CXO). Concho's Big Chief area is the area where Parsley has concentrated acreage, which is yet to be developed.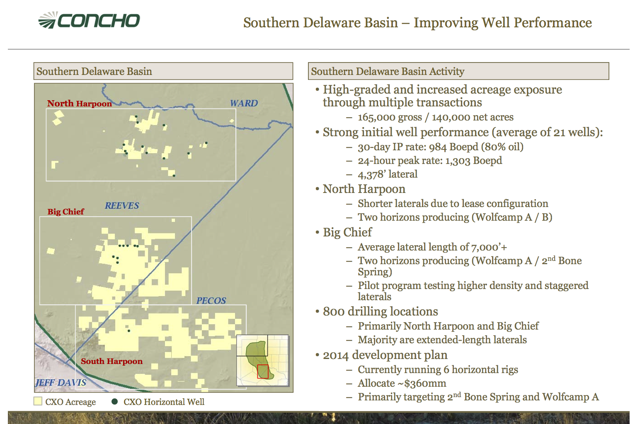 Parsley has a conservative financial model going forward, hedges 40-60% of their commodity exposure. PV-10 is $731 million as of 12/31/2013. Operating income has nearly doubled each year from 2011-2013 at the predecessor firm (see p. 21 sourced below).
And if their production story and history wasn't enough to attract investors, the management story of Bryan Sheffield, son of Pioneer Natural Resources CEO Scott Sheffield, and others is. Their management team has a proven track record of executing on multi-rig development drilling programs and extensive experience in the Spraberry, Wolfberry and Wolftoka Trends of the Permian Basin. Chief executive officer Bryan Sheffield is a third generation oil and gas executive. The management team has previous experience at Parker and Parsley Petroleum Company, Concho, Chesapeake Energy, and Pioneer. They have an experienced technical team. Management team will hold approximately 43.0% of ownership interest and will be the largest shareholder group.
Beliefs are mixed as to whether Permian-weighted E&P firms will maintain a premium relative to non-Permian weighted firms as the chart below indicates. Some investors think the Permian Kool-aid has been drunk, with little real upward lift henceforth. Given the reserve estimates in the Spraberry/Wolfcamp changing from 50 billion barrels (of oil equivalent) to 75 billion according to Pioneer's latest calculations, it is hard to imagine Permian firms not benefiting accordingly. The economic environment, geopolitics and U.S. energy policy are the drivers that will shape how Permian firms perform, and specifically in the case of Parsley Energy.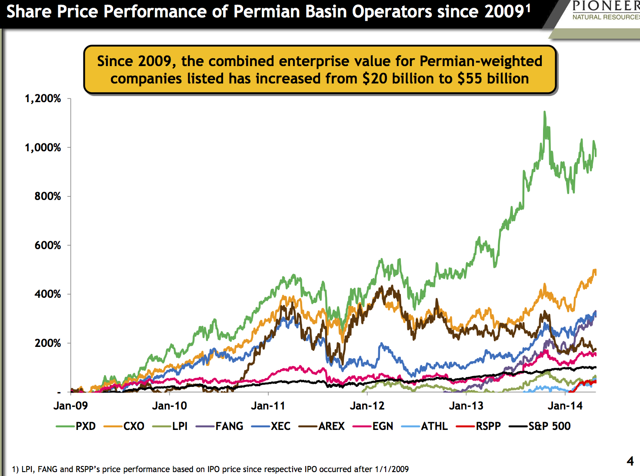 Currently, the price of WTI, the U.S. crude benchmark, is relatively high, likely keeping Permian firms share prices at robust levels. Interestingly, the days Parsley has traded among peers reveals another Permian IPO that looks promising. Parsley will have to prove itself like any other firm. Its production story alongside the strategies relayed are positive. Thirty-something CEO Sheffield will be at this a long time -- able to draw on the experiences of his oil and gas lineage and the time horizon to adapt to commodity cycles.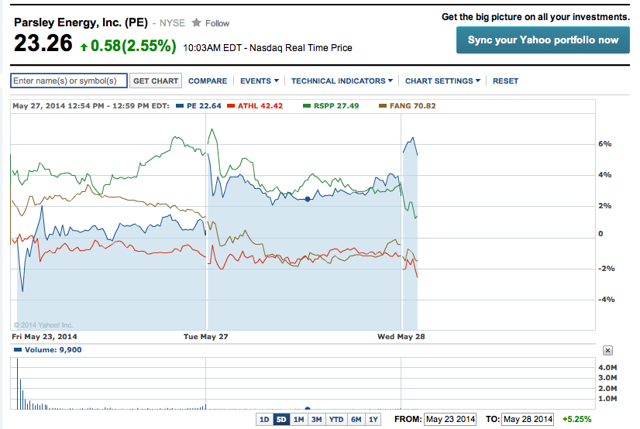 Source: Form S-1, May 12, 2014.
Disclosure: The author has no positions in any stocks mentioned, and no plans to initiate any positions within the next 72 hours. The author wrote this article themselves, and it expresses their own opinions. The author is not receiving compensation for it (other than from Seeking Alpha). The author has no business relationship with any company whose stock is mentioned in this article.