In recent years companies have sought ways to lower their tax burden by moving their headquarters overseas to countries with lower tax rates. There have been different ways to go about this but right now the focus is on inversion deals which are relatively easy to do as the hurdles are low. The companies which will have problems with actually being able to do an inversion are only the largest as they have to make sure that 20% of their equity is given to shareholders in the target.
The way we look at the current M&A craze surrounding tax inversion deals is that the first wave will probably lead to less than desirable deals. There is a type of gold rush going on in the market now and the key is to simply get set up overseas, which leads to better tax treatment down the road and the ability to set up better deals in the future. Basically, right now companies are more interested in the financial engineering benefits of a deal than the benefits to operations that they usually are concerned about.
Chart of the Day:
Although the recent action points to a 'nifty fifty' type of market, we think that the small caps will come back with a vengeance in the coming months as more investors seek added risk to boost returns. Bonds continue to head lower and rates remain low and so long as rates remain low the equity market should do well. Many of the transactions we have seen in recent months are big, but look for bolt on acquisitions moving forward.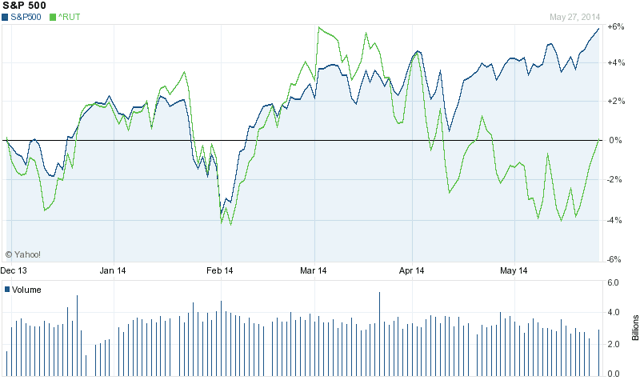 Source: Yahoo Finance
We have economic news today, and it is as follows:
MBA Mortgage Index (7:00 a.m. EST): Est: N/A Act: -1.2%
Asian markets are higher today:
All Ordinaries -- up 0.28%
Shanghai Composite -- up 0.77%
Nikkei 225 -- up 0.24%
NZSE 50 -- up 0.69%
Seoul Composite -- up 0.97%
In Europe, markets are lower this morning:
CAC 40 -- down 0.20%
DAX -- down 0.31%
FTSE 100 -- up 0.02%
OSE -- down 0.18%
Valeant Ups Bid
Valeant Pharmaceuticals (NYSE:VRX) upped its bid for Allergan (NYSE:AGN) by boosting the cash portion of the deal by $10/share and also proposing a contingent-value right that could be worth up to another $25/share if the vision loss drug DARPin makes it to market and is successful. The cash addition to the deal pushes the total value up to $49.4 billion, or $166.16/share, excluding the contingent-value right.
This deal gets bunched with a lot of recent deals that are tax inversions, but the truth of the matter is that Valeant has already done their tax inversion move and is a step ahead of the competition. This deal is the type of deal that the rest of the drug makers are trying to get to do where they have already moved their domicile overseas to get a better tax rate and be able to use their overseas cash to fund deals without having to pay taxes to repatriate the funds.
Investors are disappointed with the latest increase from Valeant, but after what we have seen in the market recently with companies walking away from suitors we would expect this deal to close. Maybe there is one more increase in the offer price to sweeten the deal but either way we think shareholders will move to cash in.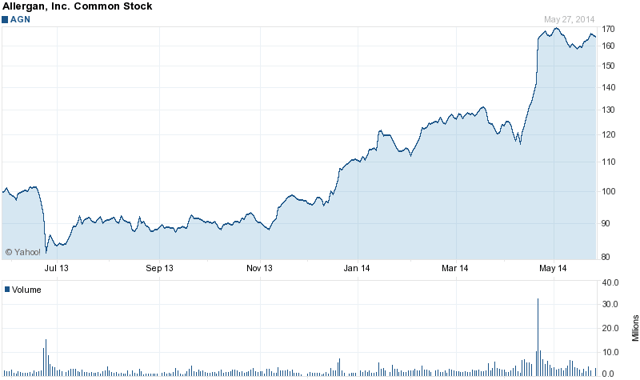 Source: Yahoo Finance
Pfizer (NYSE:PFE) was trying to get to this point before their deal which would accomplish it was turned down by the target company's management team. Our thinking is that Pfizer is going to have to go this route in order to get the tax savings and be able to use their overseas cash fund growth moving forward. Maybe they have to buy a dog in order to accomplish this, but any deal should open far more doors than it closes.
Rumors Flying
The Financial Times reported that Stryker (NYSE:SYK) was in talks to acquire Smith & Nephew (NYSE:SNN) which had the shares flying in pre-market trading. Right around the open Stryker, due to UK takeover rules, came out and denied their interest in any deal for Smith & Nephew which saw the 10% gain in that company's shares quickly dissipate.
This follows another report from yesterday that hotel companies were looking to purchase their foreign counterparts in order to be able to reap the benefits of doing an inversion transaction. Pharma and other healthcare stocks appear to be leading the way, but it is not reaching to think that other companies in different industries could look to benefit from seeking out deals in certain European markets.
Disclosure: I have no positions in any stocks mentioned, and no plans to initiate any positions within the next 72 hours. I wrote this article myself, and it expresses my own opinions. I am not receiving compensation for it (other than from Seeking Alpha). I have no business relationship with any company whose stock is mentioned in this article.