By David Russell
Nucor (NYSE:NUE) is starting to regain its footing after a long slide, and now the bulls are looking for a pop.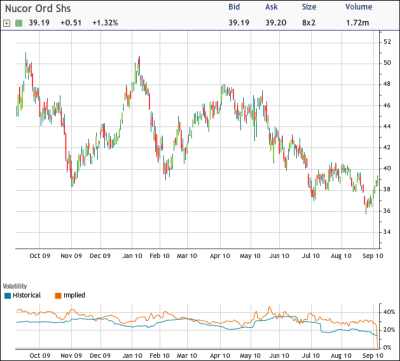 (Click to enlarge)
optionMONSTER's Heat Seeker tracking system detected the purchase of more than 6,000 October 40 calls against open interest of just 2,281 contracts. Premiums climbed from $0.90 early in the session to $1.10 even as the share price fluctuated in a tight range -- an indication of strong demand for the options.
NUE rose 1.32 percent to $39.19 in morning trading after entering the session down 17 percent for the year. The steelmaker has struggled for months as investors have worried that the global economy might face a double dip into recession.
Its last earnings report on July 22 was better than expected, although revenue missed forecasts. Management also warned about an apparent slowdown across all its product lines.
NUE has been pushing higher since August 25, when touched its lowest price since March 2009. There was also bullish activity today in US Steel (NYSE:X), suggesting some investors are bottom-fishing in the industry.
Overall options volume in NUE is triple the daily average so far today, with calls accounting for more than three-quarters of the activity.
Disclosure: No position