Investors must understand what makes up Facebook's (NASDAQ:FB) stock price, and then look to specifically what will drive the stock higher. The three main divisions that make up the share price are Text and Display Ads, Transactions on Virtual Goods, and Social Commerce.
The largest division of Facebook is the Text and Display Ads, making up 84% of the stock's value. Facebook's Revenue per Page View, RPM, has been the biggest driver due to Facebook's ability to quickly transition to an effective mobile platform. RPMs have grown from $0.27 in 2010 to $0.42 in 2013. However, companies like Google (NASDAQ:GOOG) (GOOGL), compete directly for those same ad dollars with its Google Plus network. Google has shown that the social arm of its company can grow at an accelerated rate. Social industry researcher We Are Social analyzed that registered users from Google Plus have shown exponential growth between Q4 2012 and Q4 2013, growing its user base from 359 million to over 1.15 billion users. These numbers would be a huge sign that Google Plus is on par with Facebook who has around 1.5 billion users.
Fortunately for Facebook investors, We Are Social uncovered that only 35% of those 1.15 billion Google Plus accounts are active users. Meaning around 400 million would be the number that advertisers would look at with respect to where they would like to funnel future ads. Facebook has over 1.5 billion monthly active users. Breaking down Google Plus and its large user base helps bring some peace of mind to Facebook investors. Google has implemented a strategy that has driven this artificial growth in users by tying all its other services and product users into Google Plus by automatically creating an account, regardless of the user's knowledge. So people with YouTube accounts or G-mail now are Google Plus members, albeit not active ones. Social network competitor Twitter (NYSE:TWTR) seems to also disclose users at an unrealistic view of the actual active users. Twopcharts monitors Twitter activity and recently concluded the following;
The total number of registered Twitter accounts is 883m, leaving 651m Twitter accounts unused and unloved. This essentially means that 36% of Twitter's registered users are active on a monthly basis
Facebook investors should take into account that the two largest competitors don't even come close to the actual active users that Facebook generates, and users that advertisers are concerned with. Facebook's monthly active users reached 1.23 billion as of last year, with 757 million daily active users.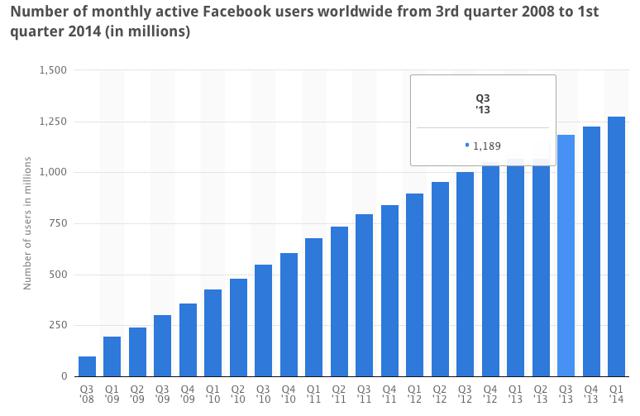 Source: Facebook 'Worldwide Facebook Third Quarter 2008 to First Quarter 2014' Statista 2014
If Google users, who unknowingly have these Google Plus accounts, start becoming active users then Facebook would be in some real trouble. These numbers dictate strong evidence for Facebook to expand through other outlets to keep ahead of the curve.
Virtual Goods spending on Facebook seemed to hit its peak when online social games like Farmville from Zynga were all the rage in media. Online stock analysis company Trefis points out that Average Virtual Goods Spend per user jumped to $2.28 in 2013, with gross margins of 77% due to new monetization strategies. The social commerce aspect of Facebook is something that will be a catalyst for future growth as Facebook tries to couple its user base with online retail. Facebook will soon be able to compete with the likes of Amazon, and investors should look forward to what Facebook reports in 2014 with respect to commerce. Top online retail research company eMarketer forecasts that the industry will grow to around $30 billion in 2015 and that Facebook will be the biggest player to benefit as users begin to feel more comfortable buying from social platforms:
"Facebook is just one social site, that site is the clear leader and already offers retailers a variety of options for converting users into consumers. In a Q4 2011 Oracle survey of North American internet users, nearly one in five respondents said they would buy through Facebook or had already done so, while 15% were not aware they had the option."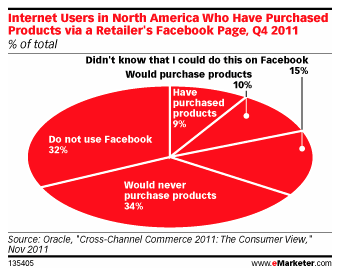 Facebook's ability to get its users to shop for both virtual and retail goods online, by just informing them that they have this option, will drive growth and the bottom line for Facebook for the next 5-10 years.
In summary, Facebook still is the social network giant that it has been, with the most active users, more than Twitter and Google Plus combined. Facebook will continue to see Text and Display Ad dollars keep coming in as advertisers continue to reach Facebook users in a strategic way. For investors it should be very exciting to know that the social retail industry is just in its infancy. Growth in both the virtual and retail goods market will be a strong indicator of Facebook's ability to outperform the market and its competitors, thus increasing shareholder value.
Disclosure: I am long FB. I wrote this article myself, and it expresses my own opinions. I am not receiving compensation for it (other than from Seeking Alpha). I have no business relationship with any company whose stock is mentioned in this article.